New Oriental Education & Technology Group Inc. (NYSE:EDU) will hold an earnings conference call for the 2nd quarter of their fiscal year (September 1st 2013 - November 30th, 2013) before the market opens on Tuesday, January 21st. The company reported in its previous quarterly report that it is expecting total net revenues of between $202.4 million and $210.7 million, representing year-over-year growth of 22% to 27%.
Shares of EDU had a solid 2013, along with three other companies in China's private education sector: TAL Education Group (XRS), which I wrote about here, and Xueda Education Group (NYSE:XUE) and China Distance Education Holdings (NYSE:DL), written about here. EDU increased by approximately 53% in 2013 and is up by about 8% year to date through January 16th. The chart below (source: Yahoo! Finance, trend lines drawn by author), shows the past two years of performance for EDU. (The steep drop-off in mid-2012 coincided with the company being issued a formal order of investigation on July 13th, 2012 by the SEC into "whether there was sufficient basis for the consolidation of Beijing New Oriental Education & Technology (Group) Co., Ltd., a variable interest entity of the Company, and its wholly-owned subsidiaries, into the Company's consolidated financial statements." This is noted in the company's report for the 4th fiscal quarter of 2012 released on July 17th, 2012)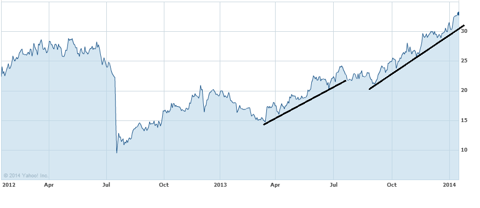 EDU is a private education provider in China and engages in standardized test preparation courses for domestic and overseas study, K-12 after school tutoring, language training, online education, educational books and software development, and counseling for students that wish to study abroad. (Readers looking for an expanded description of the company's services can reference pages 37-41 in EDU's most recent annual report.) The company's annual report notes that 86.6%, 85.5%, and 85.3% of net revenue came from test preparation and language courses in the fiscal years ending May 31st of 2011, 2012, and 2013, respectively. In the fiscal year ended May 31st, 2013, out of the approximately 738,000 students enrolled in test preparation courses, approximately 326,000 were in overseas test preparation courses. EDU offers overseas test preparation courses for examinations such as TOEFL, SAT, ACT, IELTS, GRE, GMAT, and LSAT.
Overseas education is a significant financial commitment, and with test preparation related to this being such a strong component of EDU's revenue, it is good news for the company that despite a 15% decline in overall consumption by China's wealthy, the group still spends heavily on education, according to a survey by the Hurun Report released on January 16th, 2013.
Statistics on the number of Chinese students coming to the US to attend colleges and universities also support the argument that overseas education remains important in China and that companies helping students to study abroad, such as EDU, are in a growth market. In the 2012-2013 school year, approximately 235,597 Chinese students were studying at US colleges or universities, an increase of about 21% from the 2011-2012 school year, according to the Institute of International Education.
EDU is operating in a highly competitive and rapidly evolving sector, and the company notes in its annual report that it expects competition to intensify (page 42). Thus, it is important that trends driving EDU's revenue, such as the one outlined above involving overseas education, continue. A company has more breathing room in a highly competitive sector when the market is expanding than when it is stagnant or contracting.
The previous quarter (EDU's fiscal 1st quarter) is seasonally the strongest for the company's most profitable overseas test preparation business, and the quarter set to be reported on (EDU's fiscal 2nd quarter) includes the three months that are also ahead of many application deadlines for US colleges and universities, so it was likely strong as well. Overall though, the boom in Chinese students going abroad for education is a trend that needs to be monitored carefully. If it falters, so might EDU.
Disclosure: I have no positions in any stocks mentioned, and no plans to initiate any positions within the next 72 hours. I wrote this article myself, and it expresses my own opinions. I am not receiving compensation for it (other than from Seeking Alpha). I have no business relationship with any company whose stock is mentioned in this article.