Investors in Forest Laboratories (NYSE:FRX) reacted with great enthusiasm to the news of last week that it will acquire Aptalis, in a deal which will be greatly accretive to non-GAAP earnings going forward.
After shares doubled over the past year, they have become too expensive for my taste, even when factoring in all future synergies and general cost cutting efforts. With shares trading at an estimated 25 times GAAP earnings two year's ahead of time, there is no compelling upside at current levels.
Acquisition Of Aptalis
Forest Laboratories announced that it will acquire Aptalis for $2.9 billion in cash. Forest will acquire the privately held company from private investment firm TPG, among others. Aptalis focuses on specialty gastrointestinal diseases and cystic fibrosis.
Aptalis is expected to add $700 million to revenues for the year of 2015, being accretive to non-GAAP earnings by $0.78 per share. Synergies are a major driver behind the rationale of the deal, with annual synergies seen at $125 million by 2016.
The firm generated $688 million in sales for the year ending in September of 2013, which is up 12% on the year before. Its top three products being Canasa, Carafate and Zenpep make up roughly 60% of sales, with international sales making up 15% of total revenues. EBITDA of the business rose by 29% to $315 million, valuing the business at 9.2 times EBITDA.
The $2.9 billion price tag values activities at 4.2 times annual revenues. Given the $0.78 non-GAAP per share accretion, non-GAAP earnings are expected to increase by $200 million after financing costs. This is largely due to the estimated cost synergies, but thanks to current earnings at Aptalis as well.
Implications Of The Deal
Rather than the financial implications, which are fair especially when considering financial synergies, there are strategic benefits as well. With the deal Forest expands its gastrointestinal business in North America, while acquired assets are complementary to the growing cystic fibrosis business in Europe.
The deal creates better diversification in key therapeutic areas as such, while advancing the strategy to create blockbuster areas. With the deal, Forest is able to complement Linzess with other treatments for gastrointestinal disorders, possibly gaining more insight in the research process for similar drugs. Linzess is a prescription medication used to treat irritable bowel syndrome with constipation and chronic idiopathic constipation.
On top of the strategic benefits below, a lot of synergies can be found within staffing, with a lot of duplicate roles in the sales force and development. Aptalis employs 240 sales representatives and 420 people in its pharmaceutical technology unit. Especially in the long run, some of these jobs might disappear following the integration of both firms. This could result in meaningful cost savings, given that these are typically high-skilled jobs with the sales force making a lot of expenses "on the road".
With the acquisition of Zenpep, Carafate and Canasa, Forest can improve its focus for cystic fibrosis and gastrointestinal treatments, which are defined as focus areas by the firm with the marketing of Linzess. The drug debuted late in 2012, recording $34.4 million in sales over the past quarter. Knowledge sharing and reduced competition can be crucial in the coming time period. While the market is still relatively small, there is much growth potential ahead, protected by high barriers to entry, especially following this deal.
Market shares of the three drugs owned by Aptalis are 22%, 29% and 65%, respectively giving Forest leading positions. While current market shares are high, there are still a lot of unmet medical needs, as Forest believes there is a $38 billion global market opportunity with 70,000 patients being affected worldwide.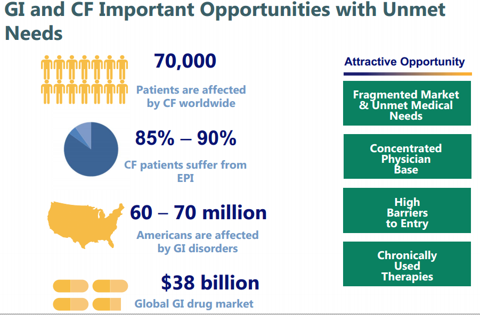 Note that $125 million in identified synergies result from cost synergies alone, not taking into account any potential of revenue synergies.
A Look Into The Financials
Before Forest Laboratories announced the deal, shares were trading around $59, valuing the business at nearly $16 billion. Factoring in the nearly $1.7 billion net cash position, and operating assets were valued closer to $14 billion before the deal has been announced. The strong balance sheet with a lot of liquidity comes in handy. Forest will use roughly a billion of cash to finance the deal, complemented with a $1.9 billion bridge loan facility.
The company posted revenues of $1.69 billion for the first half of its fiscal year of 2014, up 6.7% on the year before. Earnings rose by 22.6% to $93.3 million, notably on the back of a very strong second quarter earnings report.
At this pace annual revenues of around $3.4 billion are attainable as non-GAAP earnings are seen between $0.95 and $1.15 per share. This implies non-GAAP earnings are seen roughly between $260 and $310 million.
This values Forest Laboratories at around 4.1 times annual revenues and roughly 50 times non-GAAP earnings before the deal has been announced.
Shareholder Enthusiasm
Shareholders are very enthusiastic about the deal, sending shares of Forest Laboratories some 20% higher since the deal was announced, boosting the market capitalization of the firm by roughly $3 billion. This clearly indicates that they believe the company is making a great deal, with the rise in its shares being equivalent to the entire purchase prices of Aptalis.
While Aptalis is not expected to show much growth, with revenues guided around $700 million for 2015, the valuation is in line with the revenue multiple of Forest Laboratories before the deal was announced. The real surprise comes from the earnings of the firm and foreseen synergies. The expected accretion of $200 million after financing costs, values the company at just 15 times non-GAAP earnings, compared to its own valuation at 50 times non-GAAP earnings.
End Of Long Term Struggles?
Long term investors in Forest Laboratories have seen very mediocre returns with shares falling from highs of $75 in 2004 to lows of $20 in 2009. Shares saw a very strong 2013, with shares advancing from $35 to $60. Note that investors have not received any dividends in the meantime.
Part of these struggles arose after blockbuster antidepressant Lexapro drug faced patent expiration last year. Consequently, annual sales for the drug of over $2.1 billion in 2012 fell by more than 90%.
A rejuvenation of revenue growth, and Carl Icahn's activism have been the drivers behind these returns. Icahn got represented on the board while CEO Solomon was forced out with Brent Saunders being the incoming CEO. He focused on cutting costs by an estimated $500 million by 2016, while using cash to return to investors. Part of this plan entails 500 job cuts, with the majority of costs cuts seen in the R&D department.
Rather than cutting costs, Saunders is spending cash to buy promising businesses ahead of upcoming expirations. Besides the big Aptalis deal, Forest already announced a $240 million deal to buy the schizophrenia rights from Merck & Co (NYSE:MRK).
On the back of these actions, consensus estimates have risen by $2.86 per share for the year of 2015, while revenues are seen under further pressure, falling to $2.9 billion. Note that these consensus estimates exclude expected earnings accretion and the revenue contribution from Aptalis.
Shares have doubled over the past year, as second quarter sales growth rejuvenated to 17% on an annual basis. Notably next generation products sales rose sharply, increasing by 49.9% to $303 million.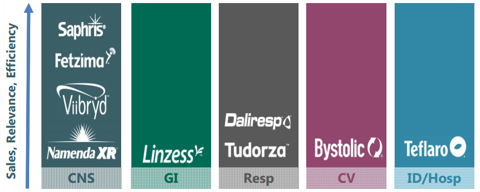 Takeaway For Investors
On the back of the deal, the market capitalization of Forest Laboratories has jumped to $19 billion, with shares trading around $70, while the net debt position is very low.
The new entity is expected to generate revenues just north of $4 billion, while non-GAAP earnings could approach $500 million. While this values the business at 4.7 times revenues and 38 times non-GAAP earnings, the valuation is still rather steep. Add to that the significant gap between GAAP and non-GAAP earnings at the moment. This makes the real GAAP earnings multiple much higher.
Factoring in the full impact of the expected cost cuts, non-GAAP earnings could even advance to a billion. It will be hard to estimate reliant GAAP earnings when subtracting notably impairment charges. Let's peg GAAP earnings around $750 million in that case. Even then the appeal is limited with modest revenue growth and 25 times GAAP earnings.
I remain on the sidelines but applaud management and investors with the strong performance.
Disclosure: I have no positions in any stocks mentioned, and no plans to initiate any positions within the next 72 hours. I wrote this article myself, and it expresses my own opinions. I am not receiving compensation for it (other than from Seeking Alpha). I have no business relationship with any company whose stock is mentioned in this article.