On Jan. 14, 2014, Tesla Motors (NASDAQ:TSLA) announced that it had sold 6,900 vehicles in the fourth quarter of 2013 and is expecting its revenue to exceed prior guidance by 20% in that quarter. This is a great achievement considering that the automobile industry is highly competitive and that there were three fire incidents on the Tesla Model S that caused the stock to plunge 38% between Oct. 1 and Nov. 26, 2013. In this article, I want to explain why I believe Tesla Motors is a great long-term investment and estimate the stock's intrinsic value, so investors can know when it might be good to buy the stock and when to stay away from it.
Growth Prospects
Tesla Motors is one of my top stock picks because I believe the company has outstanding long-term growth prospects, a great CEO in Elon Musk who is in my opinion a great leader like Steve Jobs, and the stock plunged 38% (due to fire incidents), which provided investors with a good margin of safety for which to buy the stock.
At this moment, I still believe that Tesla Motors is a great company for long-term investing for these reasons:
Tesla Motors' flagship product, the Model S, is the best electric vehicle in the U.S. with the highest 5-Star safety rating, great performance, great design and a much higher miles per charge than its competitors (click here to see the U.S. Government's All-Electric Vehicles miles on a charge comparison).
The demand for the Model S is growing rapidly in the U.S., Europe and Asia.
Tesla is building more Supercharger stations (free fast charging for Model S owners) in the U.S. and Europe.
I believe electric vehicles will become even more popular later on as they become more affordable.
Tesla Motors is the market leader in electric vehicles. It is different from the majority of automobile companies because it only produces electric vehicles and only focuses on producing two vehicles at a time-the Model S and Model X (coming in late 2014). I believe that it is better for an automobile company to focus on producing a few vehicles instead of many vehicles-which is what the majority of automobile makers do. Moreover, Tesla's biggest competitive advantages are its innovation and technology as well as its laser focus to produce the best electric vehicles on the market.
According to Tesla's Q3 Shareholder letter, the company began taking reservations in China and will begin delivering the Model S there in Q1 2014. Moreover, its Supercharger network has expanded significantly in the U.S. and Europe. The management also stated that the demand for the Model S is growing in North America, Europe and Asia and that the company has increased its production rate to 550 cars per week as of Q3, 2013 to keep up with the growth in demand.
In terms of profitability, Tesla has reported (GAAP) net losses in almost every quarter, but I believe that it will only be a matter of time before it achieves consistent profits due to the higher sales of Model S and upcoming Model X.
Risk
At this moment, Tesla's biggest risk is the battery safety issue that caused the stock to plunge 38% three months ago after three battery-related fire incidents were reported. As a result, some investors and analysts are concerned that Tesla will be required to recall all Model S vehicles, which would cause the company to report significant losses.
While the National Highway Traffic Safety Administration (NHTSA) is investigating the fire incidents, the German Federal Motor Transport Authority completed its investigation and reported that there are no manufacturer-related defects. In addition, the NHTSA awarded the Model S with a 5-Star safety rating overall 'again' for the model year 2014.
I believe that the market overreacted to the fire incidents and that the NHTSA is likely going to give the same feedback as the German Transport Authority. Once the NHTSA completes its investigation, Tesla's stock should recover even more.
Intrinsic Valuation
Since Tesla is still in its early growth stage with net losses in most quarters, I used the Price-to-Sales ratio to estimate Tesla's intrinsic value, so we can know if the stock is undervalued, fairly-valued or overvalued:
Note that the fourth quarter report is not released yet at the time of writing this, so I estimated Tesla's Q4 total revenues to be around $538.2 million based on approximately 6,900 Model S sold in Q4 and multiplied this number by $78,000, which is the base price of Model S (60 kWh option with no add-on). This is a conservative estimate since most people pay more than $78,000 for a Model S.
Tesla's full year total revenues for 2013 should be around $1.9 billion or higher.
The price-to-sales ratio should decrease over time as Tesla starts making profits.

At the time of writing this (on Jan. 14), I believe that Tesla's intrinsic value should be around $158 per share or $19 billion in market cap and that its intrinsic value should grow 30% or more each year in the next five years. A 30% annual growth rate is a very conservative number compared to Tesla's revenue growth rates between 2008 and 2012 (see below image). However, I think that it is a reasonable growth rate since Tesla had already grown to $1.4 billion in total revenues for the first nine months of 2013. A company's intrinsic value and its stock should increase over time as the company earns more revenues and net profits.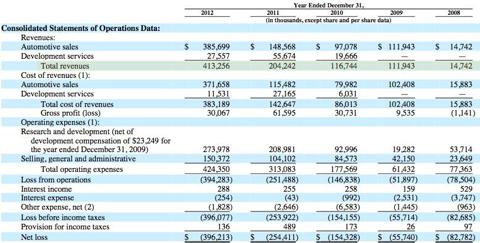 (Source: 2012 annual report)
The Bottom Line
Although Tesla's stock has been very volatile in the past three months due to the fire incidents, I believe Tesla is still a great company for long-term investing and its stock should recover even more after the NHTSA completes its investigation. If the stock has the same growth rate as the company's intrinsic value, the stock should grow about 30% or more each year in the next five years.
Disclosure: I am long TSLA, . I wrote this article myself, and it expresses my own opinions. I am not receiving compensation for it. I have no business relationship with any company whose stock is mentioned in this article.