Introduction
2013 was a brutal year for the precious metals group. As spot prices and futures declined, so did their respective ETFs: SPDR Gold (NYSEARCA:GLD) down 29%, iShares Silver (NYSEARCA:SLV) down 38% and ETFS Physical Platinum (NYSEARCA:PPLT) down 13%, to name but a few. Indeed, $85 billion per month of quantitative easing proved a challenging adversary for the physical investment confidence vehicles. A new year has begun and an interesting precious metal play is developing in palladium, suggesting that, once again, palladium will lead the precious metal group in returns. After all, of the four, only ETFS Physical Palladium (NYSEARCA:PALL) was up on the year - and at half a percent, thank you very much.
Palladium is a precious metal whose functionality is heavily weighted towards industrial applications. Approximately 70% of mined palladium is directed to the automotive industry for use as a chemical agent in catalytic converters. The next largest demand category is electronics production. Other uses include jewelry (as elemental Pd), jewelry use as a gold dilution element to create white gold, experimental use in hydrogen storage, and other uses.
Palladium is predominately mined in three regions: Russia and South Africa together account for ~80% of annual production, while North America provides about 15%.
The Two-Minute Drill
Like most commodity markets, palladium pricing can be conveniently abstracted through classic supply and demand analysis. The potential continued appreciation of palladium is suggested by changing conditions in the supply and demand markets, which could conspire for increasing spot and future prices through the new year:
Supply Side Considerations:
Russian state supply is either near zero or at zero.
The world's largest producer has been declining production despite increasing demand.
South African labor struggles remain largely unresolved.
Demand side:
Automotive numbers hitting pre-recession highs.
Developing countries adopting stricter emission standards.
The European Union escalates to EU-6 emission standards.
Self-fulfilling prophecy: as value appreciates, investment increases, further appreciating value.
For instance: Barclays' (NYSE:BCS) unit Absa Capital (BGA.JO) sponsored physical palladium ETF will increase investment demand.
Supply Market Details
Norilsk Nickel (OTCPK:NILSY), the world's largest producer of nickel and palladium, has also shown generally declining palladium production over the past several years.
Year
2006
2007
2008
2009
2010
2011
2012

Pd Production

(000's of oz)

3,164
3,113
2,821
2,805
2,861
2,806
2,731
Source: (http://www.nornik.ru/en/investor-relations/fact-sheet)
The company believes the supply and demand deficit in the palladium market will continue to increase. The company also has minimal proposed production increases through 2014. Russia's state supply of palladium is a secret, but deliveries to the market seem to be decreasing, and Norilsk Nickel indicates that they may now be completely depleted.
Another interesting suggestion from this mega-company is that the spread between platinum and palladium, which share many industrial applications, is unjustified because their mining cost is approximately the same. In fact, the spread has been tightening since 2008.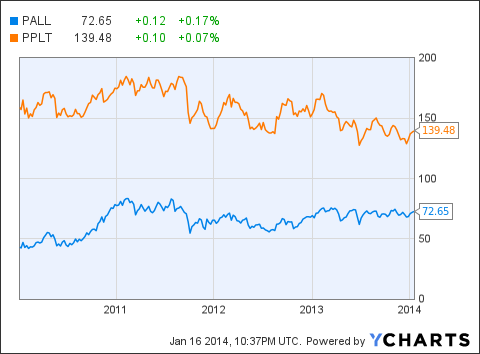 On the South African production front, things are more difficult to predict due to social and labor market turmoil, as 2013 showed. However, with a likely best case South African production scenario that is steady, the world supply seems likely to continue to decline in the short to mid term. If another labor dispute is encountered in South Africa, the already tight international supply of palladium will be stretched even thinner, increasing the rare Earth metal's value.
Demand Market Details
As noted earlier, automotive production is a significant demand source for palladium. Automobile production continues to increase domestically and internationally, which in turn increases palladium demand. Overall U.S. auto production is at a 4 year high (as of 2012), with 2013 expected to continue the upwards trend. 4Q13 production is anticipated to mark a decade-plus high.
China continues to be the world's largest automobile producer, and another year of double digit growth is cautiously anticipated. Japan seems to have persevered through a challenging 2013, and continues to wage a battle for market share in China's ever expanding auto market.
Indeed, there seems to be an overall international trend towards increasing automotive sales and production. Assuming the business cycle is indeed in an expansionary phase, and it maintains as such, there is little reason to doubt that production and sales will increase in 2014, even if only modestly.
| Country | 1H13 Car and Commercial Vehicle Production |
| --- | --- |
| U.S.A. | 5,665,485 |
| China | 10,751,683 |
| Japan | 4,660,946 |
| South Korea | 2,283,884 |
| India | 2,029,589 |
As production is trending upwards internationally, so are emission standards. 2014 is a big year for emission standards, as two of the world's largest markets have or will be adopting stricter standards. The European Union now has "Euro VI" emission standards, and India is expected to transition from "Euro III" to "Euro IV" emission standards. Below are two graphics that illustrate the changing standards. The European standards are used in most of the world (at least, as benchmarks).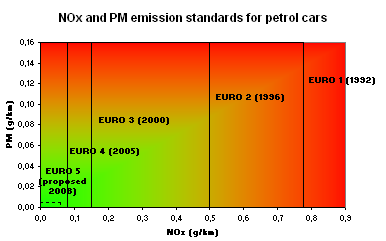 And here are the standards for light diesel vehicles: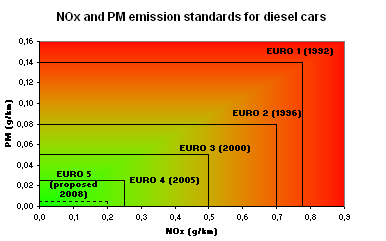 Note that these graphics don't include Euro VI, the strictest standard yet.
There are several ways to make modern catalytic converters, and several precious metals that can be used. Palladium is one of the premiere choices as an oxidation agent due to its price compared to platinum. Increasing auto production with increasing palladium usage has a huge impact due to the massive percentage of mined palladium that is directed towards the auto industry.
Take a look at the approximate amount of palladium demanded over the past five years:
| | | | | | |
| --- | --- | --- | --- | --- | --- |
| Year | 2009 | 2010 | 2011 | 2012 | 2013E |
| Pd Demanded (Moz) | 4.0 | 5.2 | 5.5 | 6.0 | 6.1 |
Source:Norilsk Nickel
Now consider the increasing auto production over that time frame:
| | | | | | |
| --- | --- | --- | --- | --- | --- |
| Year | 2009 | 2010 | 2011 | 2012 | 2013E |
| Worldwide Production | 61,791,868 | 77,703,987 | 80,045,075 | 84,100,167 | 88,000,000 |
Source: OICA
Calculating the approximate palladium used per vehicle on a worldwide basis:
| | | | | | |
| --- | --- | --- | --- | --- | --- |
| Year | 2009 | 2010 | 2011 | 2012 | 2013E |
| Pd/Vehicle | .0647 | .0669 | .0688 | .0713 | .0693 |
This illustrates an important fact: palladium demand in the auto industry is not only increasing due to pure production increases, it is also increasing on a per vehicle basis, which amplifies the increasing production's effect on the palladium market.
I expect the palladium demanded by the auto industry to increase again in 2014. Most automakers expect production to continue to increase, and I believe that palladium will continue to become more and more favored in catalytic converter use because of its competitive price to platinum.
Due to its limited supply and high demand, palladium is seeing increasing attention as an investment vehicle. While investment represents a significantly smaller percentage of palladium usage as compared to gold and silver, it is still a relevant piece of the puzzle. As palladium continues to outpace other precious metals in the midst of this historic bull market, it is becoming an increasingly popular investment. This facilitates a sort of self-fulfilling-prophecy: as the value increases, more people invest in it, which increases the value further. Take a look at the open interest of palladium futures contracts over the past five years to appreciate the investment attention this metal has received: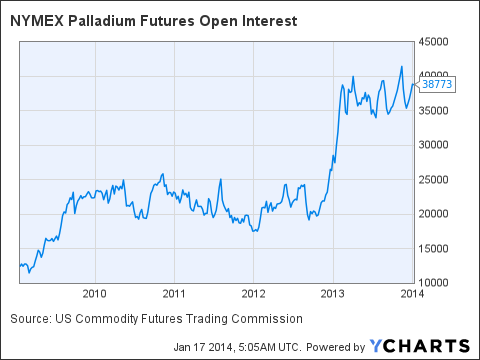 NYMEX Palladium Futures Open Interest data by YCharts
The recent announcement of the imminent launch of a South African based physical palladium ETF will meaningfully contribute to investment demand. The ETF will be run by Absa Capital, a unit of Barclays. While an official date and ticker have yet to be finalized, the ETF is expected to be launched this month.
Threats to the Thesis
The primary thing to be concerned about is the business cycle in the premiere auto markets. Vehicle production is a cyclical industry, and with the majority of palladium being directed towards the auto industry, palladium is somewhat of a cyclical commodity.
As discussed above, most big auto producers expect to boost their numbers again in 2014, but an astute investor would keep an eye on the figures as the year progresses.
Conclusion
The deficit between the supply and demand of palladium seems likely to continue through 2014 - possibly even widening further. Increasing vehicle production and increasing palladium per vehicle figures suggest that the auto industry will continue to demand more palladium. The adoption of stricter emissions standards in Europe and other parts of world will require more precious metals, and as palladium continues to trade at a discount to platinum, look for palladium to increase in popularity among the auto makers, especially in light diesel vehicles.
The introduction of another physical palladium ETF based in the world's (barely) number 2 palladium producing nation will increase investment demand. The 5-year trend of a tightening spread between platinum and palladium seems likely to continue due to industrial cost saving.
There are several ways to play this:
Palladium futures
A physical ETF such as PALL
The soon-to-be-released Barclays physical ETF
What is preferred depends on the individual investor.
Comment for a future - pun not intended - piece analyzing arbitraging the platinum and palladium spread.
Important Notes: The author is not an investment adviser; therefore, this piece is not investment advice. Although reasonable measures have been taken for accuracy, the author cannot and will not be held liable for any mistakes in this piece. Investors are responsible for their own decisions. Futures contracts are advanced investments and should not be undertaken without full understanding of relevant details.
Disclosure: I have no positions in any stocks mentioned, and no plans to initiate any positions within the next 72 hours. I wrote this article myself, and it expresses my own opinions. I am not receiving compensation for it (other than from Seeking Alpha). I have no business relationship with any company whose stock is mentioned in this article.
Additional disclosure: I have no positions in any of the commodities or the commodity ETFs mentioned, but may initiate long and/or short positions in any of the commodities or commodity ETFs mentioned over the next 72 hours.