Editors' Note: This article covers a stock trading at less than $1 per share and/or with less than a $100 million market cap. Please be aware of the risks associated with these stocks.
This is an update to the latest rankings for the 25 BDCs that I cover and a follow up to "BDC Rankings: December 2013" taking into account the latest pricing and valuations, revised analyst EPS estimates and recommendations as well as the new analyses from my most recent BDC reports.
These are the five general criteria I use to evaluate BDCs:
Profitability (dividend coverage, fees, NAV and EPS growth)
Risk (portfolio quality and vintage, rate sensitivity, diversification, volatility)
Return (sustainable, consistent, growing)
Analyst Opinions (outlook, price targets)
Valuation (NAV, P/E, growth rates, total return)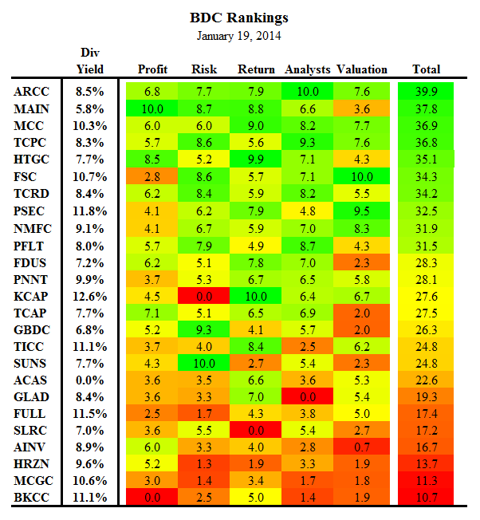 Changes in Projected Annual EPS Estimates
Upwards: Full Circle Capital (FULL) using FY 2014 from $0.73 to $0.78, Horizon Technology Finance (NASDAQ:HRZN) from $1.38 to $1.39, Main Street Capital (NYSE:MAIN) from $2.01 to $2.02, however, I believe it will be higher, Prospect Capital (NASDAQ:PSEC) using FY 2014 from $1.26 to $1.27, and THL Credit (NASDAQ:TCRD) from $1.44 to $1.45.
Downwards: American Capital (NASDAQ:ACAS) from $0.85 to $0.83, Apollo Investment (NASDAQ:AINV) from $089 to $0.88, BlackRock Kelso Capital (NASDAQ:BKCC) from $0.80 to $0.78, Fifth Street Finance (FSC) using FY 2014 from $1.10 to $1.03, Golub Capital BDC (NASDAQ:GBDC) using FY 2014 from $1.39 to $1.37, Gladstone Capital (NASDAQ:GLAD) using FY 2014 from $0.85 to $0.84, KCAP Financial (NASDAQ:KCAP) from $0.92 to $0.91, and TCP Capital (NASDAQ:TCPC) from $1.64 to $1.63.
My projections for Q4 2013
So far I have done my own projections for 9 of these BDCs and so far and I believe Ares Capital (NASDAQ:ARCC), Triangle Capital (NYSE:TCAP), TCPC and of course MAIN will beat projected EPS, TICC Capital (TICC) and PSEC will meet projected EPS and Medley Capital (NYSE:MCC), GBDC and FSC will miss (only slightly) projected EPS. Obviously depending upon timing of deployments and repayments during the quarter, or large one-time income and expenses, the actual EPS amounts can swing and are nearly impossible to predict. My estimates assume business as usual and an average between best and worst case scenarios.
Earnings season starts next month with GLAD on February 3.
Changes in Pricing or Valuation
The biggest price losers over the last five weeks were BKCC, FULL, KCAP, Hercules Technology Growth Capital (NASDAQ:HTGC) and PennantPark Investment (NASDAQ:PNNT) so they are now more favorably valued. All of these BDCs are lower than average in my rankings with the exception of HTGC that I consider to be overvalued (less so now).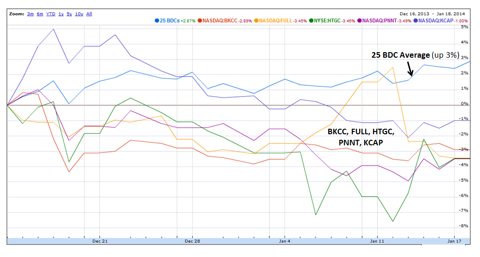 The biggest price gainers over the last five weeks were Fidus Investment (NASDAQ:FDUS), MAIN, GLAD, GBDC and TCPC, so now they are less favorably valued. All of these BDCs are recommended in at least one or more of my suggested portfolios.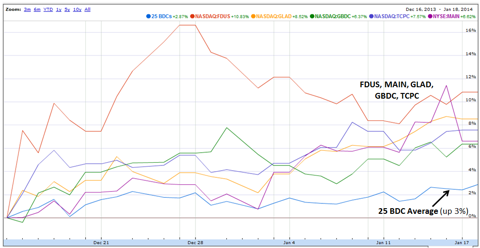 I use an average pricing approach to BDCs based on industry multiples of net asset value ("NAV") and earnings along with projected vs. expected total return. Both of these approaches are weighted by my risk rankings as I believe that investors expect more return from riskier investments.
Undervalued: Currently the most undervalued BDCs are FSC and PSEC. Others that are undervalued are MCC, TCPC, ARCC and New Mountain Finance (NYSE:NMFC). I consider all of these a 'Buy' with the exception of FSC in my weekly newsletter.
Overvalued: Many of the BDCs that were considered overvalued in the last rankings have recently fallen, as discussed earlier, such as HTGC, PNNT, BKCC and FULL. Many of the BDCs that I consider to be higher quality are also overpriced such as TCAP as discussed in my "TCAP: January 2014 Report", FDUS and GBDC. Others such as Solar Capital (NASDAQ:SLRC), AINV and HRZN, are overpriced from a return standpoint and/or multiples of NAV and EPS.
Below are the rankings without the valuation category that I believe is a more appropriate view of the underlying companies.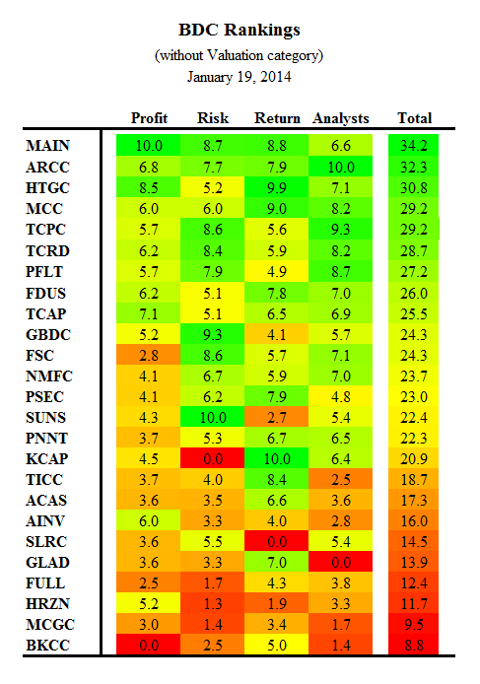 Investors should only use this information as a starting point for due diligence. See the following for more information:
Disclosure: I am long MAIN, TCPC, ARCC, FDUS, TCRD, PSEC, NMFC. I wrote this article myself, and it expresses my own opinions. I am not receiving compensation for it (other than from Seeking Alpha). I have no business relationship with any company whose stock is mentioned in this article.