Nowadays, activewear is becoming a hot fashion statement and is gaining acceptance as a wearable attire at almost every thinkable venue, including some offices. Under Armour (NYSE:UA) is capitalizing on this growing trend by offering highly technical activewear products for men, women, and youth. It is emerging as a big player in the sports apparel industry, and is giving stiff competition to its peers such as Nike (NYSE:NKE), Lululemon (NASDAQ:LULU), and Adidas (OTCQX:ADDYY). During the holiday season, Under Armour was able to increase its apparel sales by 34%, which was more than that of Nike, Adidas, and Lululemon. While Nike experienced a 12% rise in apparel sales, Adidas witnessed a decrease in sales. On the other hand, Lululemon reported a 7.4% decline in quarter-to-date holiday season same store sales. Under Armour's highly promoted fleece line was the major contributing factor towards the better holiday season. Moreover, it was much more aggressive with its promotional activities as compared to the last year.

Source: ycharts.com
The investors of Under Armour will be jumping with pleasure, as the stock has gained by almost 86.14% in just the last year. Moreover, as compared to its competitors, the stock has given the highest stock returns. It looks like the growing topline of Under Armour is complementing its stock price, since it has witnessed a continued increase in market share and has achieved 17 straight quarters of double-digit sales growth, year-over-year. Looking at the company's pace of topline growth, I believe that it can hit its revenue target of $10 billion by 2020, but it will be interesting to see what the valuation multiples say about Under Armour and its peers.
| | | | |
| --- | --- | --- | --- |
| Company | P/E ratio | P/S ratio | PEG ratio |
| Under Armour | 63.06 | 4.25 | 2.79 |
| Nike | 24.60 | 2.62 | 2.09 |
| Lululemon Athletica | 25.93 | 4.64 | 1.43 |
| Adidas | 38.01 | 1.36 | -4.61 |
Source: Yahoo Finance
As we look upon the valuations, Under Armour is the most overvalued stock with respect to P/E and PEG multiples. But does this mean that the stock has no further scope for growth? I don't think so; I say that Under Armour will continue to show momentum in 2014 as well.
Enhancing its efforts to become a known sports apparel brand
In November 2013, Under Armour bought Texas-based MapMyFitness, a fitness tracking software company, for $150 million. MapMyFitness offers running, biking, and walking apps, as well as providing social networks integrated with other health applications, and some 400 devices. MapMyFitness is described as the largest social network of fitness buffs on the internet and will help Under Armour to compete with Nike, which already has Nike+ as its fitness application. Both MapMyFitness and Nike+ have around 20 million registered users. This was a smart move by Under Armour in establishing itself as a fitness brand. Moving ahead, the company also introduced Armour 39, which is its unisex fitness tracker and monitors workouts based on heart rate, calories, and intensity.
With respect to sponsorships, Under Armour is very critical when choosing the teams and the sports events it is associated with. It gets exposure from sports events such as the Winter Olympics, the NFL, and college football events. According to ESPN, Under Armour has signed a major deal with the famous sports team of Notre Dame, which is one of the most renowned institutions in the U.S. According to Forbes, its football team is valued at $117 million, which is a close second to the University of Texas. This deal will end Notre Dame's 16-year run with Adidas, which was its previous uniform sponsor. With this change, Notre Dame's fans can expect a different look in the design of its Shamrock uniforms. Under Armour has supplied uniforms for other colleges, including the University of Maryland and Northwestern University, but this deal with Notre Dame is its most high-profile sports contract to date. By becoming the official apparel provider for Notre Dame, Under Armour will give enhanced competition to Nike at the university level of sporting events. Nike is an official apparel provider for other major universities in the U.S., including the University of Texas, University of Alabama, etc.
Apart from introducing new products and increasing sports sponsorships, Under Armour is also making technological advancements in its product offerings. Recently, the company partnered with Lockheed Martin Corporation (NYSE:LMT), which specializes in defense, security, and aerospace technology. Along with Lockheed Martin, Under Armour has poured millions of dollars into a project aimed at making a big presence at the Winter Olympics in February 2014. They are developing a speed skating suit that is more aerodynamic than any the sport has seen and is expected to be the fastest speed skating suit ever made. The suit, which is expected to be named Mach 39, is the result of 100 different textiles tested by Under Armour and Lockheed Martin. It will considerably help the American skaters, who are involved in a sport where speed is of primary importance, and whose winners are decided by mere hundredths of seconds.
The company is on its way to increasing its brand exposure with the 2014 Winter Olympics; the U.S. speed skating team, the U.S. Bobsled and Skeleton teams, and the Canadian snowboard team will be wearing attire with Under Armour's moisture-wicking technology. This will not only help Under Armour in building brand awareness, but also will lead to higher sales and profits. If any of these teams wins a gold, its exposure will be significantly increased. Under Armour hopes that its enhanced efforts at the Winter Olympics will drive the company's mantra of "making all athletes better" in consumers' minds. It is making sure that its brand is used by quality athletes at all levels. A strong presence in the Winter Olympics will provide a better platform to Under Armour to grow its presence outside of North America.
Increasing its international presence
In the fiscal year 2012, Under Armour attained 6% of its revenue from abroad. This is not significant in comparison with Nike, which drew 54% of its revenue internationally in the fiscal year ended May, 2013. This is because Nike produces far more item categories than Under Armour. To grow its presence internationally, Under Armour opened an experience store in Shanghai, China. The main objective of the shop is to introduce Chinese customers to the Under Armour brand through a video featuring athletes' training experience. Under Armour has more offices outside the U.S. than within, and it is targeting Brazil and the Middle East to attain major growth over the next two years. Moreover, the company has made continued investments to support its international expansion. This was the primary factor leading to an 87.7% decline year-over-year in operating income for the first nine months of 2013 from countries outside of North America despite witnessing an increase in revenue.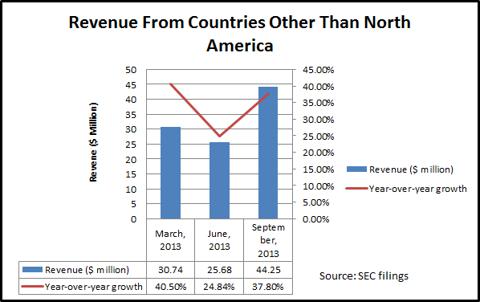 The above chart shows that Under Armour is witnessing satisfactory results from its operations outside of North America, with a consistent year-over-year rise in revenue in the last three quarters.
Final words
Under Armour shows all the potential to continue as a growth stock. It also has its plan intact for the Winter Olympics and is making consistent improvements in its technology. This will help Under Armour to get more sports contracts in future. Based on the strong fundamentals of the company, I give a buy recommendation on this stock.
Disclosure: I have no positions in any stocks mentioned, and no plans to initiate any positions within the next 72 hours. I wrote this article myself, and it expresses my own opinions. I am not receiving compensation for it (other than from Seeking Alpha). I have no business relationship with any company whose stock is mentioned in this article.
Additional disclosure: Maverick Research is a team of Research Analysts, this article was written by one of our senior research analysts.