Editors' Note: This article covers a stock trading at less than $1 per share and/or with less than a $100 million market cap. Please be aware of the risks associated with these stocks.
Most of my portfolio consists of reasonably priced high-yield stocks (mostly REITs and Energy MLPs) or value stocks with improving growth prospects (e.g., Apple). I also hold a good portion of cash at this stage of the bull market as I believe equities are becoming overbought at these levels.
However, 10% to 15% of my portfolio is dedicated to small, speculative positions in small cap plays with attractive valuations and/or underappreciated growth drivers. Most of these are in biotech, energy, financials or medical devices.
From this speculative portion of my portfolio have come my biggest winners during the significant rally of the last two years. These have included Novavax (NASDAQ:NVAX), Himax Technologies (NASDAQ:HIMX) and ZELTIQ Aesthetics, Inc. (NASDAQ:ZLTQ).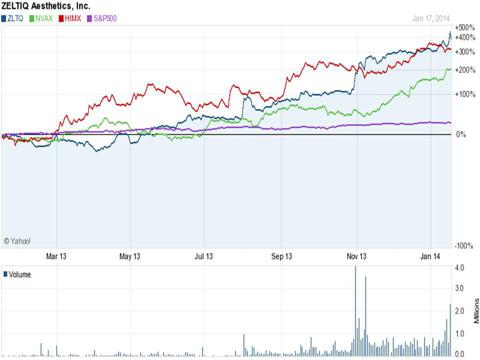 Ironically almost all of these winners have come from stocks selling for $1 to $5 a share when I first found and purchased them. Here are three other attractive speculative stocks that are currently selling for under $3 a share.
Dynavax Technologies (NASDAQ:DVAX) is a clinical-stage biopharmaceutical company that discovers and develops novel products to prevent and treat infectious and inflammatory diseases. Its main product is Heplisav which is meant to treat Hepatitis B and is in Phase III trials.
DVAX has risen more than 70% since its lows in November but is still selling for less than half its levels earlier in 2013. Not surprisingly for a biotech concern, three insiders bought over $300K worth of new shares at the end of October almost exactly at the stock's recent bottom.
Analysts are high on this ~$2 a share stock. The four analysts that cover the stock have a $4.50 median price target on DVAX. Price targets range from $3 to $6 a share. Dynavax has partnerships with GlaxoSmithKline (NYSE:GSK) and AstraZeneca (NYSE:AZN) for the development of its candidates, and will receive milestone payments.
The company has five candidates in its pipeline, where three are currently running clinical trials. Dynavax has over $75mm of net cash on the balance sheet and has a market capitalization just a tad over $500mm.
Axcelis Technologies (NASDAQ:ACLS) is a manufacturer of processing equipment used in the fabrication of semiconductor chips. The company is a 2014 story. Axcelis lost money in 2013 (~12 cents a share) but is expected to post a profit of 20 cents a share in 2014 on a better-than-50% gain in revenue over the coming 12 months. The stock is selling at less than half the level it was prior to the financial crisis despite a recent rally.
Needham recently put a "Buy" rating and a $3.50 a share price target on the stock, which would represent more than 40% upside above its current price level of under $2.50 a share. The analyst at Needham noted a new line of ion implanters and its efforts to streamline its operations for his Buy rating. The other two analysts have price targets of $3 and $3.50 a share on the stock. Axcelis has a healthy balance sheet with over 10% of its market capitalization in net cash.
TheStreet (NASDAQ:TST) is a leading independent digital financial media company providing business and financial news, investing ideas and analysis to personal and institutional investors worldwide. This stock has been on a roll since it announced that it is reinstating a dividend early in the year which gives it near a four percent yield (3.9%) at current prices.
TheStreet is benefiting its continuing association of founder Jim Cramer, a stock market rally that is starting to draw in retail investors for the first time in years, and has an activist with a significant stake pushing shareholder friendly measures. Even after its recent rally, TST sells for less than $3 but the stock traded at over $10 a share prior to the financial crisis. The company has almost $50mm in net cash on the balance sheet and less than a $100mm market capitalization.
Disclosure: I am long ACLS, DVAX, NVAX, TST. I wrote this article myself, and it expresses my own opinions. I am not receiving compensation for it (other than from Seeking Alpha). I have no business relationship with any company whose stock is mentioned in this article.