A first look of Oppenheimer Holdings (NYSE:OPY) gives some notion of a fair undervaluation in asset terms. A more in-depth review, however, which focuses on the book value's reliability provides a contradicting argument. Their reputation might be good but it is irrelevant if the price does not coincide with the fair value. This article mainly looks into to the price to book discount but it also considers whether shareholders could extract value on a cash flow basis. It seems that there is no margin of safety in both parts and there needs to be a significant decline of 50% in its current stock price, and changes to the company structure, if the stock is to warrant a purchase.
An Overview of a Struggling Stagnant Company
Oppenheimer Holdings specializes in three different areas; asset management, private client services and capital markets. In each area they have tried to find a niche for themselves. The capital market division, for example, tries to focus on underwritings primarily related to small and mid-cap companies. They perceive that they can't compete with Goldman Sachs (NYSE:GS) and their influence, and they seem fairly content with that. However, Oppenheimer has the potential to compete with the bigger houses in M&A, underwritings and IPOs; although it might take considerable time and effort, it would certainly pay off in the end as they have the reputation and capital resources.
The reputation that Oppenheimer Holdings has built up has consistently served them well in deals and earnings throughout the years, but the stability comes with a price: their revenue is stagnant and cash flow seems untouched and volatile. I believe this stagnancy is due to many factors, namely management's reluctance to change their way of thinking, including experimenting with larger insurance service, larger M&A deals and equity underwritings. The reason I come in conflict with the actual ownership of the company is because of its focus and struggles in maintaining its current power within its business segments rather than what could actually push the company forward. A.G. Lowenthal owns 21% of the company, giving him substantial power over the direction of the firm; it should be no surprise to anyone that change does not come easily, especially in this company that has been doing the same thing for more than 50 years. This power attribute of large owners delivers a real asymmetry between shareholders and owner/manager interests. Owners and managers seem content with their bonuses and cash flow generation, but the shareholders are less happy with their yen for growth. Oppenheimer Holdings has the potential but will sit in its comfortable chair for many years to come, perhaps even losing power within its niches due to small barriers of entry. The answer as to why it won't move is simple: why would a company that is currently profitable in repeating its procedures over and over again want to push itself in to a "riskier" unknown, when they have certainty of their bonus packages today?
The Fallacy Of Book Value
One of the easiest ways to state that a company is undervalued and thus arguably one of the easiest ways to be deceived is the book value metric. Today the company has a book value of $36.80 with a price of $24.20, putting shares at a 34% discount to book value. Well, this discount would be good if the discount wasn't imaginary. Let's take a look at a few points to show that this is actually is the case:
A) Consider in the case of liquidation of its assets, why would they do it at all? Once again, the profitable managers are cashing in and bonuses are flowing a fine way to preserve one's interests and wealth. If the company was considering liquidation, it would be because the company had lost its edge through reputation decline and/or deals and asset management could not reach enough scale to be profitable. In this case, asset values would have dropped considerably and thus the liquidation value would not be enticing as the book value and the discount seem today.
B) Now to more quantitative measurements of the reliability of the book value measurement: are the asset figures on the balance sheet the value you would actually receive? Although accountancy standards depend on transparency and thus subsequent fair valuation, banks are often too complex for accountants to understand and appropriately value as banks are often more than reluctant to share key data. Consider the "Receivable from Customers" from its 10-K comprising 1.6 times the book value. If a customer could not be able to pay its outstanding debt to Oppenheimer Holdings and if there are no collateral securities that can be secured, whom is to say that they cannot lose $172 million of this item from the book value, effectively reducing its price to book discount to null. It does not have to be a financial crisis for this to happen, the point is that it only requires one bad investment with leverage, regardless of a conservative money management policy.
C) Unfortunately, the previous point is not my largest concern, it's the actual securities owned and traded which are valued $759 million. The main part consists of $525 million of US treasury, agency and sovereign obligations. Now these are considered less risky but I would not consider debt securities or mortgage securities risk free at all (even U.S agency obligations). This is because it is hard to find their policy of trading and whether they actively leverage and engage in riskier securities within this division, adding a layer of concern in times of crisis and their normal operations. There are countless firms that have fallen in the hands of over speculation and greed thus effectively leaving shareholders paying for the "discount" as a premium.
D) Integrating Point B and C results in the authors' sensitivity analysis witnessed below which indicates the abundant problem of the integrity of this discount.

A subsequent 10 % decline of the items customer receivable and securities owned would mean that 90 % of its Security Margin (Discount to Price) would get wiped out. More interesting is that after a 30% or 32% decline the whole book value evaporates. Considering the inherent risk of overspeculation of their trading activities and the risk of customer default and its lack collateral, it is sound to discuss the reliability of the discount. After all, a small decline wipes out the whole discount and a relatively small price decline wipes out the whole book value. So in conclusion, what discount is good enough? There is not directly an arbitrary discount that would satisfy me, especially in this case where the fundamental factors indicate a reluctance to change which hinders the reliability of the margin. After all, a company that is pushing its limits is by my standards not the company that I want to engage in riskier investments that could lead to severe repercussions.What I want is a company that produces cash flow to shareholders instead of capitalizing on an immensely doubtful book value case as previously analyzed so we will instead see if there is possibility of a price/value asymmetry on a cash flow basis next.
The Discrepancy of Price and Cash Flow
Most of the time revenues are not interesting, it is the ability of the company to take advantage of current revenues that is. When looking at the lack of revenue growth in the last 6 years, it strengthens the argument regarding the lack of willingness to change as previously discussed. But what is considerably more important is the possibility of capitalizing on these stagnant revenues.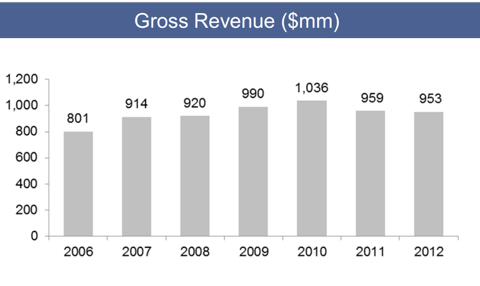 What is even more alarming is how they increased their personnel in their largest segment, the private clients division, through the increase of financial advisors but at the same time declined their ratio of sales. This is not a pattern that, a shareholder would want to see at all and supports the thesis that the company acts for itself rather than for the greater good.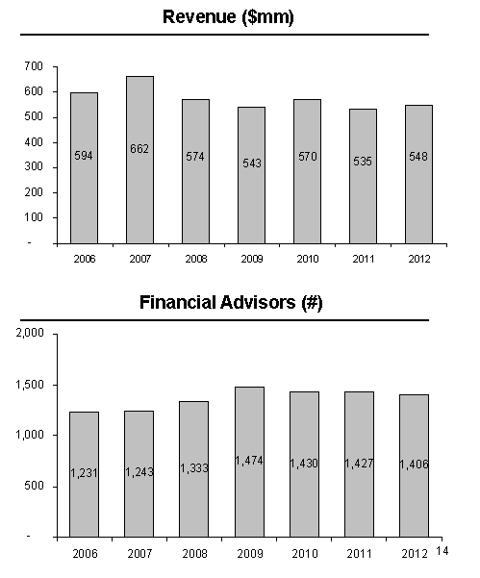 In observing the cash flow in the picture below, we see that the development is volatile to say the least. Although, it is quite profitable providing an OE yield of 3-6 % consisting of the two outlined items. 2010 cannot be suggested to be a true representation of performance, simply due to the fact that commissions were abnormally high due to the activity in the financial sector. On a normalized basis you cannot directly see this to be recurring, especially considering the trend during the last years. If yields were around 6-12 % the company would be slightly more interesting, but that would require a 50% decline in the share price. Now you cannot directly add back amortization of notes receivables (loans to top advisers) for your cash flow calculations even as it is accounted for in the compensation and related expenses for top advisers. The other similar item "notes receivable" directly decreases this potential cash flow and thus it could be years until this cash flow could actually be taken back into the company. Arguably this should only be accounted for in the balance sheet as it is a financial arrangement and a transaction between two parties rather than recurring expense streams.
However, for the remaining two items (Depreciation of fixed assets + Amortization of Intangible assets) it is vital to adjust for as it underscores its actual cash flow. As judged below, there is no notable growth rate to take account for. The company rightfully pays out a small dividend of 1.8 % today and during each year for the last 5 years it has paid $0.44 per share. Although it can provide a higher portion of dividend pay outs, it is not the case here. More importantly, where is the growth rate for the money that is not being spent on the dividends? It is being spent on offices and personnel, mostly judging by the cash flow statement but there are no results to be seen. Therefore, perhaps the most worrisome trend is its stagnant revenue stream and profitability, that I expect would grow with inflation more or less because of the fundamental reasons previously explained which hinders the business' progress.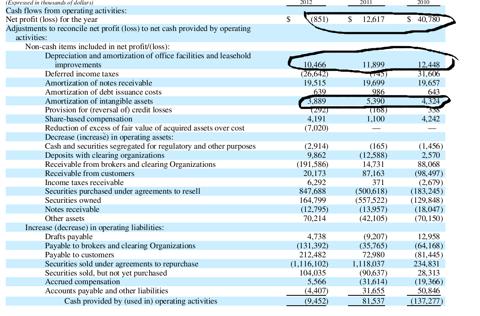 Conclusion:
In combining the dull cash flow yield and revenue trend, an observation regarding inefficient resource allocation and the fact that the company does not want to change its business practices and adapt, it is less convincing that these trends will change any time soon. Rather, it wants to stick to a more power oriented approach, remaining at the top of its small empire rather than take the risk of getting too comfortable and taking up unnecessary risks that could destroy this company. Judging by the book value analysis and sensitivity analysis, there is only a small room for error, of around 10 % for both perceived key items analyzed. So far so good, but the company cannot allow any significant negative event to occur; otherwise, current shareholders risk losing a major portion of their wealth as it is not only the discount in question but the equity itself. The book value discount is therefore argued to be totally irrelevant. Regardless of the profitability seen in the dividend payment of 1.8%, it does not compensate for the immense premium valuation today. Obviously this is not enough to warrant the inherent risk of this business, but more importantly, the rest of the cash flow that could have been distributed is being invested in properties and people that do not seem to bring the company more value accretive growth. This is concerning for any agile investor. Perhaps a more aggressive dividend oriented approach would fit this company and its shareholders better as its profile now seems more focused on keeping its business as its always have been. The key for Oppenheimer's ultimate survival in this industry is the willingness to change, test and expand its limits within the M&A sector, IPO's and underwritings, but this progress is stopped by ownership's desire to keep the business going as it always has been to arguably take more advantage of the company than shareholders. Until these changes occur I would not hold any Oppenheimer Holdings stock and in the case the company does indeed expand its business horizons, I would still demand the right price which as of today cannot be observed. It needs to drop at least another 50 % for the yield to cover this reluctance for growth as well as the risk of book value diminishing. This decline would mean an OE yield of 6-12 % and would effectively mean a 75 % discount to book, at that point in time it is certainly worth another look.
Disclosure: I have no positions in any stocks mentioned, and no plans to initiate any positions within the next 72 hours. I wrote this article myself, and it expresses my own opinions. I am not receiving compensation for it (other than from Seeking Alpha). I have no business relationship with any company whose stock is mentioned in this article.