At first glance the news Facebook (NASDAQ:FB) had a significant boost in video views in December 2013 would appear to suggest the company has significant video ad revenue going for it sooner than expected. Unfortunately, that's not the case, as it's not the auto-play videos in the Facebook News Feed that is driving the video views, but the inclusion of the very short-form Vine videos from Twitter (NYSE:TWTR) that are now being uploaded at a high rate.
Longer term, assuming they're embraced by Facebook users, along with marketers, auto-play video ads could be a significant part of Facebook's earnings; but that will take some time before we know how much.
As for Vine's value to Twitter, it generates a lot of interest, but these user-generated videos in their current state won't be that attractive to advertisers. That's the same reason Google's (NASDAQ:GOOG) YouTube and other properties don't get near the streaming video ad views that AOL (NYSE:AOL) get.
source: StockCharts.com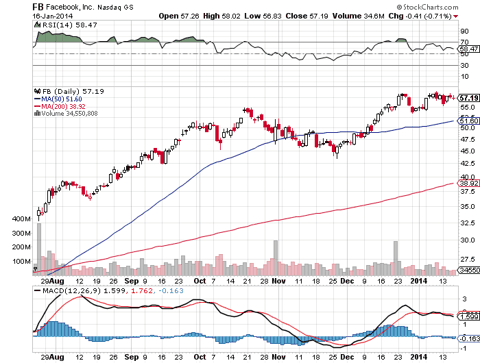 Where is the Video Ad Value?
There's one major element to consider when looking at the value of video ads, and that is in regard to whether or not it's a streaming video ad. A streaming ad is what generates the highest payment per view from marketers, and overlays and other types of ads don't generate much in the way of revenue.
When reports are released on the leaders in video ad views, it's the streaming video ads that are being counted, not any other type of ad. The reason is because it's streaming video ad views that count, not other ads or video views in general.
Finally, concerning ad value, along with the streaming ads that draw the best prices, it's the premium content the ads are placed against that make it all work together. If there is no premium content, the streaming ads don't receive the price premium marketers are willing to pay, if they are willing to place their brand against the content at all.
This is why Google can win the video viewing metric, while not being the top video ad company as measured by views and revenue. AOL with its wide range of premium digital video content is the leader there by far. This is why Google has been working hard on adding premium channels to YouTube in order to tap into this profitable market.
source: comScore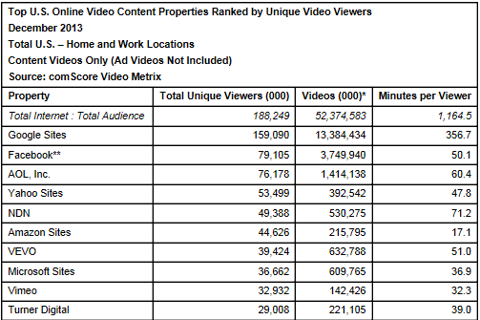 For Twitter, it will have to figure out ways to adapt to this reality, or it'll struggle in its Vine segment to generate any meaningful revenue or earnings.
Video Ad Views
As you can see below, AOL handily leads the market in video ad views, generating 4.3 billion in views. Some of that is attributed to its recent acquisition of Adap.tv.
source: comScore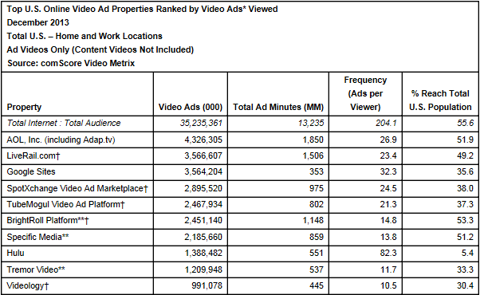 Google has dropped to third place behind LiveRail, which is a video ad exchange/DSP/SSP. Again, the reason for this is the differentiation in the quality of content. Premium content as it relates to revenue is the future of digital advertising success, and those supplying that for advertisers will be the big winners.
It'll take some time to scale out of course, but over time there is no doubt streaming online video ads will be the biggest digital revenue-producers in the future. Any company being analyzed in this space should include its premium video content strategy and how it's going to expand it. The demand is already there and waiting.
Facebook Video Ad Revenue Going Forward
Ignoring the surge in Vine videos on Facebook, it is still believed by some analysts that the company may generate from 5% to 10% of all its advertising revenue via video ads in 2014. That may be a little too optimistic, although it's possible if it gets aggressive with the initiative. I don't think it's likely because of past practices of Facebook, where it tends to go very easy with changes. But if there aren't too many complaints, it's possible it may ramp up the number of video ads in 2014.
According to Stern Agee analysts Arvind Bhatia and Brett Strauser, video ads on Facebook could increase revenue by as much as $800 million over the next three years.
Mobile Ads
In the near term, mobile ads will be the major revenue generator for companies with a digital content presence, even though video ads will be part of the mobile segment. It'll take a little time as the video ad market grows before we see how that all plays out as a percentage of mobile.
With that in mind, eMarketer projects Google to grow in this segment, with Facebook losing share through 2015. At the end of 2013, Facebook had a market share of 16%, with Google dominating U.S. mobile with a 41.5% share.
source: eMarketer.com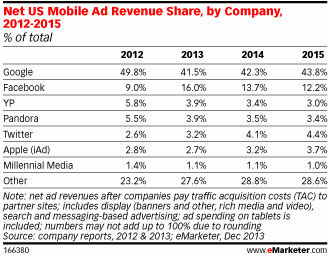 Through 2015, Facebook is projected to drop to a 12.2% mobile share in the U.S. ad market, while Google climbs to 43.8%.
Twitter, which is of course just getting its legs under it, ended 2013 with about 3.2% mobile ad share, with the company growing it out to about 4.4% by 2015. This isn't surprising for Twitter, as smaller devices work well with its product.
If video becomes a larger part of the mobile experience, it'll be interesting to see if AOL becomes a player there. For now, it's not on the radar, and isn't likely to be over the next year or so.
Conclusion
It will probably take several years to work through the practical steps needed to be taken to address the increasing demand for streaming digital video ads. What we can watch is how a company describes the strategy it is taking to grab a share of this market.
And as mentioned earlier, it's the commitment to premium digital video content that will drive this industry, and determine its rate of growth and success. This is what to look for when looking to hold a company operating in this space long term.
Within the next three to four years I see these ads as growing at an extraordinary rate, and they could even come close to being the top digital ad revenue source available to content providers.
Concerning Facebook, we need to closely watch whether the social network delivers for marketers offering video ads on the network. It will probably become a nice stream of income over time, but there is still the issue of premium content, and AOL, Google, and others will be the main beneficiaries of that focus. We'll continue to see announcements by Google for new premium channels on YouTube.
For AOL, it may become one of the better turnaround stories in recent history if it can continue to provide the type of premium content it has been till now.
Twitter should do okay too. Not because of video, but because it's hitting the mobile ad market at just the right time.
Disclosure: I have no positions in any stocks mentioned, and no plans to initiate any positions within the next 72 hours. I wrote this article myself, and it expresses my own opinions. I am not receiving compensation for it (other than from Seeking Alpha). I have no business relationship with any company whose stock is mentioned in this article.