Credit card companies keep on soaring. After American Express (NYSE:AXP) delivered solid fourth quarter results last week, shares of the company increased 4% and Visa Inc. (NYSE:V), lifted by American Express' results, gained 5%. Visa is going to report later on this month but investors clearly expect great results from the company as well. Investors of either American Express, Visa and MasterCard (NYSE:MA) are looking back at a great year and all of them have vastly outperformed the S&P.
12-month trailing share performance
The card service sector had one of the best 12-month, two-year and five-year runs of all sectors out there. Credit card companies proved to be highly cyclical bets that depend heavily on consumer confidence. To some extent the rise in share prices is quite astonishing considering that unemployment is still high by historical standards. Highly cyclical investments were great bets in 2009/2010.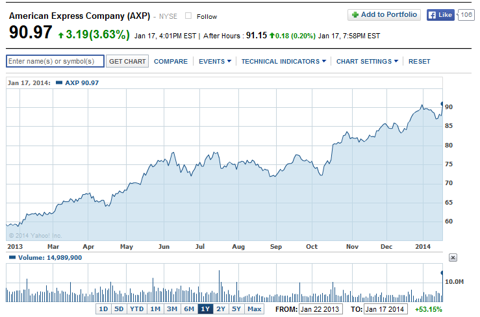 The break-out of an extended trading range happened at the beginning of 2012. In all fairness, the starting point of the measurement period contributes to a positive performance picture because the ensuing financial crisis caused very depressed equity valuations in the first quarter of 2009. In any case, the rebound in card companies has been quite forceful and American Express has doubled many times since then.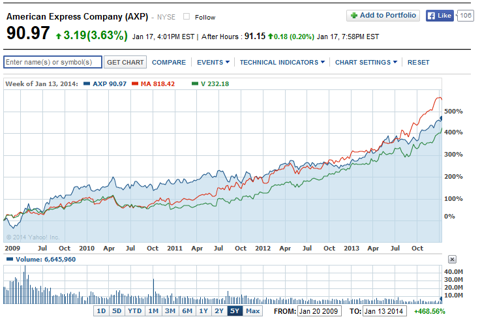 American Express' 2013 performance revisited
American Express presented strong Q4 and FY 2013 results that send up shares of Visa as well. American Express reported total revenues (net of interest expense) of $8.5 billion vs. $8.1 billion a year ago (plus 5%). Fourth quarter net income ballooned up to $1.3 billion compared to $637 million a year ago (an increase of 104%) and American Express' diluted EPS jumped from $0.56 in the fourth quarter of last year to $1.21 in the most recent quarter (up 116%). Fourth quarter billed business increased 8% to $254 billion from $236 billion a year ago indicating that consumers are more readily using their credit cards. Growth rates in American Express' billed business took a hit in 2012 when economic uncertainty reemerged amid worries that China's economy is overheating. Growth rates have recovered throughout 2013 and I expect a billed business group growth rate above 12% in 2014.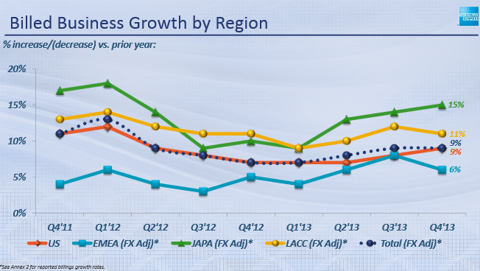 Free cash flow multiple
American Express' historical operating-, investing- and free cash flows to equity are reproduced and reconciled in the FCFE reconciliation table below. The cash flow overview also contains my estimates for American Express' FY 2013 and 2014 full year cash flows. In the last three years American Express has utilized large amounts of operating cash flow to repay debt. Moreover, American Express has notably stepped up its share repurchases over the last two years (net share repurchases stood at $1.7 billion in FY 2011 and $3.5 billion in FY 2012). Based on American Express' nine-month 2013 figures and an uptick in business momentum, I estimate that American Express can outperform its 2011 operating cash flow in both FY 2013 and 2014. With changes in net borrowing similar to historical levels, I estimate that American Express can achieve a solid rebound in free cash flow to equity and achieve $5.4 billion in FCFE in FY 2014. This translates into a free cash flow to equity per share of $5.03 and a forward P/FCFE ratio of approximately 18.
While the free cash flow ratio is not low and not necessarily a bargain, it does correctly imply above-average growth expectations for American Express. I hold a bullish view on the US economy and think that both the US economy and US corporations are good for a few positive surprises in the next few years. Lower unemployment rates and increasing interest rates will benefit card companies like American Express and justify a premium valuation. American Express has significant potential to boost its EPS over the next expansion cycle which the market could reward with multiple expansion.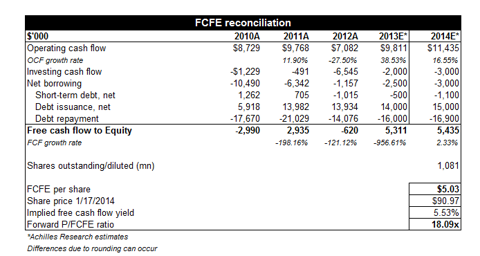 Market valuation
The increase in share prices has made MasterCard and Visa comparatively expensive. Both companies trade at high forward P/E ratios of over 20 which suggest that the share price has gotten a bit ahead of the fundamentals even though the business and earnings outlook looks promising. At the very least, investors appear to be optimistic when it comes to their earnings prospects as investors pay a substantial growth premium up front.
American Express, on the other hand, fetches a much more reasonable valuation. Warren Buffett's cornerstone investment trades at just 15x forward earnings and American Express is the cheapest credit card service company in the peer group.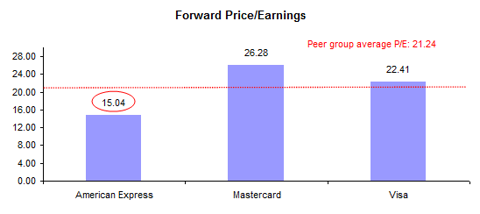 The table below shows that American Express trades at a whopping 29% discount to the peer group average P/E ratio of 21.24 and the discount on a P/S basis is even more dramatic. American Express also has the highest dividend yield of 1% although the dividend yield should not be the primary criterion to invest in either credit card company.
Conclusion
In this earnings season it seems to be difficult to excite investors. Many of whom are sitting on profitable positions and use any sign of weak profitability to throw their shares on the open market. This clearly isn't the case for American Express. The company has grown healthily over the last years and unlike many other companies has not disappointed investors with a contracting revenue base. American Express is a well-managed company which delivered solid revenue and EPS growth in the fourth quarter as well as on a full-year basis.
American Express rightly fetches a premium valuation as indicated by the free cash flow to equity calculation above. I am fairly optimistic when it comes to the earnings outlook of the credit card sector and increases in consumer spending could provide the critical boost to American Express' bottom line. AXP's share price has doubled many times over the last five years (American Express has traded as low as $10 per share in 2009) and I see no reason why the share price couldn't double once more over the next 2-3 years. Accelerating EPS growth and multiple expansion are both likely to happen for a company that sits at the heart of consumer spending. Positive surprises in consumer spending will likely benefit American Express' share price as well. Strong long-term BUY on improving consumer spending, higher credit card use in a buoyant economy, above-average EPS growth prospects and potential multiple expansion.
Disclosure: I have no positions in any stocks mentioned, and no plans to initiate any positions within the next 72 hours. I wrote this article myself, and it expresses my own opinions. I am not receiving compensation for it (other than from Seeking Alpha). I have no business relationship with any company whose stock is mentioned in this article.