As 2014 progresses, I'm working to expand my coverage universe here on Seeking Alpha, with an added emphasis on small-cap names. I've always been one who has covered a number of retail or consumer goods type names, and today, I'm here to analyze another promising company. Skechers (NYSE:SKX), a well known footwear company, is one name investors might want to keep an eye on going forward. The company's potential for double digit revenue growth should separate it from the pack. Today, I'll explain why Skechers has some decent potential.
Past results and current expectations:
First, I'll take a look at past results and expectations for the completed 2013 and 2014 we are in now. The following table shows final results for 2010 through 2012, along with expected numbers for 2013 and 2014, according to current analyst estimates. The revenue and net income numbers below are in thousands.

*Current analyst estimates. 2013 EPS estimate includes the add-back of 8 cents in one-time items from early 2013.
Skechers had a tremendous 2010 with nearly 40% growth in total revenues. However, as the company built out the business, it had too much inventory on hand. In 2011, not only did the company see a dropoff in revenues, but margins were severely impacted. As you saw above, the company in 2011 basically lost half of what it made in 2010. Revenues declined slightly in 2012, but the company was able to return to profitability.
In 2013, business got much better. While the company has not reported fourth quarter results yet, the first 9 months of the year went very well. The company showed just under 20% growth for year over year revenues for the 9 month period. In the third quarter, Skechers reported comparable store sales increases of nearly 17%. Many retailers are having a tough time maintaining positive store comps.
The company has not reported fourth quarter results yet, and I know that investors may be worried given a flurry of retailers that have warned already. These concerns are very valid, and they will certainly impact the recommendation I will make later. But there are two things currently going for Skechers. First, analysts are only looking for 13.4% revenue growth in Q4, less than the 20% growth achieved in the first nine months of the year. Second, as you can see in the chart below, Skechers shares have come well off their 52-week high. With shares down a bit from their highs, investor expectations will not be as high.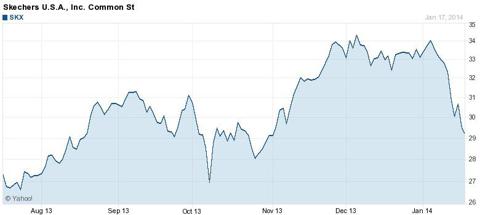 (Source: Yahoo! Finance)
When it comes to revenue growth, the double digit growth expected in both 2013 and 2014 is something investors need to key in on. As I'll show later, many similar names are only showing mid to high single digit revenue growth. Skechers is also expected to dramatically improve earnings per share in both 2013 and 2014. While the company did have a bad 2011, the rebound started in 2012, and I think we've only completed part of the rebound so far. Current estimates have the company breaking that 2010 revenue number in 2014.
A strong balance sheet:
Despite the company's troubles in the past couple of years, Skechers is very healthy financially. The following table shows some key balance sheet metrics at the end of Q3 during the past three years. Dollar values are in thousands.

*Liabilities to Assets ratio.
The company has a solid working capital balance and strong current ratio of more than 3.50. Some investors might be concerned about the company's debt, but the company has more than enough cash to cover the debt. The company is paying down debt each month, with a couple of balloon payments in the next couple of years. The following graphic is a breakdown of the company's long-term borrowings, and does not include the just over $12 million in short-term borrowings and the current portion of long-term borrowings.

In terms of the balloon payments, roughly $77 million is due in November 2015, with another $12.6 million due in December 2015, and $11.6 million due in June 2016. With more than $330 million in cash at the end of Q3, there are currently no concerns about the company being able to pay back these debts.
In fact, I think that if 2013 and 2014 go mostly as planned, Skechers might be a candidate to start a share repurchase plan. A $100 million announced buyback would represent more than 6.7% of the roughly 50 million shares outstanding and 8.5% of the float at current prices. Those numbers don't take into account any dilution from executive options and other items that might increase the share count. In the end, however, a buyback over a two or three year period should be able to get the share count down by at least 2-4% at current prices. I think a buyback announcement would be a strong signal to investors that the business has indeed turned around from the troubles a few years ago.
Comparisons and valuations:
When it comes to Skechers, there are a number of other footwear retailers to compare the company against: Deckers Outdoor (NASDAQ:DECK), Steven Madden (NASDAQ:SHOO), Wolverine World Wide (NYSE:WWW), and Crocs (NASDAQ:CROX) are four names considered in the peer group. All of these names have market caps and yearly revenues of less than $3 billion, so they are all of fairly comparable size. The following table shows some key growth and valuation statistics for each, based on projections for 2013 and 2014 revenues and earnings.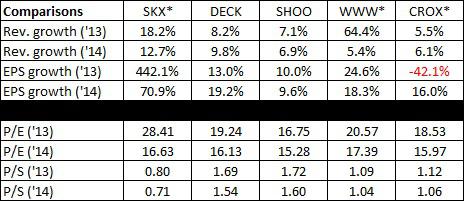 *Skechers' 2013 EPS and Growth number includes the 8 cent benefit discussed above. Crocs' EPS and P/E numbers are non-GAAP for 2013. Wolverine World Wide made a huge acquisition, and excluding the purchase, the company says pro forma revenues would rise 6.4% to 7.1% in 2013.
Skechers leads the field when it comes to growth for both 2013 and 2014 in both revenues and earnings (when using pro forma for WWW). Yes, part of Skechers' large earnings growth is due to a bad year or two, but some of these other names have had bad stretches as well. Deckers saw its earnings plunge in 2012, and Crocs is in the midst of a bad year now. With 2013 over, most investors are probably looking at the 2014 numbers as the more important ones. Well, Skechers is the only name projected for double digit revenue growth, and the company leads the pack in expected earnings per share growth as well.
But perhaps the best reason I like this name is the valuation. On a price to sales basis, Skechers trades at a tremendous discount to the other four names. Every name except Skechers trades for at least 1.04 times expected 2014 sales, which Skechers is at 0.71 times. On a price to earnings basis, Skechers trades at a comparable valuation. Does that make sense to you? Well, when you look at the growth profiles, Skechers offers a lot more.
Highly rated by analysts:
I'm not the only one that likes Skechers as an investment. The following table shows a summary of analyst opinions regarding the five names discussed above. In terms of the average rating, a 1.0 means a strong buy and a 3.0 means a hold.

Of these five names, Skechers is rated the strongest buy. Additionally, Skechers has the 2nd most upside to its average analyst price target. Analysts really like Skechers, which is just another reason that separates the name from the pack.
Looking forward:
So where does Skechers go from here? Well, current analyst estimates call for $2.08 billion in revenues during 2014. I think that if Skechers can get to at least $2.05 billion, the company's valuation will rise to 0.85 times sales to get more in-line with the rest of the space. That puts us at a market cap of approximately $1.74 billion, compared to $1.48 billion currently. That's approximately 18% upside.
But in the most bullish case, I think Skechers can get to at least $2.1 billion in revenues for the year. If the company can do that, it will solidify its double digit revenue growth profile, and I think the market will potentially bear a 0.9 times sales multiple. I'm not going to 1.0 times sales multiple or more just yet, because I think investors are still a little skittish just a few years removed from the huge revenue drop and losses. Even at 0.9 times sales at $2.1 billion in revenues, that's a market cap of $1.89 billion, or nearly 28% upside from here. It's also possible that a buyback could make investors pay even more for this name, but in these two scenarios, I'm assuming no buyback for now. I think a buyback will come eventually, but I'm not going to guarantee one just yet.
How to play this name:
We've seen a lot of warnings and disappointing results lately in retail. Those that have missed expectations have seen their stock prices crushed, with some names down 30% or more. Just in case Skechers doesn't have a great fourth quarter, I have a two stage approach for how to play this name.
The first stage is to buy February 22nd expiration call options, preferably at or just into the money if possible. This way, if the stock rallies on earnings, you take part in most of the rally. If the stock gets crushed, you'd only be on the hook for a dollar or two of the loss. After the earnings report, you could then look to start building your position in actual shares, which would be the second stage of the process.
Another way investors might choose to structure this is to just buy the shares now and buy put protection. The $29 puts would cost $1.40 at the moment. This would help to cushion the blow should some bad news come out and send shares lower. In both this strategy and the one above, your maximum profit potential will be reduced through options expiration in February, but so will your loss potential, and I think that's the best way to go.
Final thoughts:
When it comes to double digit revenue growth, Skechers stands out above the rest. The footwear retailer shows more potential growth than many of the other names in this space, with a very reasonable valuation as well. A solid balance sheet and improving debt situation will get better over the next few years, possibly allowing the company to start a buyback program. Skechers appears to be a great name for 2014, but investors should probably hedge through Q4 earnings, just in case there is a negative surprise. We've seen a lot of bad news from retail lately. However, Skechers shares have already come well of their recent highs, and that's what makes this name worth a look.
Disclosure: I have no positions in any stocks mentioned, and no plans to initiate any positions within the next 72 hours. I wrote this article myself, and it expresses my own opinions. I am not receiving compensation for it (other than from Seeking Alpha). I have no business relationship with any company whose stock is mentioned in this article.
Additional disclosure: Investors are always reminded that before making any investment, you should do your own proper due diligence on any name directly or indirectly mentioned in this article. Investors should also consider seeking advice from a broker or financial adviser before making any investment decisions. Any material in this article should be considered general information, and not relied on as a formal investment recommendation.