In my ever-expanding research of the Healthcare REIT sector, I decided it was time to take a deep dive into Senior Housing Properties Trust (NYSE:SNH). This is my first "focus" article on the Newton, Mass-based Healthcare REIT, and I wanted to determine whether or not SNH is a possible BUY today.
Before digging into the "nuts and bolts" of SNH, let's examine the "birds-eye" view of the Senior Living industry. Today there are 14 US Healthcare REITs that have a market capitalization of around $69 billion. In 2013, the Healthcare sector produced the worst overall returns of approximately negative 7.06%.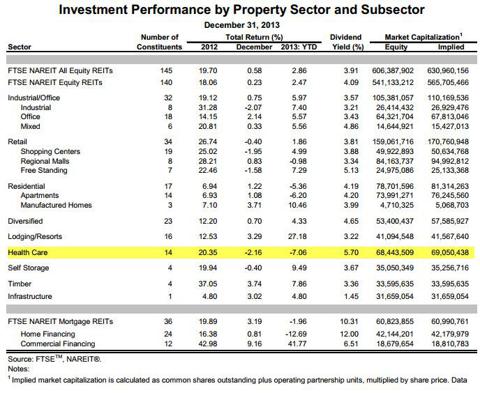 Accordingly, publicly-traded Healthcare REITs own more than 20% of the estimated $650 billion of senior housing assets. Three of the largest REITs - Ventas, Inc. (NYSE:VTR), HCP, Inc. (NYSE:HCP), and Health Care REIT (HCN) - dominate the industry with more than $51 billion in combined market capitalization.

The growth in healthcare and senior housing is being fueled by the dynamics of the age 85+ population segment. As evidenced below, this segment is growing at a much faster rate than the rest of the population: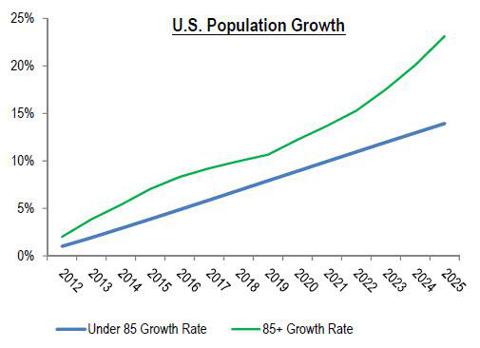 In addition, senior housing construction has dropped off considerably since 2007, and space remains limited in most markets.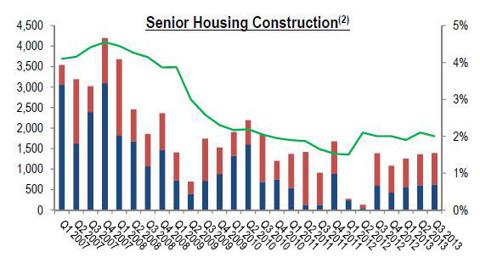 SNH has (more recently) been focusing its efforts on owning assets with limited exposure to government funding, and the company has (as of November 2013) 94% of its sources of payment coming from private pay properties. Accordingly, SNH has one of the highest "private pay" models in the REIT sector.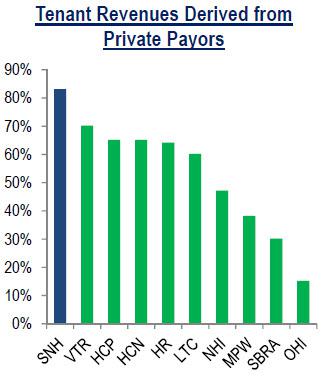 While REITs like Medical Properties Trust (NYSE:MPW) and Omega Healthcare Investors (NYSE:OHI) derive a considerable amount of income from Medicare, SNH has less than 10% exposure to the government-reliant model.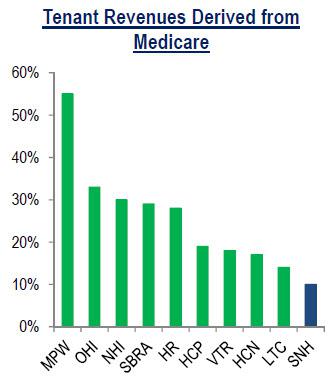 Likewise, Omega Healthcare has more than 50% of its revenues generated from Medicaid, and SNH enjoys a healthier concentration of around 5% (of Medicaid revenue).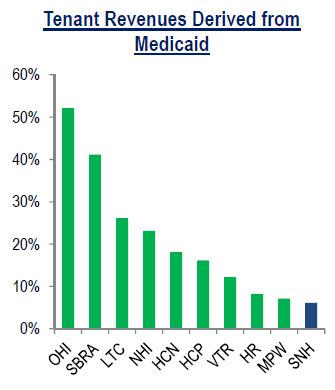 So Far, So Good
SNH is clearly less exposed to the risks of government healthcare cuts, and that appears to be a key differentiator for the business model. Let's look a little closer into the platform…
SNH was founded in 1986 and commenced as a public REIT on September 17, 1999. With more than 14 years of public history, SNH has evolved into a $5.3 billion company with 396 properties in 39 states and Washington, DC. As noted above, SNH owns around 94% of its properties with private pay structures, and the balance is rehab hospitals (2%) and nursing homes (4%).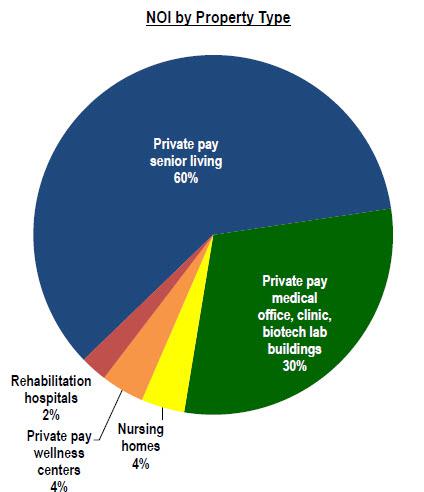 SNH is considered a "diversified" REIT, and the company's property mix is primarily made up of Independent Living (35%), Medical Office Buildings (31%), and Assisted Living (25%). The smaller categories include Nursing Homes (4%), Wellness Centers (3%), and Rehabilitation Hospitals (2%).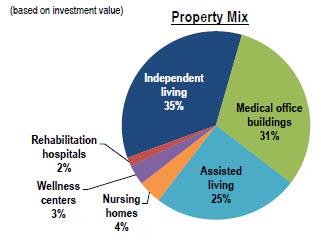 SNH's primary growth platforms are Private Pay Senior Living and Medical Office, and the geographic diversification is evidenced by the snapshot below: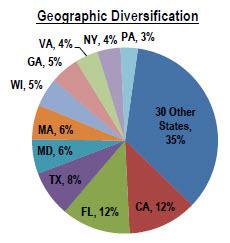 Here is an illustration (map) of SNH's footprint consisting of 396 properties in 39 states and Washington, DC: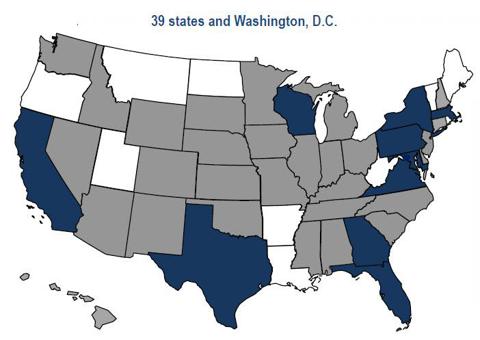 What About Tenant Diversification?
SNH has more than 600 tenants, and the top five tenants include: Five Star Quality Care (NYSE:FVE), Aurora Health Care, Sunrise Senior Living, Cedars Sinai Medical Center, and Life Time Fitness (NYSE:LTM-OLD). Here is a snapshot of the top 10 tenants:

The Senior Living portfolio consists of 263 communities and more than 31,710 units. The largest senior living tenant, Five Star Quality Care, is also the largest tenant of the REIT. SNH derives around 44% of its overall revenue from Five Star's 189 communities (and 20,806 units).

In fact, Five Star leases more than 71% of SNH's Senior Living portfolio from the REIT, and that translates into considerable dependency on one tenant. Here is a snapshot of SNH's Net Operating Income by Tenant Mix: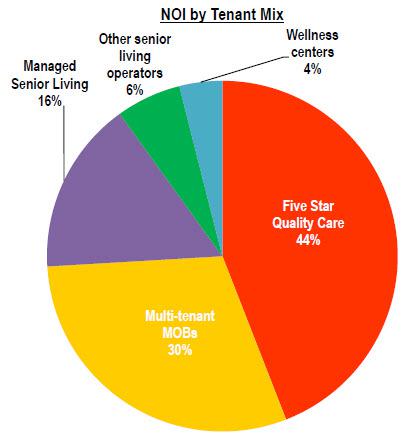 Let's Take a Closer Look at Five Star
SNH derives a significant amount (44%) of its total rental income from Five Star, thus giving the REIT significant risk exposure if this business were to decline. More importantly, SNH is an externally-managed REIT (more on that later), and several of the key insiders of SNH also own shares in Five Star.
Wait a minute - deja vu - I remember writing an article over a year ago on Hospitality Property Trust (NYSE:HPT), another externally-managed REIT (same sponsor as SNH), and I was concerned that Hospitality Property Trust had "a value proposition that is clearly defined by the self-dealing interests of HPT insiders." I went on to explain:
The majority of the company's income stream is generated via a diverse and growing number of hotel rooms; however, the low multiple of the REIT is driven by the highly concentrated exposure to TravelCenters of America (NYSEMKT:TA). With no significant debt (and no long-term debt) on TA's balance sheet, HPT has an enviable competitive advantage due to its strategic relationship with insiders. This may not be good for TA investors; however, it is immensely advantageous for HPT investors.
Wow. This is the "same song but second verse." Much like Travel Centers of America, I can clearly see the potential for the conflicts of interest in Five Star negotiating a suitable, stable long-term economic arrangement with SNH (and RMR, the management company). Why should these parties expose themselves to ongoing charges of self-dealing, and why does SNH have such a large exposure to a non-investment grade credit?
Upon examination of Five Star's major insider owners one can clearly see that Barry Portnoy, sponsor of RNR (external manager of SNH and HPT) has skin in the game at Five Star (and RMR) - source: Yahoo Finance:

Let's dig deeper. Upon examination of Five Star's balance sheet we see that the company is a small cap operator with assets of around $558 million and debt of around $250 million.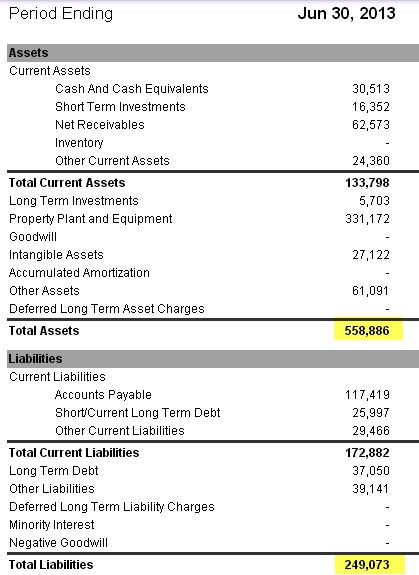 But let's dig deeper. As most people know, the Financial Accounting Standards Board is considering a proposal to require all publicly-traded companies in the U.S. to report the value of all operating leases longer than one year on their balance sheets. The proposed treatment would be similar, though not identical, to the way we treat operating leases. In a Seeking Alpha article last year, David Trainer writes:
In certain cases, the presence of off balance sheet debt can significantly alter the investment outlook for a company. Five Star Quality Care had the highest ratio of off-balance sheet debt to total assets in 2012. FVE's $2.3 billion in lease obligations, equivalent to $1.2 billion in debt, were added back to invested capital. Without factoring in this off-balance sheet debt, FVE would have had a top-quintile return on invested capital (or ROIC) of 17%. By holding FVE accountable for this capital, however, we see that its true ROIC is a much lower 6%, less than its weighted average cost of capital (or WACC). Looking at just GAAP data, FVE appears to be a profitable company. Factoring in the true amount of capital invested in the company reveals that, on the contrary, it actually makes negative economic earnings.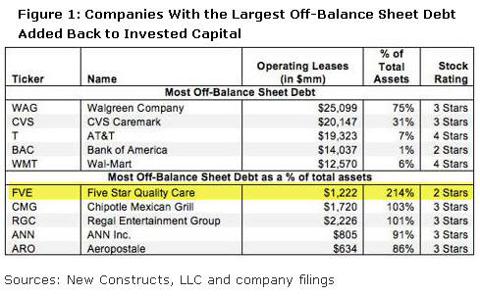 Trainer went on to explain:
Investors who ignore off-balance sheet debt are not holding companies accountable for all of the capital invested in their business. By adding back off-balance sheet debt to invested capital, one can get a true picture of the value that management is creating for shareholders. Diligence pays.
Absolutely; due diligence pays. Now let's continue with SNH…
What About the MOB Portfolio?
As promised, I will continue to research SNH in detail, but to be frank, I'm concerned with the risks I've uncovered already. It has become obvious (to me) that SNH is a REIT with considerable conflicts of interest, and there seems to be a meaningful misalignment of interests with shareholders.
For example, and as noted above, SNH is a diversified REIT. That means that it does not have a "circle of competence" with one asset sub-sector, and instead it derives its revenue from multiple business models. I have already examined the biggest risk in the Senior Housing portfolio (one tenant with conflicts of interest), so now I will examine the Medical Office building sector.
First off, it's clear that SNH does not have a competitive advantage in owning MOBs. This REIT simply does not enjoy the deep-standing tenant relationships with its core customers because it's not the company's primary business. Unlike Healthcare Trust of America (NYSE:HTA), which operates exclusively in the MOB space, SNH owns a portfolio of buildings that are on campus (69%), off campus (17%), or biotech related (14%). Given the smaller size of SNH's MOB platform, it would seem logical for the company to divest its MOB portfolio and focus exclusively on Senior Living.
In addition, SNH cannot build scale to become competitive with the "big three" diversified REITs, and the company cannot provide the same operating and economic efficiencies as the others. As evidenced by the snapshot below, SNH has attempted to be multi-disciplined (senior living and MOB); however, it's not clear that SNH can remain competitive as a much smaller, diversified operating model.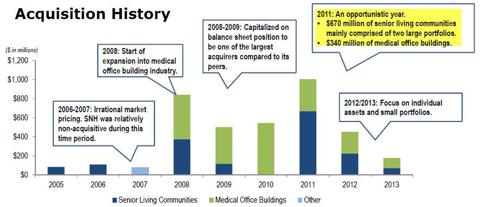 Now Let's Examine the Balance Sheet
SNH has a capital structure that consists of common equity (59%), $1.1 billion of unsecured notes (23%), $698 million of secured debt (15%), and a $750 million unsecured revolver (3%). The company has no preferred stock.
SNH has an investment grade rated balance sheet (S&P - BBB-).

Throughout the last decade, SNH has averaged 37% debt to total book value. Here is a snapshot of SNH's debt to market cap compared with the peer group:

The company's debt maturities appear to be well balanced.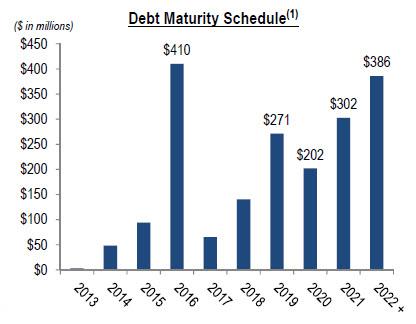 SNH Pays the Highest Dividend in the Healthcare Sector. Should I Buy?
SNH pays a 7.05% dividend, the highest in the Healthcare sector: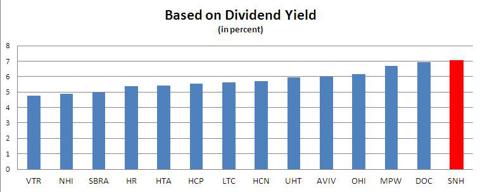 SNH has increased its dividend in all of the last 11 years - 27% growth from 2002-2013.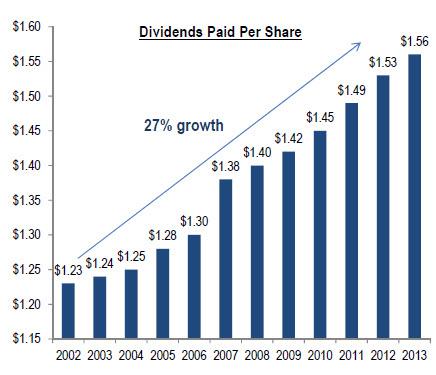 Let's compare the dividend growth with some of the leading peers:

Now let's examine the dividend growth history for these select five REITs. As you can see (below), OHI and VTR have enjoyed the most robust recent dividend growth history. Meanwhile, SNH has grown at a more modest pace averaging around 2% throughout the last three years.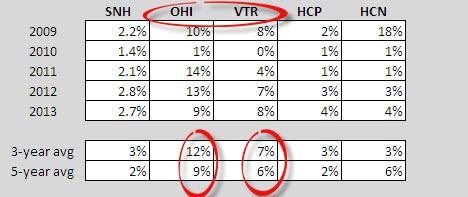 Now let's examine the predictability of future dividend growth by examining the last trailing month Funds from Operations (FFO) payout ratio. As you can see, SNH doesn't have the same capacity as some of the others, notably VTR and HCP that have more capacity to grow.

My final initial due diligence research is FAST Graph. As you can see, SNH has enjoyed a fairly stable pattern of dividend growth. I would not classify the earnings history as robust, but the track record has been relatively consistent (the shaded aqua blue area is dividends paid).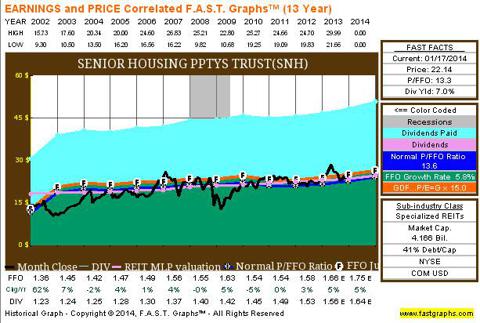 SNH is trading at $22.14 a share with a Price to Funds from Operations (P/FFO) multiple of 13.1x (source: SNL Financial). Since May 15 (2013) SNH shares have fallen by around 25%.

Although the 7.02% dividend yield appears attractive, I believe there is notable risk priced into the share price today. As I referenced above, SNH is externally managed, and the company is not a simple Triple Net REIT. The company invests in a diverse world of healthcare assets, and the primary growth vehicle, Senior Housing, is exposed to an even larger risk in the form of Five Star Quality Care - the largest tenant of SNH. In short, I just can't "butter my bread" with this REIT.

During the latest quarter (Q3-13), SNH's total senior living occupancy was 85.9%, down 30 basis points from the third quarter of 2012. SNH's senor living EBITDAR from continuing operations was $73.6 million, down $0.9% from last year. The majority of the company's freestanding skilled nursing facilities are in small town markets, and much the same as other skilled nursing providers it continues to struggle to improve occupancy in a difficult operating setting.
The chart (FAST Graph) below illustrates a five-year history, and although the shares appear to be trading at "fair value," I would not let the 7.02% dividend yield deceive you. There is considerable risk in owning a REIT where a significant amount of revenue is derived from one tenant, let alone a tenant (and REIT) with inherent conflicts of interest. In short, SNH is NOT a BUY since the thrill of victory is not worth the agony of defeat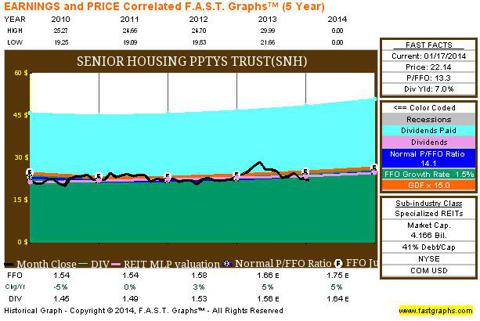 I think there are more intelligent opportunities for "buttering your bread" with risk-averse REITs such as Ventas, Inc., Health Care REIT , Healthcare Trust of America , Medical Properties Trust , and Omega Healthcare Investors . All of these REITs are internally-managed, and they offer a more disciplined model without conflicts of interest. More importantly, these REITs offer a more attractive diversification platform without the risks associated with highly concentrated exposure to one tenant.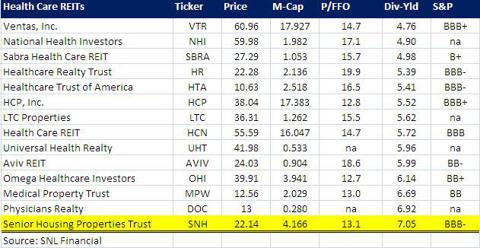 Check out my REIT newsletter - iREIT Investor - the source for intelligent REIT investing.
Source: FAST Graphs, SNL Financial, NAREIT, and SNH Investor Presentation.
Other REITs mentioned: (NYSE:NHI), (NASDAQ:SBRA), (NYSE:HR), (NYSE:LTC), (NYSE:UHT), (NYSE:AVIV), and (NYSE:DOC).
Disclaimer: This article is intended to provide information to interested parties. As I have no knowledge of individual investor circumstances, goals, and/or portfolio concentration or diversification, readers are expected to complete their own due diligence before purchasing any stocks mentioned or recommended.
Disclosure: I am long O, DLR, VTR, HTA, STAG, UMH, CSG, GPT, ARCP, ROIC, MPW, HCN, OHI, LXP, KIM. I wrote this article myself, and it expresses my own opinions. I am not receiving compensation for it (other than from Seeking Alpha). I have no business relationship with any company whose stock is mentioned in this article.