United Continental Holdings (NYSE:UAL) had a stellar year in 2013, up just over 56%, and is off to a hot start to 2014. With the S&P 500 down half a percent to start the year, UAL finds itself up nearly 25% in the first two weeks of 2014. Let's take a look at a few possible reasons why UAL has taken a substantial run to the upside during this short time frame.
Oil Prices
The 2014 outlook for the price of oil hovers around a consensus of $95/barrel, slightly higher from where they currently trade at $94. Over the past 52 weeks, the price of oil has fluctuated from a high of $106 to a low of $85. However, the price per barrel finished the year at nearly the identical price that it started the year at, in the $94-$95 range, as the chart below shows. This can be attributed to an increase in the United States' production of oil, causing the price of oil to fall with the excess of supply. The U.S. Energy Information Agency (EIA) set its average price per barrel at $95 for 2014. This is in line with many analysts' outlooks, with some even believing oil will trade down to the low $90s.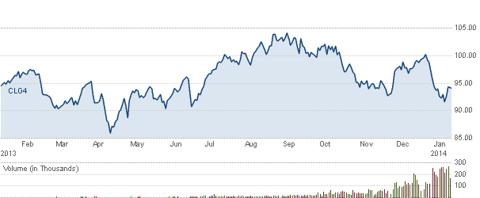 This spells good news for United, who in FY 2012 spent $13.14 billion in oil expenditures on revenue of $37 billion, or 35% as a percentage of revenue. This is a huge percentage, nearly doubling the next biggest OpEx, salaries of $7.9 billion. As it has in the past, the price of oil can be used as a rough barometer for the airline industry's profitability. With the outlook of the price of oil for 2014 being relatively stable or even declining, United should be looking at favorable tailwinds for the year ahead.
PRASM
Passenger revenue per available seat mile (PRASM) is a metric used in the airline industry to gauge efficiency and profitability of the airlines. PRASM represents the amount of passenger unit revenue the airline earns and is expressed in cents per mile. On January 8th, United reported its December 2013 operational performance, which was far better than previously expected. PRASM increased an estimated 11.5 to 12.5 percent year-over-year, which was "was greater than originally expected due to strong yields and traffic throughout the month." With the cancellation of over 1,200 flights due to winter storms, as well as higher-than-expected positive adjustments during December, PRASM increased by approximately 2.5 percentage points. United has been rewarded for its strong December PRASM numbers, with shares up 22% from the date of its announcement.
Short Interest
As of December 31, 2013, United has 21.46 million shares short, representing 5.93% of all shares outstanding. With an average daily trading volume of just above 3 million, UAL's short ratio is 7.02. All short shares would not be covered until the 8th day, which is far greater than the industry median of 4.21. With this much short interest in the stock, any good news, such as greater than expected PRASM numbers or declining oil prices, can lead to a short squeeze. This short squeeze can be very beneficial to investors taking a long position in the stock, helping drive the stock higher from short sellers closing their positions.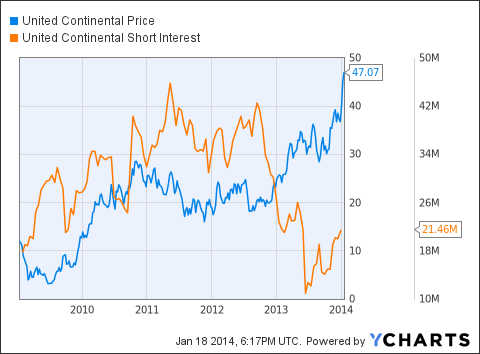 Now that a few possible reasons why the stock has performed so well to date have been examined, let's discover if this hot streak will continue by analyzing key multiples and metrics. In order to decipher if United's metrics are favorable or unfavorable, competitors Delta (NYSE:DAL), JetBlue (NASDAQ:JBLU), Southwest (NYSE:LUV), and American Airlines (NASDAQ:AAL) were used in the analysis.
Price Metrics
| | | |
| --- | --- | --- |
| | United Continental | Competitor Median |
| Forward P/E | 10.92 | 12.76 |
| P/S | 0.45 | 0.6 |
| P/B | 9.7 | 2.1* |
| PEG (5 yr. expected) | 0.39 | 0.64 |
* DAL's P/B = 194.6, if average was used rather than median, the competitor avg. = 66
Using GuruFocus' interactive chart tool shown below, if UAL were to achieve its competitors' median for P/S of 0.6, shares would trade at $62.3 a share. That represents a 32% upside from where shares are currently trading.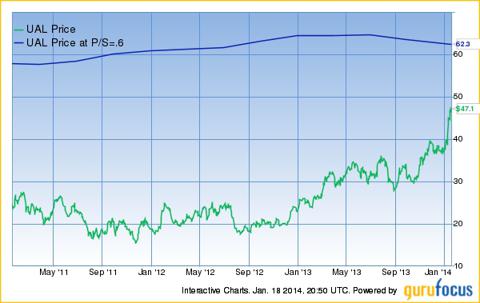 Growth
| | | |
| --- | --- | --- |
| | United Continental | Competitor Median |
| Sales Growth (5 yr. expected) | 13.02% | 11.75% |
| Forecasted Earnings Growth (5 yr.) | 42.37% | 18.81% |
Analysts' strong forecasted earnings growth rate of 42.37% can mostly be attributable to United's merger with Continental back in May 2010. Once merged, UAL became the largest airline in the world as measured by revenue. The merger has taken longer than previously expected and once major cost and revenue synergies are solidified over the near term, UAL should be headed for substantial growth.
Liquidity & Solvency
| | | |
| --- | --- | --- |
| | United Continental | Competitor Median |
| Cash (billion) | 5.74 | 3.33 |
| Current Ratio | 0.75 | 0.77 |
| Debt/Equity | 6.98 | 14.10 * |
| Debt/Assets | 0.32 | 0.28 |
*DAL's D/E = 91.36, if average was used rather than median, the competitor avg. = 36.53
The airline industry is one of, if not the, most heavily leveraged industries and United is no exception. With slightly lagging current ratio, D/E, and D/A ratios United appears to be more heavily leveraged than its competitors, with the obvious exception of Delta. However, with significantly more cash than its competitors, United's solvency should not be cause for alarm, yet. United's CFO John Rainey plans to make good on his announcement in September that the company will pay down $800 million worth of debt which will allow the company to return cash to shareholders. The company's goal of achieving 10 percent return on capital should be achieved in 2014 as well, a sign of a strengthening balance sheet.
Commentary
On a macro level, United seems to be poised to be on track for another solid year in 2014. Following up a stellar 2013 is no easy feat, but United seems to have positioned itself to take advantage of favorable factors both now and for the future. The EIA's outlook for oil is that prices should remain relatively stable with some analysts' predicting the price per barrel will actually fall to low $90s range. This will help United, as oil represents its largest operating expense. The EIA also issued an industry outlook for the airlines. It is expected that the airlines will return a net profit of $16.4 billion, the second strongest year in the last century behind 2010's $19.2 billion.
With cost cutting measures in place and plans to curb the company's large debt position, the balance sheet is strengthening quarter-over-quarter. Both revenue and earnings growth rates are seen outpacing competitors over the next 5 years based primarily on the continued synergies that can be unlocked after the merger with Continental. While United does not boast the greatest debt ratios among its peers, it also has the most cash and will be putting it to good use in 2014. With all of these factors playing to United's upside, look for United to close the gap on its P/S ratio relative to its peers. United's large short interest could spell good news for investors as any increase in the stock could force short sellers to close their positions early, sending the stock even higher. With the intention of United returning cash to shareholders to achieve its goal of 10% return on capital, United makes for an intriguing and attractive investment for the future.
Disclosure: I have no positions in any stocks mentioned, and no plans to initiate any positions within the next 72 hours. I wrote this article myself, and it expresses my own opinions. I am not receiving compensation for it (other than from Seeking Alpha). I have no business relationship with any company whose stock is mentioned in this article.