This article covers stocks trading at less than $1 per share and/or with less than a $100 million market cap. Please be aware of the risks associated with these stocks.
Shares of asset managers can be tricky to value. This is the case because they can have volatile AUM figures that distort the underlying fundamentals of their businesses. For example fellow author Syed Saqib of Netwall recently published an article in which he argues that Financial Engines' (NASDAQ:FNGN) revenue and profit figures were distorted by a rising stock market. The sharp rise in stocks over the past year led to a concomitant rise in the company's AUM, which then led to an acceleration in revenue and profit growth. But in terms of accounts managed the company's growth was decidedly unimpressive given its valuation, and Mr. Saqib suggested that the shares should be shorted.
I think something similar is going on with Sprott Inc. (OTCPK:SPOXF), which has seen its share price decline in the face of falling AUM.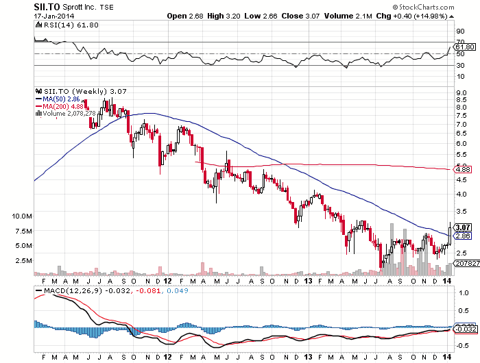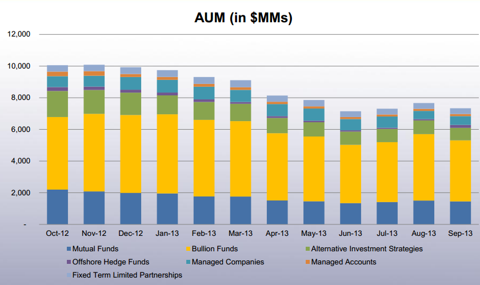 But this decline is due predominantly to the decline in the prices of precious metals and the companies that mine them, which comprise an overwhelming portion of Sprott's AUM.
The fact of the matter is that Sprott's business is much stronger than recent revenue and profit figures indicate. Going back to the end of 2009 (using Dec. 31st, 2009 AUM figures) AUM have been growing at nearly 10% annually. Specifically, since the 2007-2009 financial crisis Sprott has done an excellent job expanding into the United States, which now comprises more than half of the company's AUM. More recently it has stepped into Asia--China and Korea in particular--and there is reason to believe that this is just the beginning of the company's expansion in the East.
Ultimately, I believe that investors have overlooked Sprott's successful growth initiatives given its recent negative AUM growth, and unless precious metals prices continue to weaken the success of these initiatives will become more apparent as they will be reflected in rising AUM figures. As Sprott begins to show AUM growth its valuation will climb so that it is comparable with the valuations of its peers, and as I demonstrate below this gives the shares enormous upside potential.
Sprott's Underlying Strength
While AUM have declined with gold and silver prices Sprott has been adding clients in the United States. I have already written about the company's expansion into bullion ETPs, which is a business that has over $3 billion in AUM, up from $0 just a few years ago. We can see additional growth in the United States with the launch of Sprott, USA which had $1.2 billion under management at the end of September, up from $0 five years ago.
True, weak precious metals prices has dampened interest in gold and silver ETPs and related equities since the 2011 peak, and this has hurt Sprott somewhat these past couple of years. But I believe the damage has been minimal, although this belief runs contrary to the conclusion one would draw from the substantial decline in the company's AUM and share price.
We can easily see this by measuring Sprott's AUM in terms of the prices of those assets that comprise Sprott's portfolios and ETP offerings. Sprott funds invest in all sorts of assets, but there is particularly heavy exposure to commodities and precious metals in particular. Not only do Sprott hedge funds and mutual funds often hold at least 40% of their assets in precious metals and related equities, but nearly half the company's AUM (>$3 billion) are in gold and silver bullion ETPs. Furthermore, the private money managed by Sprott is presumably commodity and precious metals heavy given that this is the company's selling point: clients are attracted to Sprott because they want precious metals exposure. This means that "correcting" Sprott's AUM figures for fluctuations in these asset prices can give us a more accurate picture of what is going on at the company than if we just look at the declining AUM data and deduce that the business is shrinking.
The following table shows the company's AUM outright, as well as in terms of gold, silver, the GSCI Commodity Index, and the Market Vectors Junior Gold Miners ETF (NYSEARCA:GDXJ) (note that Sprott focuses predominantly on small miners).
| | | | | | |
| --- | --- | --- | --- | --- | --- |
| Year/Basis | Dollars | Gold | Silver | Commodities | Junior Gold Miners |
| 2009 | $4.8 billion | 4.3 million oz. | 283 million oz. | 8.8 million | 46.6 million shares |
| 2010 | $8.5 billion | 6 million oz. | 278 million oz. | 13.8 million | 53.3 million shares |
| 2011 | $9.1 billion | 5.8 million oz. | 323 million oz. | 13.7 million | 92.1 million shares |
| 2012 | $9.9 billion | 5.9 million oz. | 331 million oz. | 15.4 million | 128.5 million shares |
| 2013 (est.)* | $7 billion | 5.83 million oz. | 359 million oz. | 11.1 million | 225.4 million shares |
| CAGR | 9.9% | 7.9% | 6.1% | 6% | 48.3% |
*Note that I estimate that Sprott's AUM totaled $7 billion at the end of December. The figure was $7.3 billion at the end of September and weakness in precious metals prices since then likely dragged this number down somewhat.
Given this data we can view the company's 2013 performance in a different light, and what we find differs substantially from what is implied from an analysis of the company's dollar-based AUM figures. 2013 really wasn't bad considering what has happened to precious metal prices--AUM were basically flat in terms of gold, and they rose in terms of silver and junior gold miners.
This observation is especially revealing as to the nature of Sprott's customer base when we consider the outflows from the SPDR Gold Trust (NYSEARCA:GLD), which saw declines both in NAV and total gold held.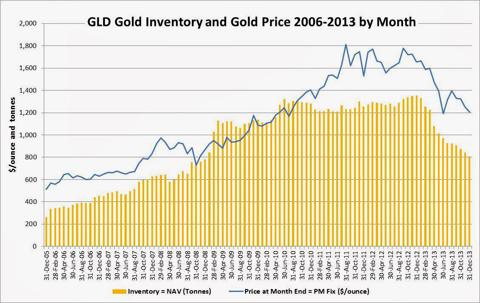 While investors in GLD shares were selling in the face of weakness in the gold price, it appears that Sprott customers were not following suit. This demonstrates devotion and a long-term commitment to Sprott and its management's belief in the bull market in precious metals.
We also see that longer term growth is in tact, and when viewed in terms of silver or junior gold miners it is actually fairly consistent.
These two observations--Sprott's dedicated customer base, and its AUM growth relative to the assets it manages--makes for an extremely compelling growth story.
Growth In Asia
We have seen how Sprott has successfully grown its AUM since moving into the United States, and how its customer base is devoted to management's strategy. This is a great story, and I expect it to continue. However it is backward looking.
Looking into the future for further growth, it appears that Sprott has enormous potential in Asia.
Sprott recently made a couple of deals with Asian companies which indicate that we will see future growth in Asia. The first, made back in September, is a plan to launch a joint offshore fund with Zijin Mining Group--China's largest gold miner and second largest copper miner. Sprott is putting up $10 million and Zijin Mining is putting up $100 million in order to make investments in gold mining companies and projects. The team hopes to generate interest from other Chinese investors and has a target fund size of $500 million. Given the unique strengths offered by Sprott and Zijin Mining this is a realistic goal that may prove to be conservative. As Sprott CEO Peter Grosskopf says:
We believe the combination of Zijin's technical strengths and Sprott's resource investment expertise will prove to be an attractive option for investors looking to invest in the mining sector with a focus on gold.
The second deal, made in December, is a deal with KEPCO to co-manage a $750 million private equity fund for pensioners which will focus on natural resources and precious metals.
These deals are not large enough to substantially impact the company's AUM, revenues, or profits. However they are votes of confidence in Sprott's ability to find opportunities in the natural resource space with an emphasis on precious metals. Furthermore they are indicative of a growing interest in natural resource/gold investing in Asia at a time when such interest is waning in the United States.
Valuing Sprott Shares
As I previously mentioned it is difficult to value asset managers because their growth is skewed by the fluctuations in the prices of the assets they manage. Recently the bulk of Sprott's peers have seen incredible revenue growth because they have had rising stock prices as a tailwind. Financial Engines is just one example. Wisdom Tree (NASDAQ:WETF) and Virtus Investment Partners (NASDAQ:VRTS) are others.
All of these companies have been beneficiaries of a rising stock market and as a result they trade at elevated valuations. Rising AUM figures have led to a low-cost increase in sales, which means margins rose as well. Sprott, on the other hand, has had lowering AUM without the benefit of lower expenses, meaning that margin and profit compression has been especially harsh. But a rising gold and silver market can easily change all of that: in an optimistic scenario Sprott, too, can trade at these lofty valuations, and it doesn't have to reach these extreme valuations for investors to turn a significant profit.
The following table shows the price to sales and price to book-value data for these four companies to give us an idea of the upside potential in Sprott shares.
| | | |
| --- | --- | --- |
| Company | P/S | P/B |
| Sprott Inc. | 5.7 | 1.5 |
| Financial Engines | 15.1 | 11 |
| Wisdom Tree Investments | 17.2 | 24.4 |
| Virtus Investment Partners | 5.1 | 3.9 |
| Avg. with Sprott. | 10.8 | 10.2 |
| Avg. without Sprott | 12.5 | 13.1 |
*Since Sprott has virtually no earnings a P/E comparison would be impossible, so I have omitted price to earnings data. But readers should know that only Virtus trades with a P/E in the realm of reasonableness (26-times trailing earnings). Financial Engines has a trailing P/E over 100 and Wisdom Tree has a trailing P/E over 50.
From this comparison we see that Sprott shares have enormous upside. If sales growth rises to the level we see with its peers, we can see the shares trade at $6/share up from $2.77. While we shouldn't expect Sprott to trade at 13-times book value, if the shares traded in line with Virtus on a P/B basis they could easily trade at over $7/share.
Of course if you look at the sales figures of the three peers you see nice sustained uptrends accompanied by rising margins. Sprott shows the opposite as of late, and it is having trouble turning a profit. But we have shown that the company has the potential to grow its AUM and its revenues and margins by extension, especially if precious metal price-action turns around. Assuming this happens Sprott should see rising revenues and margins and it can trade at a much higher valuation than it does currently.
But we don't need Sprott to trade at these lofty valuations in order to justify an investment--Sprott may trade in line with its peers, but even if it doesn't the shares are undervalued on an independent DCF basis.
Given current revenue figures (C$133.7 million for the trailing 12 months, or $122.1 million using an exchange rate of 1 USD = 1.095 CAD), various assumptions regarding the company's revenue growth based on various gold and silver prices, and a 12% margin, the following table estimates the value of Sprott's earnings using an 8% discount rate and a more conservative 12% discount rate. The 12% margin rate is conservative relative to the peers we looked at. It is especially conservative given that it has ETP assets, which have extremely high margins (e.g. Wisdom Tree--primarily an ETP manager--has >25% net margins).
I will calculate the figure 4 times--twice using gold as the "base" asset and twice using silver as the "base" asset.
The first gold price assumption uses the rise in the gold price since de-pegging in 1971, which is about 8.7%. The second uses the rise in the gold price from the 1999 bottom, or about 12.2% annually. Keep in mind that Sprott is growing its assets in terms of gold at a rate of 7.9% annually although to be conservative I will lower this to 7%.
The first silver price assumption uses the rise in the silver price since gold's de-pegging in 1971, or about 6.5%. The second uses the rise in silver from the 1999 bottom, or 10.4%. Keep in mind that Sprott's assets are growing at 6.1% in silver terms, although I will be conservative and use 5.5%
I am also adding $466.6 million to all figures, as this is the value of Sprott's assets at the above USDCAD exchange rate.
| | | |
| --- | --- | --- |
| Metal Assumption/Discount Rate | 8% | 12% |
| Gold from 1971 | $1,076 million | $873 million |
| Gold from 1999 | $1,342 million | $1,031 million |
| Silver from 1971 | $890 million | $760 million |
| Silver from 1999 | $1,088 million | $880 million |
All of these figures are decidedly higher than the current valuation of $657 million. The following chart shows the upside in Sprott shares given the various assumptions.
| | | |
| --- | --- | --- |
| Metal Assumption/Discount Rate | 8% | 12% |
| Gold from 1971 | 64% | 33% |
| Gold from 1999 | 104% | 57% |
| Silver from 1971 | 35% | 16% |
| Silver from 1999 | 66% | 34% |
In our worst case scenario given historical price trends for gold and silver Sprott shares should be trading 16% higher. But keep in mind that there are several conservative data-points factored into these numbers.
Our CAGR figures for gold and silver are being calculated after a significant price correction, especially for silver. In the case of silver this is similar to calculating the long term returns of the S&P500 in March, 2009 after that index fell 60%. We could probably safely assume a faster increase in precious metals prices in the long term.
Our margin assumptions are low considering that Sprott's peers have higher margin rates. The ETP business in particular may be able to achieve net margins at twice the 12% assumed rate.
Gold and silver have generally been moving from west to east, but the assumptions I use look at Sprott's growth before it began to venture into Asia, as this is a very recent development. Assuming the west to east trend continues one could easily justify higher AUM growth assumptions.
Sprott, unlike its peers, has net assets that are nearly as great as its market capitalization. We have not considered that it will deploy these assets in an effort to increase AUM via promotions or providing seed money for what will eventually become larger funds as we saw with the Xijin Mining deal.
Yet despite all of these points we still come up a valuation matrix for which in every scenario there is projected upside. We can therefore very easily postulate a scenario in which the matrix significantly understates Sprott's long-term value, and we only begin to see lower valuation scenarios if we assume continued weakness in precious metals, which is historically unlikely.
Conclusion
Shrinking AUM figures mask underlying strength in Sprott's business. Growth initiative such as the launching of Sprott USA, the introduction of bullion-backed ETPs, and expansion into Asia are reasons to become enthusiastic about the company while it trades at a depressed valuation.
This potential is heightened when we consider that Sprott's client base is evidently devoted to the company's management style despite the fact that it has failed in the past couple of years. While AUM are down substantially interest in Sprott's management services are not, as is evidenced by value of the company's AUM relative to the prices of its managed assets.
The upside potential in the shares is enormous, especially since the market tends to ascribe generous valuations to asset managers with growing AUM figures even if the majority of this growth comes from rising asset prices. As we saw in the above matrix of Sprott's potential valuations the shares have significant upside potential from here even if they underperform their peers on a margin basis, and even if we use a conservative--12%--discount rate on future profits.
Furthermore, those who are bullish on precious metals can expect much more upside than this matrix suggests. Not only will the shares offer exposure to precious metals, but Sprott has established itself as a leader in precious metals asset management. Thus as investor interest in precious metals grows investor interest in Sprott's products and services will grow as well.
Ultimately, unless there is continued bearish price action in the precious metals market, the substantial weakness in Sprott's shares over the past couple of years has created an enormous opportunity.
Disclosure: I have no positions in any stocks mentioned, but may initiate a long position in SPOXF, over the next 72 hours. I wrote this article myself, and it expresses my own opinions. I am not receiving compensation for it (other than from Seeking Alpha). I have no business relationship with any company whose stock is mentioned in this article.