Starbucks (NASDAQ:SBUX) may be the number one coffee brand in the world, but the company's stock may be on the verge of a 20-30%+ correction.
With approximately 20,000 stores in 62 countries worldwide, a constant focus on growth, and an incredible history of success, there is no doubt Starbucks is one of the greatest companies of all-time, especially when it comes to the food and beverage / restaurant industries. However, after years of dominance and increasing opportunities, Starbucks is likely entering a period of stagnation and disappointment due to overvaluation, over expansion and over-pricing.
10 Reasons Starbucks Could Suffer
1) Unsustainable Stock Price.
Starbucks soared more than 1100% from its 2008 recession low to its November 2013 high. The rise was supported by consistent growth and successful expansion, but such a price increase is too far too fast to continue without a pause or correction. Firstly, revenues certainly haven't increased even close to the 1100% rise in the stock since 2008 (more like 50%).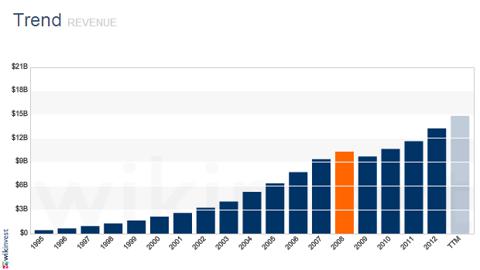 Secondly, those who think a huge drop in Starbucks stock is ridiculous or impossible should remember that it collapsed by more than 80% from its November 2006 high to its November 2008 low, even when Starbucks was considered the #1 coffee brand at that time as well. A similar drop may be unlikely now, but a large correction is by no means out of the question.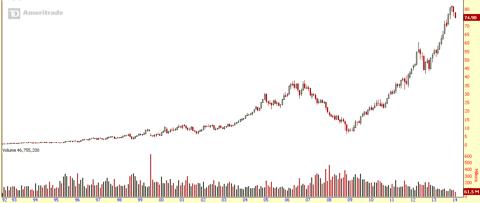 2) Overvaluation.
The consistent increase in the stock over the past few years has been able to justify the high expectations and premium valuations, but at these price levels those lofty growth projections are not likely to materialize. Much of the future growth is already factored into the stock, and investors are probably overpaying to own it.
Starbucks has a $56B market cap, compared to $5B for Dunkin Brands (NASDAQ:DNKN), $32B for Yum Brands (NYSE:YUM) and $94B for McDonald's (NYSE:MCD), but it's not the market cap that's scary. Starbucks' forward Price to Earnings (P/E) ratio is 23+, its Price to Sales (P/S) ratio is 3.8, and its Price to Book (P/B) ratio is 12.6 - all making it significantly overvalued and far from appealing. For the stock price to be justified, many things have to go perfectly over the next few years. If there is any hiccup in growth or expectations, the stock could see a substantial drop.
3) Rising Coffee Prices.
It makes a lot of sense why Starbucks was able to generate tremendous revenues and profits since 2009 as new growth opportunities continued and as coffee (NYSEARCA:JO)(NYSEARCA:CAFE) prices fell by more than 66% percent since early 2011. However, as increased profits have become harder and harder to generate, a rise in coffee commodity prices could be very damaging over the next few years. Coffee appears to have bottomed at $100, and rising prices will most likely eat into Starbucks' bottom-line profits despite the company's premium product pricing.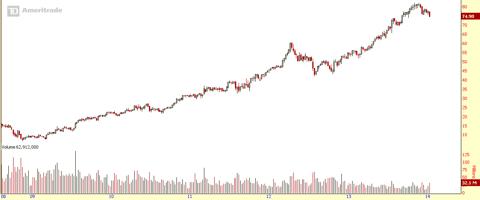 4) Store Over-Expansion (Reliance on China).
With so many stores in the US already, Starbucks' growth is somewhat limited domestically and oversaturation is a serious risk. Therefore, in order to capitalize on future growth opportunities, Starbucks is expanding rapidly into Asia (mostly China) and other emerging markets. It already has majority market share in China, has opened 317 new stores in China over the past year, and plans to open 750 new stores in Asia over the next year.
However, this enormous expansion and massive growth in store openings could prove to be a very costly error. China and Asia as a whole could very well be a huge growth market for Starbucks, but expanding too rapidly could cannibalize profits and increase operational risks. Not only is China already showing signs of an economic slowdown, which will hurt the consumer and prove that Starbucks may be a bit too over-eager to expand, but China has already criticized Starbucks in a recent China Central Television broadcast entitled "Starbucks: Expensive in China," pointing out that the company charges as much as 50% more in China than it does in the US, UK, and India. Starbucks has done so because consumers in China have been willing to pay the premiums, but such potentially-unethical practices are both unsustainable as well as enraging. Emerging market growth is probably already priced-in to the stock, and any slowdown or backlash would be devastating.
5) Over-Extended Product Line.
Starbucks has had to expand its product line beyond just coffee in order to fuel growth, but going far beyond its core business could tarnish its reputation. Aside from its extension into grocery/retail coffee sales (VIA, K-Cups, Verismo brands), teas (Teavana and Tazo), bakery products (La Boulange) and juices (Evolution Fresh), Starbucks has also expanded menu offerings within its stores - now offering more food options. Yet while offering more options helps increase revenues, it has also led to a number of problems: straying from what makes Starbucks "Starbucks," longer lines due to operational inefficiencies and even frustrated employees.
As one employee expressed:
"Starbucks is losing every ounce of what makes it human…Instead of simply being a coffee shop, it's trying to be everything for everyone."
Source: Business Insider
6) Growing Competition.
Starbucks is still perhaps the most respected premium coffee brand and has a major foothold on the market, but competition is growing and attempting to seize market share in what has been a profitable sector with seemingly low barriers to entry. Not only does Starbucks rely on premium pricing sometimes far beyond that of its cheaper competitors like McDonald's, Dunkin Donuts and Krispy Kreme (KKD), but it also faces increased threats to its grocery/retail products and single-serve brewer (it extended a distribution agreement with Green Mountain Coffee Roasters (NASDAQ:GMCR), an indication that Starbucks can't do it alone). Competition is definitely not getting easier.
7) Analysts Too Bullish.
Nearly everyone expects the stock to go up. Out of the 29 analyst opinions according to Yahoo Finance, there were ZERO "underperform" or "sell" ratings. More than half (15) were "strong buy," 10 were "buy" and 4 were "hold."

Moreover, the median price target was $90, with the lowest target being $75 (still above the current price of $74.90). With so many bullish forecasts and high expectations, there is a lot of room for disappointment.
8) Insider Selling.
Many times a sign that the stock price is close to fully-valued or even over-valued, insider selling in Starbucks is warning of a decrease in confidence by its own employees. Over the past 6 months alone, over 18% of shares held by insiders have been sold. If the insiders (who have the best knowledge and "insider information" of Starbucks' real business situation) don't believe in much further upside to the stock, why should investors?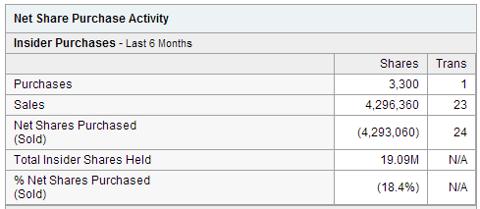 Source: Yahoo Finance
9) CEO Warning.
Investors seem to be ignoring major warning signs - even from the CEO himself. Howard Schultz (who by the way has sold over $100m in stock/options in 2013) has warned that Starbucks is "not immune" to the shift in consumer behavior, as brick-and-mortar/traditional retailers have seen a decrease in foot traffic due to the growth in online shopping. While he still believes Starbucks will be fine, the significant drop in mall traffic could really hurt Starbucks both in the next quarterly earnings report as well as in the future. ShopperTrak estimates that the number of consumers walking into stores fell by 14.6% between Thanksgiving and Christmas in 2013. Investors aren't paying attention, but the CEO has given them a fair warning.
10) Technical Damage.
Aside from the very steep rise in stock price since the late-2008 bottom (see chart in reason #1), Starbucks is showing signs of increasing weakness and warnings of a continued downturn.
First, the stock has broken down through the support of an upside channel dating back to late 2012. Secondly, the stock seems to have formed a "head and shoulders" topping pattern which usually marks a long-term top. High selling volume on both breakdowns (circled below) is usually a confirming indicator that the trend has turned down.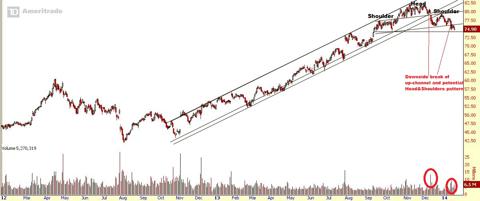 Additionally, after breaking below the 50-day Moving Average on high volume, it failed again as it retested the 50-day MA from below. There was plenty of warning signaled by the "negative divergence" visible in the Relative Strength Indicator (RSI) and MACD as these momentum indicators were declining even though the stock itself was making new highs in October and November 2013.
As the stock now finds itself at the 150-day Moving Average and still above the 200-day MA, we'll see whether these levels hold as support. If they don't, which could depend on the upcoming earnings report, the downside could be significant.
Conclusion
Starbucks may be due for a significant correction due in large part to high expectations and hard-to-achieve growth projections. As we have seen, the steep 1100% rise in the stock price since the late-2008 bottom is unsustainable without a pause or retracement, the stock appears to be over-valued, with unattractive P/E, P/S, and P/B ratios, rising coffee commodity prices could eat into the company's profits, the enormous growth expected in China may already be factored into the price and could face some major hurdles, the extension of the product line is stretching Starbucks beyond its core competency and could disappoint customers or add operational risks, competition continues to grow, clear warnings of insider selling and CEO comments are mainly disregarded, and the stock has experienced serious technical damage.
Simply put, Starbucks is no longer a growth company. Not only is revenue growth far behind the rise in the stock price, but the company's ability to generate incremental profits is increasingly difficult. It also doesn't help that Starbucks pays a lower dividend (1.4%) than both the industry (1.9%) and the S&P 500 (2.2%). There is a lot of room for investors to be disappointed, whether the source for their frustration is tepid growth, unmet expectations, backlash in China, or the dilution of the famous and high-quality Starbucks brand.
Disclosure: I am short SBUX. I wrote this article myself, and it expresses my own opinions. I am not receiving compensation for it (other than from Seeking Alpha). I have no business relationship with any company whose stock is mentioned in this article.
Additional disclosure: I am short SBUX via put options.