On March 22nd PR Newswire and EDGAR Online (NASDAQ:EDGR) jointly announced they had entered into a collaborative marketing agreement addressing the potentially significant 2010-2011 market for XBRL filings and services. The news is significant for EDGAR Online and an important event for the short list of XBRL solution providers. EDGAR Online is also a partner with RR Donnelley (RRD), the country's leading financial printer.

The Key Basis for Collaboration
Xcelerate is EDGAR Online's flagship XBRL filing solution and the market's leading software product used for filing XBRL-formatted financial reports to the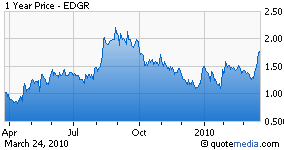 SEC. Vintage Filings, a division of PR Newswire, states that it now has "over 4,500 public company clients" and provides "financial filing services to over 3,000 public companies, executives, and law firms." Since there are complex SEC rules regarding XBRL compliance and filing, there are not many solution providers. As of March 1st this year, the line-up of solution providers was as follows (by market share):

37.4% EDGAR Online
23.9 Bowne (BNE)
13.8 Fujitsu (OTCPK:FJTSY)
12.3 EDGARfilings (Thomson Reuters) (TRI)
8.6 Rivet Software
3.2 Clarity Systems
.8 Other

This study includes 406 filings made from 12/31/09 - 3/1/10.

It appears that the PR Newswire/EDGAR Online alliance may possibly have been in the works for some time. In July 2008, for instance, EDGAR Online and CNW Group announced a partnership to serve Canada's XBRL filings market. According to CNW's website, CNW is owned 50% by New York-based PR Newswire and 50% by London-based PA Group. Given their existing CNW connection, the products subject to the agreement and detailed marketing plans between EDGR and PR Newswire may already be well defined. In fact, the announcement stated that "PR Newswire's Vintage Filings division will immediately offer EDGAR Online's industry-leading XBRL tagging and filing services as part of their extensive SEC compliance offerings."

IR Products - Another XBRL Service
The agreement may also jump-start delivery of EDGAR Online's investor relations products. Here is a flash sample of EDGR's current product offering designed so SEC-filing companies may comply with new rules for posting XBRL data on corporate websites. The text of this new SEC disclosure rule may be found on page 6781 of the Federal Register and is excerpted below:
A filer required to provide financial statements in interactive data format to the Commission also will be required to post those financial statements in interactive data format on its corporate Web site not later than the end of the calendar day it filed or was required to file the related registration statement or report with the Commission, whichever is earlier.
Financial printers and shareholder communications companies like RR Donnelley Bowne (BNE), Merrill, and Vintage have long served various regulatory-compliant filing needs of SEC-reporting companies.
With about 1,000 new filers required to file in XBRL starting in mid-2010 (more than twice as many as in 2009) and another 10,000 in 2011 (about 10xs the new filers this year), these printers and solution providers have a major opportunity over the next few years to gain market share in the printing industry by offering XBRL filing solutions. Corporate issuers no doubt favor one-stop shopping for printing and SEC compliance reporting.
I expect further XBRL-related joint ventures between solution providers and multi-media platforms. Combining interactive data with digital platforms allows source-referenced financial reports and also allows companies to use XBRL for other shareholder communications. Once XBRL data is filed by companies and posted to their websites, the data is comparable to other companies' reports since they are all required to use the same SEC taxonomy for their industry.

Potential Impact on EDGAR Online
The deal clearly suggests how EDGAR Online, with only about 100 employees, is now able to reach the large second and third waves of newly mandated XBRL filers. The Donnelley and Vintage agreements will allow the company to focus on the software side of the XBRL filing business, building XBRL-powered software solutions, maintaining and expanding the company's XBRL database, and providing electronic XBRL feeds to support the financial markets. Without strong partners to assist in marketing XBRL filing services, EDGAR Online would have to staff up significantly to maintain its current market share.

Financially, the XBRL business may have a significant impact on EDGR. For 2009 the company had only $19.1 million in revenue and reported a small loss. As of Dec. 31, 2009 the company had over $30 million of net operating loss carry-forwards vs. its current market cap of $48 million. For 2009, the company generated positive adjusted EBITDA of $3,010,000 or 11c/share.

At this time it is difficult to project earnings or sales from this joint marketing agreement. However, one might frame the potential by looking at the fourth quarter of 2009. In that quarter the company had $1.7 million of XBRL filing revenue. With around 10,000 -11,000 new companies starting to file in the next two years, the potential revenue impact on EDGAR Online could be very significant. EDGAR Online has indicated on conference calls that they receive $10,000 - $20,000 per client per year for filing the four SEC reports. [Note: Subsequent to writing these notes, I see that Vintage has now priced the XBRL conversion service. See page 6 of Slideshare.]

In the announcement, the scope of their digital platform was not disclosed. My guess is that there will be many XBRL-based products that can be delivered via the PR Newswire/ EDGAR Online partnership.

An Historic Curiosity
What makes the EDGAR Online story extraordinary is that for almost a decade, long before the XBRL reporting format was mandated by the SEC, the company committed its capital and resources to building its XBRL database and product suite. Only now, after years of financial losses, is the company's commitment to XBRL is starting to pay off. In recent Dec. quarter company reported $170,000 net income vs. a loss of $517,000 YoY.

For perspective on the company's efforts in building its XBRL database and the conversion of about 10 years of U.S. companies' financial reports to usable and comparable XBRL data, see the 2003 release by Microsoft. This early work between Microsoft (MSFT) and EDGAR Online was the basis for EDGR's I-Metrix Pro analytic software which employs an Excel add-in. Today, I-Metrix Pro is marketed by Thomson Reuters' Checkpoint division as well as independently by EDGR. The early work by EDGAR Online in using XBRL with spreadsheets was also the basis of a U.S. Patent application filed by the company on 8/29/05 and entitled "Add-in tool and method for rendering financial data into spreadsheet compliant format." See patent application here (scroll down)

Valuation
For 2009, EDGAR Online generated positive adjusted EBITDA of $3,010,000 and recorded a small loss. As of Dec. 31, 2009 the company had over $30 million of net operating loss carry-forwards vs. its market cap of $48 million. The company has good liquidity, and recently privately placed $12 million of convertible preferred stock with Bain Capital.

Looking forward, with the company's high 70-75% gross margin, roughly break-even level of profitability now, and a more than doubling of revenue expected over the next couple of years, it seems that its price/sales ratio is a reasonable benchmark to use for comparative valuation. Noted below are the leading financial information companies and their respective PSRs:
Price/Sales Ratios

8.31 MSCI Barra (MXB)
5.44 FactSet (NYSE:FDS)
4.99 Morningstar (NASDAQ:MORN)
4.64 Risk Metrics (RISK)
3.98 Interactive Data (IDC)
3.91 Moody's (NYSE:MCO)
2.34 Thomson Reuters (NYSE:TRI)
2.24 EDGAR Online (EDGR)
1.90 McGraw-Hill (MHP)
(Source: Yahoo Finance, 3/22 for prices 3/21)
Given the magnitude of the second and third waves of XBRL corporate filers, the valuation of EDGAR Online is difficult. It is clear, however, that the company's unique XBRL database and its automated XBRL filing solution may become increasingly recognized as the SEC's XBRL standard becomes more widely used and new applications are introduced.
Disclosure: I am long EDGR common stock, and my company licenses EDGAR Online electronic feeds.