McDonald's (NYSE:MCD) is the world's largest and most well-known fast food company. The company, founded in 1940, has been one of the most consistent investments in history since going public. Recently, however, McDonald's could be at the very beginning of spinning its wheels.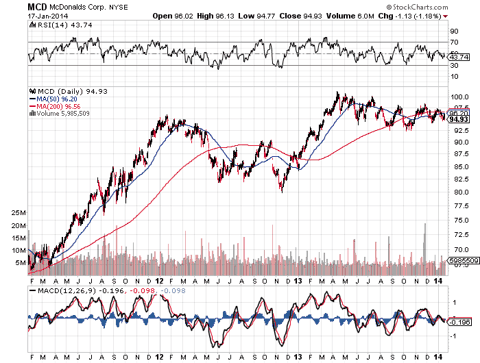 2013 has been a wash for McDonald's investors, not counting the dividends they've been paid. The stock has been up about 5% in the last year, and has been bouncing back and forth between $92 and $100 for the past few months.
McDonald's reports earnings on Thursday, January 23rd, before the market opens.
McDonald's has traded with some stagnancy over the last year, up only 5% in the last twelve months.
McDonald's is expected to report EPS of $1.39 on revenues of $7.11 billion.
Competitor Wendy's (NYSE:WEN) impressed the street on earnings two weeks ago.
Analysts polled by Reuters are expecting to see flat earnings for the quarter, decreasing by a percent or less.
Investors will be looking for color on the effect of promoting new menu items, like its McWraps, and the limited return of the McRib.
Jim Cramer thinks that McDonald's is fighting a battle against healthier eating.
Analysts are expecting a 4th quarter revenue rise of only 2.3% this year - capping off a second year in a row of just 2% growth for the giant who once grew at a rate twice that.
- source Nasdaq.com)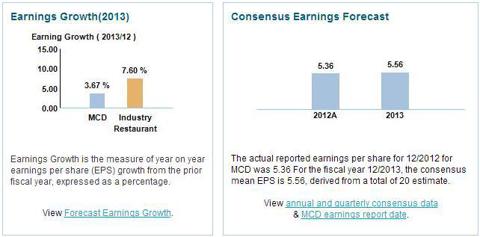 Mostly, McDonald's has fallen victim to competitors like Wendy's and Burger King offering menu items that continue to nip at McDonald's market share.
McDonald's has struggled with some of its menu promos over the last couple of years with its McWraps and its return of the McRib failing to monetize well for the company. McDonald's has also placed bets on its McCafe brand for coffee sales - which has fared much better than other forays into menu items. They're looking for the McCafe brand to potentially move into retail sales outside of the restaurants themselves and also to help McDonald's keep a foothold in heavy cafe oriented European markets.
Jim Cramer has notably spoken out against McDonald's several times - claiming the consumer was "moving past" fast food and picking chains like Panera (NASDAQ:PNRA) to recommend instead. What Cramer and like many other consumers don't understand is that most of Panera's food isn't actually healthier than McDonald's (as I detail in my article "Panera's Dirty Little Secrets") - but simply that they give the appearance of being healthier. "McDonald's needs some kind of makeover," Cramer has said.
What McDonald's could be struggling with is simply the appearance of being unhealthy - an argument that went mainstream years ago with the "Super Size Me" documentary being unleashed on the public. For that, McDonald's has been bobbing and weaving, trying to recreate its brand and reinvent its menu items to fight back.
However, the main complaint with most analysts is that the landscape for casual dining is super saturated and extremely competitive. Analysts like Michael Kelter at Goldman Sachs think the company hasn't innovated in years:
Goldman Sachs analyst Michael Kelter also noted the restaurant chain's diminished "voice" in an overcrowded and competitive market environment. In reference to a consumer survey, Kelter noted that McDonald's "has not had strong innovation for the past few years," adding that "it is losing advertising share of voice and it is the restaurant consumers are least likely to recommend to their friends/family."
And so, my expectations are basically an echo of the analyst consensus - that we're not going to see anything special from McDonald's this quarter.
Based on the company's past growth and rising dividend since 2008, McDonald's remains a safe vehicle for investing in the long term. However, there should be no rush for investors to jump in before earnings, as lackluster results could present a buying opportunity and have very little chance for an upward catalyst this week.
Best of luck to all investors.
Disclosure: I have no positions in any stocks mentioned, and no plans to initiate any positions within the next 72 hours. I wrote this article myself, and it expresses my own opinions. I am not receiving compensation for it (other than from Seeking Alpha). I have no business relationship with any company whose stock is mentioned in this article.