By David Russell
Dana Holding (NYSE:DAN) is showing signs of a top, and the call sellers are pouncing.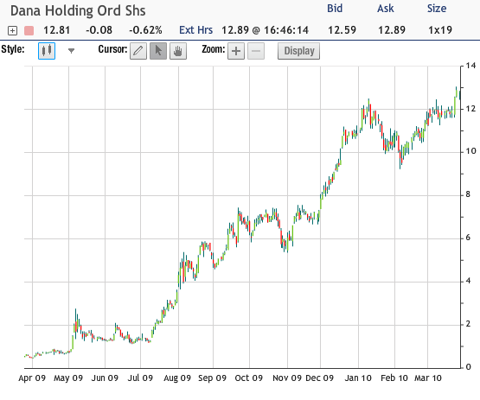 optionMONSTER's tracking systems detected heavy activity in the September 15 contracts, which traded 5,100 times against open interest of 1,839.
Most of the volume priced for $0.95.
DAN fell 0.62 percent to $12.81 yesterday, one session after making a new all-time high of $13.05. The producer of heavy-truck components has rallied more than 2,400 percent in the past year, driven back from distressed levels by strong demand and wider profit margins.
However, the company provided disappointing full-year revenue guidance the last time it issued results on Feb. 24.
Wednesday's options traders apparently think most of the run is finished and are looking to earn premium by writing calls against the stock. The strategy will make money as long as DAN remains below $15.95 through expiration.
The call selling pushed overall options volume in the name to 8 times greater than average yesterday.
Disclosure: No positions