It's been an interesting start to 2014 for Amarin (NASDAQ:AMRN), which continues to do battle with the FDA over a larger indication for its drug, Vascepa.
2012 was a success for the company - the FDA approved Vascepa, Amarin's sole drug, for use in people with severe hypertriglyceridemia. Amarin then, unfortunately, tried to pin itself up against GSK's Lovaza without a large pharma partnership or buyout. At one point, Amarin's CEO's came out with regards to this by saying: "If you offer me $15 a share, I am waiting. If you offer $30, $40, $100 it's a different story."
He wound up quitting in December of 2013, while Amarin shareholders were stuck with a stock price of $2 - after selling millions in stock. And that pretty much sums up the Amarin story the "long-term" shareholders.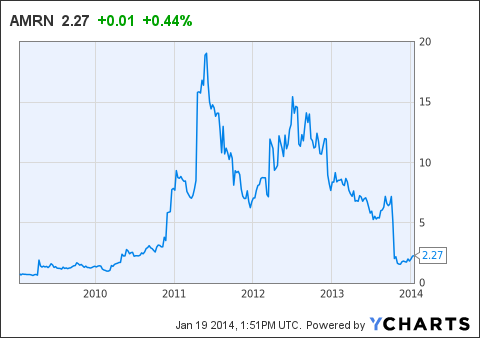 With the competition not only from prescription fish oil treatments but from OTC ones, Amarin needs to do absolutely anything and everything that it can do to make sure Vascepa - again, its sole drug - gets into the hands of as many people as possible.
The original plan that the company and bulls alike had been touting since the days of touting the "buyout," was the company's ANCHOR indication. The ANCHOR indication would give drug approval to patients who have high triglyceride levels that were already taking statins. It would open Vascepa up to an exponentially larger group of potential patients and really give the company (and its stock) a serious leg to stand on.
However, in late 2013 - as denoted by the final straight line down on the above chart - an FDA ADCOM panel assembled to make a recommendation with regards to ANCHOR and recommended against it. Technically, it wasn't a rejection yet - but, it seemed like all was lost for ANCHOR and that Amarin would have to wait until the results of its ongoing REDUCE-IT trial, which are years away.
The company then, in what I thought was a less-than-brilliant move, decided to try and fight the FDA on their upcoming decision. Amarin requested a reconsideration of the decision. A decision was supposed to be due on this January 15th.
On the 15th the stock swung wildly, up as high as 30% on the day with no news out. By the afternoon, it had pared some of its gains. When the market closed, Amarin released a PR that the decision had again been delayed. Amarin's press release was as follows:
Amarin Corporation plc (Nasdaq:AMRN), a biopharmaceutical company focused on the commercialization and development of therapeutics to improve cardiovascular health, announced today that the Division of Metabolism and Endocrinology Products (DMEP) within the U.S. Food and Drug Administration (FDA) notified the company today that a determination on Amarin's request for reconsideration of DMEP's October 2013 decision to rescind the ANCHOR clinical trial Special Protocol Assessment (SPA) agreement will be delayed. FDA previously notified the company that it planned to convey its decision to Amarin no later than January 15, 2014. In today's communication, DMEP provided no definitive date for its planned response. Based on dialogue with DMEP, Amarin does not expect the delay to be for a significant period of time.
The general sentiment on websites and message boards that support Amarin is that the delays could mean potential great news coming for shareholders. Surely, if the FDA rethinks their decision, Amarin stock would likely double overnight.
However, I'm having trouble drawing a straight line, with no evidence, that one thing means another. Even Amarin reminds us that with every PR they put out on the topic:
There can be no assurance that Amarin will be successful in its effort to reinstate the ANCHOR SPA agreement or obtain a label expansion reflecting the ANCHOR clinical trial data.
While Amarin has likely been added to the watchlist of a lot of "day traders" at its current price, I would be extremely careful with trading Amarin going forward. This decision is the dictionary definition of a binary event, and I'd caution investors to hedge, no matter how they're holding Amarin. On approval, a new life would be breathed into the company. On denial, Amarin has to continue to fight for its life with Vascepa, a reduced sales staff, and lingering expense issues. Newly promoted CEO John Thero has a full plate going forward.
But, again, I caution investors: no news doesn't not necessarily mean good news is coming.
Best of luck to all investors.
Disclosure: I have no positions in any stocks mentioned, and no plans to initiate any positions within the next 72 hours. I wrote this article myself, and it expresses my own opinions. I am not receiving compensation for it (other than from Seeking Alpha). I have no business relationship with any company whose stock is mentioned in this article.