This article covers stocks trading at less than $1 per share and/or with less than a $100 million market cap. Please be aware of the risks associated with these stocks.
There were remarkable swings in the share price of the shares of Destiny Media (OTCQB:DSNY). This is a little company which produces the codec (PlayMPE) which the music studios use to send their pre-release music to clients. They use PlayMPE because it has several important advantages (for a more extensive treatment of the product features, see here):
It's a loss-less format whilst files are no bigger than comparable MP3 files
They can be send electronically, with immediate reporting. This beats sending couriers with CD's in every metric
The files are safe, with world-class DRM features like patented watermarking and locking features
So, the studios trust PlayMPE to send their crown-jewels over the internet, and they will increasingly do so after Destiny invested in a host of improvements on the request of the studios. We're presently hovering around the de-minimus condition in the contract with the biggest of these, Universal. This is why the growth is not yet visible in the figures.
According to Fred Vanderberg (NASDAQ:CFO) we just breached that minimum amount in January, but seasonality could throw them back. We might have to wait one or two quarters for the growth to really show up, but show up it will, as up until now, the product is covering only a fraction of the market in terms of geography and user categories, and the studios will take it globally, but at their speed.
CEO Vestergaard assesses the addressable market at some $40M, that's ten times their present revenue. Growing into this $40M will take years, but we know it will be profitable, as the process is fully automated and margins will therefore be close to 100%.
But most of the eyes are turned on their other product, Clipstream G2, which is a playerless codec for streaming media which is streamed as normal web content. Therefore it doesn't need streaming servers (in multiple formats, as one single format is lacking in the market today).
As normal web content, ISP's cache it locally so it can be reused, saving up to 90% of bandwidth and therefore obsolescing the need for using content delivery networks. It also has similar DRM features as PlayMPE, it can be tracked by an invisible watermark and locked to a single URL or recipient device. It also has interactive features, especially interesting for the advertising market, that we discussed in more detail in our previous article.
The Introduction of Clipstream
After successful paid trials with market research companies, the Clipstream self-uploader, housed on Amazon cloud servers, went live in December. Like CEO Vestergaard remarked in the Q1 2014 CC, some investors seem to have unrealistic expectations. This is a new, rather complex product, offering a host of new capabilities.
But crucially, it has to function under a host of different circumstances, on different platforms, and having to deal with different software and hardware. One big advantage of Clipstream is that it runs on all browsers which are HTML5 compatible, but stepping back a moment and think what that involves.
It involves running on different operating systems, different hardware (smartphones, tablets, PC's etc.) and being able to converse a host of different file formats to Clipstream, as users can convert their own media files and upload it in one click. These conditions cannot be fully anticipated or replicated under controlled conditions, only going life will reveal all problems.
As it happens, the problems were surprisingly limited, but there were some usability issues, like:
there were some usability issues that we addressed within three weeks of launch. So examples included Amazon servers would hang up on users if their Internet connection was slow, or users would try to encode video without having the source code actually installed. For example, if you want to feed a QuickTime video into Clipstream, you have to have QuickTime installed... we had a surprising number of people try to use the system without downloading the software or forget that they hadn't clicked on the e-mail to confirm their registration. [CEO Vestergaard Q1CC]
These are not really bugs, and nothing to worry about. They have been dealt with and on December 24, a new version went life that dealt with these issues. Still, some investors seem to have expected immediate big contract wins, which isn't how the market works.
Marketing
Vestergaard and other people from Destiny have gone on three sales trips already, speaking to big potential clients.
I'm personally on my third sales trip since launch. I'm travelling tomorrow, and many big brands you would know are doing due diligence on us. But we've not actively marketed the system yet, and we aren't actively seeking editorial coverage during this soft launch period. [CEO Vestergaard Q1CC]
The first big contract for something as new as Clipstream is always the hardest, and big organizations will not make decisions immediately. A three to five month sales cyclus is to be expected for big contracts like these.
A big marketing push hasn't even started, but efforts will get underway in weeks, with advertising (search engine marketing will start this week) and PR efforts. The company is also looking to
to bring in more senior level talent for direct high level sales, and to build remote sales offices, to do automated recurring sales through the website, and to sign up resellers and build partnerships with companies already in the space. We're exploring licensing our technology so that we can integrate into other company's software, and we may do some minor acquisitions as we grow. [CEO Vestergaard Q1CC]
We're just at the start of this all while video on the net is growing at 100% a year and Clipstream Cloud is already selling since December 4. These sales are highly automated, recurring and sticky, so revenue is going to grow quarter on quarter and margins are high (60%+, close to 100% when the videos are embedded on other sites or accessed from local ISP storage).
From search engine ads, moving to bigger banner ads, putting the software on big download sites, the marketing efforts will increase in scope and volume, and they will co-opt other organizations:
So we're going to try and leverage the sales forces of other companies. Some of the big Fortune 100s that I've met have expressed interest in representing us in other markets. [CEO Vestergaard Q1CC]
Sell-off
There was a very substantial sell-off in the shares in the wake of the new high that was set just after the introduction of Clipstream Cloud. We're not entirely sure what caused that, but here are a few candidates:
Investors with unrealistic expectations of multi-million dollar deals materializing instantly
Usability problems
"Sell the news" investors
The possible reverse split announcement
Shorters wanting to keep the price below $2 which would complicate a Nasdaq listing
We have already mentioned the first two, and the third is pretty self-explanatory. However, the sell-off was really substantial, as you can see in the chart below: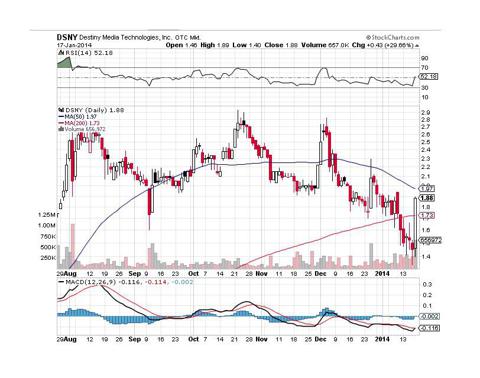 While one should keep in mind that this is a small cap not listed on a major exchange, and hence liable to rather wild swings, this one was a little bit too wild for our liking. The company is actively pursuing a Nasdaq listing and is complying with most requirements, bar the one for the stock price, which has to be above $2 for a considerable period.
It could be that short sellers, perhaps ones related to financing company Noramco, which offered a $35M financing (in 2000!) which Destiny didn't take and which became the subject of a lawsuit (in 2011) and a counter lawsuit (also in 2011) from Destiny. Both are still pending.
There is little reason to worry about the lawsuit, from DSNY's 10K
On November 8, 2011, the Company was served with a Notice of Civil Claim in the Supreme Court of British Columbia from Noramco Capital Corporation for $100,000 plus interest. The claim asserts that the Company has repudiated a subscription agreement entered into in, or around, August 2000. Management believes the claim is without merit and that the likelihood that the outcome of this matter will have a material adverse impact on its result of operations, cash flows and financial condition of the Company is remote. The Company has filed a counterclaim for damages arising from a proposed private placement in 2000 which did not close. The Company alleges that the beneficial owner of Noramco was a partner in the firm that was leading the proposed financing
It's perhaps not surprising that the lawsuit was filed on the day Destiny announced its cross-platform streaming solution. We're not overly worried about the short either. They're a nuisance, yes, and they might have delayed a Nasdaq uplisting a little, but the company has taken steps to counter that as well.
They recently announced the possibility for a reverse split for up to 5:1. It's subject to shareholder approval (we don't see a problem there as the CEO already holds 11M out of 52M shares and the reasons for the reverse split are entirely benign). The annual shareholder meeting will be February the 25th.
Announcing a reverse split might also have exerted downward pressure on the stock price, although in this case, that would be wholly unjustified. Normally, it's done by companies that are serial issuers of shares and/or in the throws of some death-spiral financing deals.
But in the case of Destiny, this couldn't be further from the truth. We've rarely seen a small cap company that is managed so frugally as Destiny Media. Clipstream and PlayMPE improvements were entirely financed (and expensed) from cash flow from PlayMPE and the company doesn't have any debt.
The prize
So this isn't a crisis, this is an opportunity. We started writing this article when the stock price was lingering at a buck and a half, and that seemed to offer a huge upside, with almost no downside to us. The shares gained 30% on Friday the 17th, on extremely high volume, so we weren't the only ones to spot this opportunity.
At anything under $2, Clipstream has to fail completely to make sense of such a stock price, and you have to realize that besides PlayMPE and Clipstream, the company has other cards up its sleeve (see our previous linked article). What you also should realize is that Nasdaq listing will come, with or without a reverse split.
A Nasdaq listing will open up the stock for five times the institutional investors compared to today, and will also help to land bigger customers. You might also realize that Clipstream Cloud is already selling, the sales are:
Cumulative (due to the per minute pricing structure discussed in our previous article)
Profitable out of the gate with a worst case 60% margin as the pricing covers the cost of the Amazon cloud servers
Sticky. Once converted and uploaded, users have little incentive to switch
So while revenue and earnings might start off very small, we'll see a crescendo for many quarters to come as marketing hasn't even started in earnest yet. Therefore, the chances of a complete flop seem remote to us. While some people might have expected too much out of the gate, others might fail to see the big prize:
We see this as a $1 billion revenue opportunity at current size, and video usage is growing around 100 percent per year rate now [CEO Vestergaard Q1CC]
Clipstream only has to capture a fraction of the market to produce substantial upside for Destiny shares, and the competitive landscape remains very divided. For instance, describing the fragmented state of video on cellphones:
there's a lot of video business that isn't being done today that could be done because of our technology... With our solution an advertiser can create the video once and our video will just automatically adjust. So we can pop up. We can take the full screen area of the mobile if they click on it; we automatically adjust to the size and to what their available bandwidth is. [CEO Vestergaard Q1CC]
No solution offers the advantages of Clipstream, in terms of cost, market reach, and security. We really would feel very uncomfortable if we were short.
When more investors, especially the institutional ones that a Nasdaq listing will bring will get comfortable, the shares will get scarce and the shorts might very well be squeezed out, as fundamentally, there really was nothing in terms of adverse fundamental developments to warrant the nearly 50% fall in the stock price after the high set in when Clipstream Cloud was launched.
Disclosure: I'm long in DSNY. I wrote this article myself, and it expresses my own opinions. I am not receiving compensation for it (other than from Seeking Alpha). I have no business relationship with any company whose stock is mentioned in this article.