Last month, I wrote about making an investment on behalf of my children. They have a potential 60-year time horizon until retirement. Since I wanted to make a long-term investment (20-plus years). I started with several requirements.
I first require the underlying product or service of the business to be necessary for at least the next 20 years. Next, the company has to show the potential for rising earnings over that period. Then, it has to be committed to rewarding shareholders with growing dividends. Lastly, I need an investment at a fair or better price.
With those requirements, I decided on Exxon Mobil (NYSE:XOM). Oil and natural gas will no doubt still be used in 20 years, and XOM has the potential for increasing earnings and dividend growth. As well, it was trading below its historic PE ratio at the time. Even better, I could buy it in a with no initial fee DRIP account and have all the dividends reinvested to buy more shares. You can read the entire article here: Why Exxon Mobil Is My Children's Christmas Present This Year.
In the article, I suggested ConocoPhillips (NYSE:COP) as an alternative to Exxon Mobil. Like XOM, Conoco was once part of the Standard Oil Trust, under the name Continental Oil. It operated in the Rocky Mountain region of the United States before the breakup of Standard. While they share a somewhat common history, their futures take very different paths.
Why consider Conoco?
COP differs from XOM in that it is a pure play on exploration and production (E&P) end of the industry. E&P is referred to as the "upstream" segment of the energy industry. The "downstream" segment is the refining and marketing portion of the sector.
COP spun off its refining arm into Phillips 66 (NYSE:PSX) to focus solely on production. Refining is a lower profit margin operation that benefits from lowering oil prices. Production, on the other hand, is a higher profit margin business. E&P naturally benefits from higher prices of natural gas and oil.
An integrated energy company, such as Exxon, operates in both the upstream and downstream segments. Earnings of such a firm may be less volatile as one side can make up for the other - lower oil prices boost refining profits while hurting production for example. In shedding its downstream operations, COP is taking the bet that energy prices will remain high in the foreseeable future. If that is the case, they will be far more profitable without the refining operations holding it back.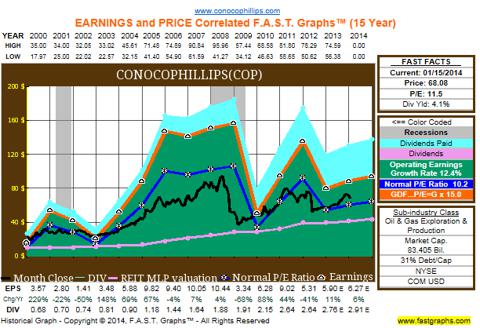 As shown on Fast Graphs above, you might consider COP ever so slightly overvalued. It currently carries a PE ratio of 11.5 vs. the historical average of 10.2. At an earnings-per-share of $5.90, you get an earnings yield of 8.67% that far outpaces the 10 year treasury at 2.86%. COP gives you a wide margin of safety compared to a "safe" return in treasuries. You'll also receive a dividend yield of 4.1%, which is great for compounding if you decide to reinvest your dividends.
About the Dividend
In 2012, COP did not raise its dividend, deciding instead to preserve the cash for capital expenditures. For some dividend growth investors, that is a huge red flag. Without a meaningful annual dividend raise, some investors no doubt decided to sell and move to other opportunities.
My take is that you have to give COP a break for not raising the dividend in 2012. Despite spinning off their refining arm in 2012, they maintained the same dividend payment. It could have easily justified that a dividend cut was in order, given that it had just let go of a major segment of the company. In 2013, COP returned to its old ways with a dividend raise of 4.5%.
Asset Sales And New Focus
In 2013, Conoco took in $1.75 billion after selling off their Algeria onshore production unit. Other asset sales have included stakes in Kazakhstan and Nigeria. Since 2012, these sales have amounted to bringing in $12.4 billion. Not only have these sales bought in a large amount of cash, they have also greatly reduced potential political risk in the future considering that these areas of the world can quickly become unstable.
Now more capital and effort can be devoted to the continental United States. COP has 13.8 million net acres it can operate on within the lower 48 ranging from Eagle Ford shale in Texas with 227,000 net acres, the Bakken area with 626,000 net acres and 1.1 million in the Permian Basin, not to mention the offshore drilling they are conducting in Gulf of Mexico. Conoco has not limited itself to just the United States; it continues operations in Canada, South American, Europe and Australia.
DRIP-ing Conoco
Conoco offers an excellent DRIP. In a DRIP you may initially purchase shares from the company directly (or through a third party agent). In lieu of receiving a cash payment, dividends will be reinvested into buying additional shares of COP.
You can start a DRIP in COP for as little as $250. After setup, you can make additional purchases with no added fees and your dividend will be reinvested into new shares every quarter, fee free.
An initial $250 investment will buy you 3.68 shares of COP (give or take). Those shares will generate dividend income of $10.15 annually. It's a pittance to start but investing is about compounding.
Let's assume that COP has a dividend growth rate of 7% into the future. It's been 15.83% annualized for the last 10 years. But in this case, we'll reduce it down given the need for more capital to spend on E&P activity. We'll also assume that shares appreciate just 5% a year. After 20 years of dividend reinvestment, our $250 investment has turned into 9.74 shares worth $1,753.46. That's a 10.24% annualized return, without one more dollar added during that 20-year period. This is not bad for just a few dollars upfront and not doing anything thereafter.
Of course, you may invest more than $250 to begin with. Starting with $2,500 would make a huge difference over the same 20-year cycle. You can always add to your initial investment at a later point, too. The beauty of the COP DRIP is that you can easily buy more shares with no fee or commission. Only $50 is the required minimum to buy more shares.
Wrapping Up
You have to give credit to the management of Conoco. They rewarded shareholders by spinning off the downstream business (Phillips 66), kept the dividend rate the same after the spin-off and have wisely shed off riskier international operations for a good deal of cash. On top of all that, they have positioned COP to benefit from the potential rise in natural gas pricing along with being a large oil producer.
At the current price, COP is just slightly above value. If you are looking to make a long-term investment, holding it for several years, then it's still fairly priced for an initial purchase.
Sources: Fast Graphs, Wikipeda, and ConocoPhillips Investor Relations.
Disclosure: I am long COP, XOM. I wrote this article myself, and it expresses my own opinions. I am not receiving compensation for it (other than from Seeking Alpha). I have no business relationship with any company whose stock is mentioned in this article.