My portfolio is structured in 3 segments:
Cash and liquidities, short-term investments, bonds, guarantee certificates.

The purpose of this segment is to have an emergency fund, savings, and to take advantage of potential opportunities.
The drawback is having zero returns or negative growth after inflation and taxes.

Income Portion

As the name indicates, this segment is built around a stable recurrent growing dividends payout. The goal is to build permanent growing passive income. A large portion of the investments are in Canadian companies because that's my daily currency.
I have an infinite time horizon. It's a classic buy and hold.
The downside is that dividend investing is boring and slow. Also, I'm mostly limited to Canada. However, many Canadian companies are trading in the U.S. like the ones mentioned below.
The mindset you need when investing for income is similar to watching a tree grow. You can't look at it every day. You do need to take care of it but you can't take it out of the ground to check on the roots all the time.

Growth Portion

This is my favorite section but it also requires more work. The objective is to achieve long term capital appreciation and returns superior to its benchmark. I focus on buying businesses that I believe are trading under their long term intrinsic value. Intrinsic value is measured by taking all the future cash flows into and out of the business and discounted at the proper rate. This is the section where money goes to work to achieve long-term capital growth. There's no limitation on the opportunities. Some of my investments are domestic and foreign.
The time horizon of this segment is long-term but not infinite. If the price exceeds value or the fundamentals are deteriorating, I would consider exiting.
The article will focus on the income segment of the portfolio. It's time to feed the dividend machine. My goal is to allocate capital based on securing a reliable growing income. My next investment needs to be a dividend paying Canadian company because it's my everyday currency. This segment generates liquidity that allows me to take advantage of opportunities. The reallocation of that cash is based on opportunity. My liquidity is replenished by the cash of my dividend generating companies. Today I'm focusing on growing my income section because I have a goal of maintaining a growing minimum of dividend income. Good old dividend paying companies are pretty much uneventful and boring until you get that dividend cheque and then you are hooked! Then you want these dividend cheques to keep growing. A good dividend company is a gift that keeps on giving.
My model enables me to possess a long-term horizon combined with a flexible opportunity framework. Right now I'm searching for a solid company that will distribute growing dividends over a very long time. Its dividend also needs to weather a storm. I need to approach this with the mindset that I can't lose the money and that I depend on the income. I need to build this dividend machine as if I would own them forever. I also don't mind paying a little more if it means that I have a higher quality business. The premium that I pay today is going to pay off over the long-run. The long-term focus also helps me eliminate the everyday market noise.
My window of solid dividend paying opportunities also shrinks because I'm eliminating Canadian banks off the radar. I already have my dose of capital allocated to banks. Also, there's plenty of coverage and articles dedicated to Canadian dividend paying banks.
Finally, I have selected four large companies that have plenty of coverage. Below is a snapshot of the four companies that are candidates for my next dividend investment. Most of you are probably familiar with the names proposed. Further analysis valuation is required.
TransCanada (NYSE:TRP)

TransCanada is more than just pipelines. It has a lot of diversified operations. They are involved in power generation through natural gas, nuclear, coal, hydro and wind generation. TransCanada owns, controls or is developing more than 10,800 megawatts of power generation and also stores natural gas. The company is also involved in electricity trading and marketing. Keystone XL or not, this company is plowing through with plenty of growth projects.
TransCanada's diversified business model offers a reasonable dividend yield. The regulated pipeline business tends to be stable and there are significant barriers to entry. Potential catalysts are improving natural gas prices, the realizations of several on-going projects, and approval of the Keystone XL. Uncertainties surrounding the approval of the Keystone XL are already baked in the stock price. TransCanada also proposed a natural gas pipeline to the B.C. coast, and a decision is pending on the project. Another risk to TransCanada and to the industry are pipeline leaks and mounting opposition from environmental groups.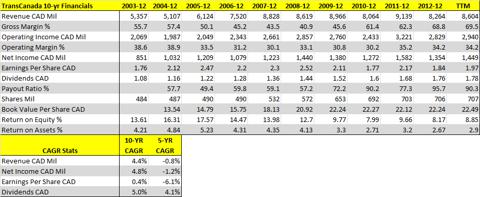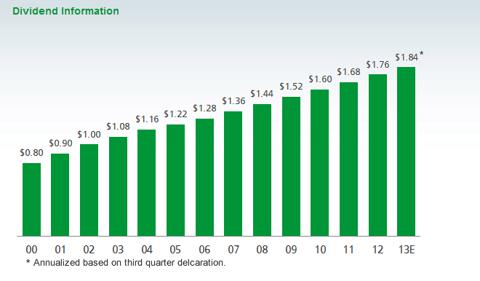 Source: TransCanada Investor Relation. Nice chart.
Above is a chart of the last ten financial years. Over ten years, income and revenues have grown but have been flat the last five years. Actual cash flow would need to be analyzed to give a proper picture of the company since earnings are probably distorted. TransCanada has several on-going projects in the pipeline that should fuel further growth.
Brookfield Asset Management (NYSE:BAM)

BAM is a global alternative asset management with $175 billion in AUM. The company focused on property, infrastructure and renewable power. Office towers in major cities, hydroelectric power stations in emerging countries and timberlands are some of the assets Brookfield own. BAM is also one of the biggest owners of prime office space. Such assets enjoy high barriers to entry (usually because of physical constraints or regulatory impediments), low maintenance capital expenditures, long-term contracts (often with built-in price increases), and significant operating leverage. Furthermore, these assets generally support rising cash flows over time.
Brookfield's success speaks for itself. Investors have been well rewarded overtime. BAM is a hybrid dividend and growth company. The dividend could be higher with only a ~21% payout ratio in the last twelve months. BAM's rapidly growing asset management business provides excellent management fees stream to BAM. BAM is expected to continue growing their fee over time through their listed issuers and private funds. Brookfield said its FFO rose to $1.2 billion, or $1.85 a share, from a year-earlier $223 million, or 30 cents a share, driven by sales of real estate assets.
I highly recommended investors to read up on this company. They have a lot of operations and assets all over the world. Brookfield has the reputation of being a good steward of capital. The drawback of BAM is its complex investment structure and financial contract that adds opacity to its operation. It's very difficult to value each of its investment projects on a stand-alone basis because the requisite disclosure is not available. BAM is also exposed to acquisition, development, regulatory, interest rate, refinancing, and currency risks.
Below is a nice trend that you wish BAM maintains.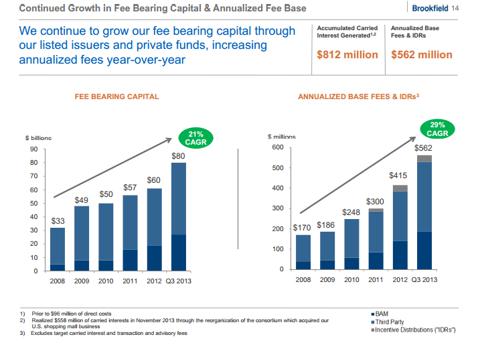 Source: BAM Investor Relation.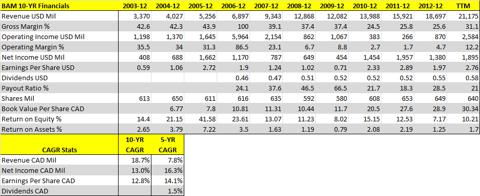 The first line that grabs your attention is the impressive revenue growth over the last decade. BAM is a disciplined capital allocator and has snatched up assets on the cheap when nobody else wanted them. Income is all over the map on this one. Just like TransCanada, a deeper analysis of FFO would give you a more accurate picture of the company. BAM does not have a long history of dividend distribution since it only started this distribution in 2006. If BAM doesn't change their recipe and stay disciplined, this company should reward shareholders in the long run.
Brookfield Infrastructure Partners (NYSE:BIP)

BIP is 28% owned by BAM. BIP's profile and strategy is the same as BAM, which is to acquire and invest in targeted assets and actively manage them to achieve superior returns on a long-term basis. BAM is focused on investing in quality long-life assets that provide essential products and services for the global economy such as transmission lines, toll roads, rail operations and natural gas pipelines. At the moment, BIP distributes 55% of its FFO and 90% of its cash flow is considered high quality because it's regulated or contracted (secure distribution indexed to inflation). Performance for the last two years has been strong. FFO per unit is estimated to rise to $3.29 for 2013, up from $2.41 in 2012. Distribution per unit rose 14.6% in 2014 to $1.72. BIP is expected to continue building their platforms and to take advantage of opportunities. Infrastructure are a multiyear investment, simply looking at a one year window doesn't show the real picture. If the current trend continues, BIP should reward its investors over many years. The drawbacks are the same as the one listed for BAM. BIP is exposed to acquisition, development, regulatory, interest rate, refinancing, and currency risks.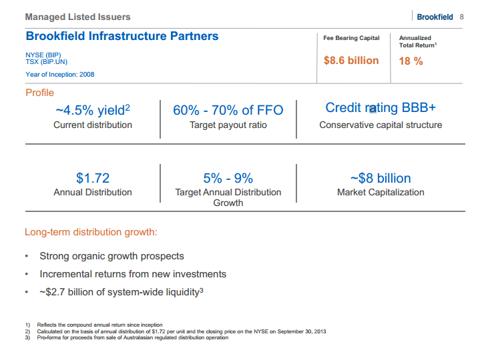 Source: Brookfield Corporate Profile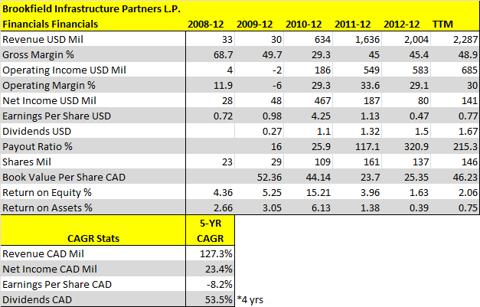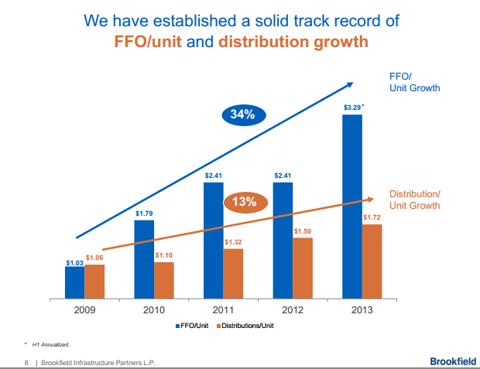 Source: Brookfield Infrastructure Presentation
What retains your attention is the rapid rise in growth. BIP was a spin-off of BAM. There's only five years of financial statements. Potential investors should readjust their future expectations to more reasonable levels. Just like BAM, patience and smart capital allocation is the key to success.
Canadian Natural Resources (NYSE:CNQ)

CNQ is one of Canada's largest E&Ps with oil and gas production in Canada, the North Sea and Africa. CNQ is one of Barron's pick for 2014. According to Barron's Magazine, "This company has one of the best production outlooks among large North American energy outfits and could gush free cash flow after it completes an expansion of its oil-sands facility, scheduled for 2017." CNQ lags the market in 2014 because of the discount of Canadian oil.
That discount is expected to ease in 2014. CNQ also boosted its dividend 60% in 2014. CNQ should continue to improve as its heavy oil production is gaining access to the Gulf Coast market and the Horizon oil sands project should provide CNQ with significant FCF. The recent success and turnaround at the Horizon project should bring down operating cost overtime. Netbacks from its upstream operations since 2010 have been strong and are expected to keep rising along improving operations at its Horizon project.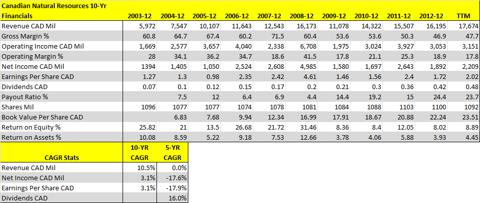 CNQ is known for allocating capital accordingly to quickly adapt to changing market conditions. A multiyear plan to develop heavy and thermal oil projects supports incremental production beyond 2014. The drawbacks of an investment in CNQ are the same that all the other oil sand companies face: cost overruns, potential weak energy prices, pressure over environmental issues, and productions upset. Oil sand projects are also very capital intensive. Just like TransCanada, CNQ has several long-term projects in the pipeline that should fuel its future growth.
Conclusion
If you were expecting some exciting cool picks I am sure I have disappointed you. There's nothing exciting about the companies I just summarized. There's plenty of coverage and the information is widely available. As I stated at the beginning I was looking for companies outside the Canadian financial sector. The goal is to have a secure rising income for many years to come. I guess I'm using the power of compounding. There are a few drawbacks to my suggestions such as rising interest rate and certain risks associated with on-going projects. The suggested companies are capital intensive and a rising interest rate increases the debt burden. It also encourages income-seeking investors to flock to the perceived safety of bonds. They also have a few characteristics that would help them weather any storms such as higher-growth profile, high quality assets and long-term contracts. The companies mentioned make good candidates for further investigation.
Disclosure: I have no positions in any stocks mentioned, but may initiate a long position in TRP, CNQ, BIP, BAM over the next 72 hours. I wrote this article myself, and it expresses my own opinions. I am not receiving compensation for it (other than from Seeking Alpha). I have no business relationship with any company whose stock is mentioned in this article.
Additional disclosure: As with all of my articles the opinions are my own. You should do your homework and make your own best judgments about the company. (I know that this resembles the boilerplate disclosure that you see in every email that you get from your broker but I really mean this and I am not saying it to avoid getting sued.)