In Part 1 of this series, I outlined three potential 2014 strategies for equity investments:
Understand the current phase of the business cycle and overweight stock sectors that historically outperform;
Identify and seek contrarian stock values; "the most hated names of 2013"
Maintain discipline when evaluating securities in a market that's run up 30%; don't chase hot tickets
In addition, I offered eight stocks that I believe aligned themselves with these strategies: Eaton Corp, PLC (NYSE:ETN), Union Pacific Corp (NYSE:UNP), International Paper (NYSE:IP), Apple Inc. (NASDAQ:AAPL), Energy Transfer Equity (NYSE:ETE), Intel Corp (NASDAQ:INTC), Caterpillar (NYSE:CAT), and Annaly Capital Management (NYSE:NLY).
In subsequent segments, I promised to analyze each of these stocks in more detail.
Part 2 of the series covered Industrial sector stock Eaton Corporation PLC (ETN).
In this installment, we will review Intel Corporation, a prospective 2014 contrarian play. Intel management just reported 4Q and full-year 2013 earnings last week.
Arguably, Intel is a contrarian stock pick due to relentless criticism about management's failure to recognize a secular decline in PC sales and transition into the design and manufacture of chips for tablets and handset devices. Indeed, its net income has fallen for the past three years running. Furthermore, pundits cite years of stagnant share prices: heralding back to the dot-com era bust. At that time, INTC shares rose to over $70, crated along with everything else Tech, and have been unable to crack $30 a share for the last 10 years.
Just to be fair, 2013 saw Intel shares appreciate about 24%, and tack on another 4% if the dividend is included. This was in line with the overall returns experienced by the S&P 500.
Intel Corporation - 2013 Price and Volume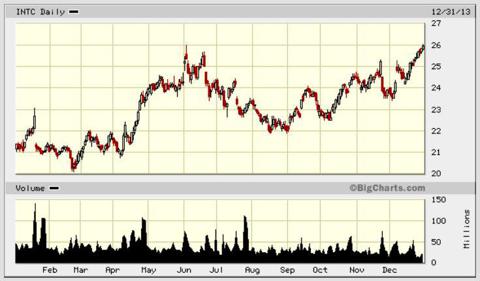 courtesy of bigcharts.com
Investment Thesis
After sales and net income reached an apex in 2011, flat to declining figures have signaled a period of strategic and operational retrenchment, not long-term demise. Management has recognized the need to change the business model; but righting a ship as big as Intel takes time. Notably, Intel set its sights on the server chipset business and now completely dominates this part of the industry. Finally, tablets, phones, computing security, and "the internet of things" have been targeted.
Despite large capital expenditures and meaningful share repurchase plans, the dividend has been increased significantly. The past 5 years saw the payout increase by over 10% per annum.
Few companies have the intellectual capital, R&D capabilities, manufacturing scale, and ability to generate cash like Intel. Over time, these strengths will permit the company to catch up and ultimately out-muscle other semiconductor and chip competitors. The key has been the leadership's recognition that significant change management was imperative, not optional.
Enter new CEO Brian Krzanich. Mr. Krzanich and his team will become the catalysts that drive Intel forward in a new way. The company has the required change agent to re-tool the business. Not only has Intel embraced change, but the company is attending to it with a sense of urgency not seen earlier.
Intel By the Numbers
In Part 1 of this series, a number of financial metrics were offered to help identify whether or not a company is fairly valued.
Permit me to begin by stating that the numbers tell a story, but the numbers are not THE story. I point this out because it can become easy to get somewhat dogmatic about "the numbers." The intent is to review the metrics openly, but pragmatically; in light of the underlying corporate narrative and the proposed investment thesis:
Price/Cash Flow: Estimating full-year 2013 operating cash flow per share at approximately $4 indicates ~6.5x Price/Cash Flow ratio. Over the past several years, P/CF has clocked in no higher than 8x. This is considerably below my general valuation target of 10x or less.
Indisputably, Intel is a cash machine. Operating Cash Flow routinely eclipses Net Income. Despite enormous capital investment in 2012 and 2013, balance sheet cash and investments remain over $27 billion. This figure has risen to an all-time high post the Great Recession. Over 22% of the current share price is comprised of cash.
2-Year PEG ratio: This is a tough one to handicap. Management and Wall Street estimates forecast Intel's 2014 EPS to be flat. The following year earnings are projected to grow at 7% to 10%. Using these figures indicate the 2-Year PEG ratio is terrible. However, given the Intel storyline, I am willing to discount the short-term numbers. For what it's worth, analysts believe Intel will grow by 10% a year in 2016 and onward.
Return-on-Equity: Premier companies sport RoE of 15% or greater. Intel has a 2013 Return-on-Equity of 17%. The company has registered premier marks for this metric consistently.
Revenue Growth: Since reaching $54 billion in 2011, annual sales have eased slightly. Meanwhile, net income has declined. Therefore, the company flunks a revenue growth test. However, it should be pointed out that while net income has fallen over the past three years, operating cash has remained steady. 2013 OCF will remain comfortably above the $20 billion marker.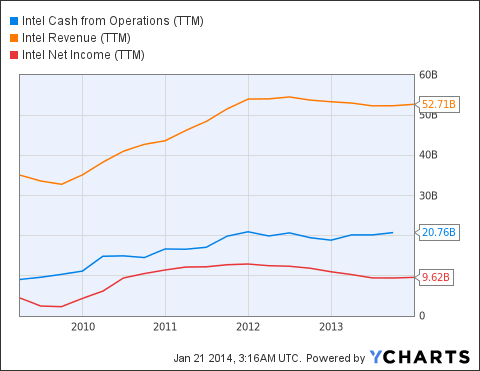 INTC Cash from Operations (TTM) data by YCharts
Debt-to-Equity: Currently, Intel has a debt-to-equity ratio of 23%. This is magnitudes better than the semiconductor industry average of 40%, and quite good for most any large manufacturing corporation. The figure is burnished by the fact that Intel management has recently borrowed cash to take advantage of historic low interest rates. The borrowing costs were lower than the dividend yield, thereby making it advantageous to arbitrage the rates. Intel could pay off all its long-term debt tomorrow and still leave half its balance sheet cash and investments untouched.
Margins: In several previous S.A. articles I've written about Intel, I have encouraged investors to watch the gross margin closely. Declining margin without a corresponding increase in revenue could spell problems. As outlined by the following chart, margins appear to be stabilizing above 60%, while revenues are consistent. Fourth quarter 2013 gross margin was 62%, four points ahead of 4Q 2012. Intel management called the bottom for gross margins on the 2013 1Q earnings conference call:
So as the gross margin improves, we expect that 1Q is the bottom. It's up a bit in 2Q, then a back half that's back into the low 60s....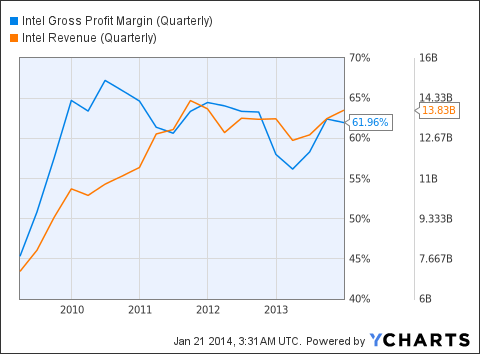 INTC Gross Profit Margin (Quarterly) data by YCharts
Price and Earnings
Past and potential price and earnings data are outlined below via two F.A.S.T. graphs. Please find a historical 7-year graph, followed by a 7-year prospective chart. I selected the 7-year time frame since Intel stock experienced significant multiple compression in 2008 and has never recovered fully.
The black line indicates price. On the first chart, the blue line indicates the depressed 7-year historic PE ratio of 12.6x. The purple line highlights a 15x PE ratio. The pink line expresses growth of the dividend. I have input actual and forecast EPS for 2013 and beyond. My assumption is essentially flat earnings in 2014, followed by modest, then somewhat accelerated growth. This is aligned with consensus Wall Street estimates.
What these two graphs say is that for seven years, INTC stock price has reflected PE multiple compression, perhaps for good reason. What's interesting is that as of December 31, 2012 the ratio stood at 9.4x, but by the end of 2013 the PE rebounded to over 14x in spite of the fact that EPS has declined three years in a row.
Could this be attributed to investors taking a more favorable forward view of the company's future prospects? If correct, and prospective earnings improve with the new CEO changing the business calculus, the expectation of a 15x multiple is reasonable.
Assuming the investment community believes Intel can earn $2.03 a share in 2015 and a market-multiple 15 times earnings is placed up the stock, the share price will crack $30. The Estimated Earnings and Return chart above illustrates this point.
Summary
Intel is a contrarian play. Recent results have generally disappointed investors and 2014 expectations have been set low. Yet, contradicting this notion, the Price/Earnings multiple has climbed despite declining EPS: indicating either investors are looking past the present and towards the future, or have bid up the shares irrationally.
On a fundamental basis, the company appears very well-financed. It continues to generate excellent operating cash flows far in excess of earnings. The dividend is healthy; rivaling those of most Utility sector stocks. The Price-to-Cash Flow ratio is low. Gross margins look to have stabilized, remaining near 60%. Chip ASPs (Average Selling Prices), an important operational measure, have likewise remained strong in the face of fierce competitive pressure.
As we enter 2014, CEO Brian Krzanich is the potential catalyst.
Mr. Krzanich began his tenure doing what good CEOs do at first: nothing major. He has spent the better part of his first year on the job listening, learning, and developing his own notions on where to take the company. What is beginning to emerge is a more focused, capital-efficient, and aggressive organization. This may have piqued investors' interest in the stock. Given 2013 results and 2014 forecasts, INTC shares have every reason to go down. But they haven't.
A company with the financial might, intellect, and franchise power of Intel just needs the right spark to ignite earnings growth and related multiple expansion. Is it a year or so away?
Please do your own careful due diligence before making any investment. This article should be used for information purposes only. It is not a recommendation to buy any stock. Good luck with all your 2014 investments.
Disclosure: I am long INTC. I wrote this article myself, and it expresses my own opinions. I am not receiving compensation for it (other than from Seeking Alpha). I have no business relationship with any company whose stock is mentioned in this article.