There are very few countries in the world were a manufacturing company can still report exceptionally strong growth in revenues YOY. China is certainly one of those remaining few.
China Automotive Systems (NASDAQ:CAAS), a manufacturer of power steering components for automobiles, is one of many China based, US listed companies which offers an insight into just how strongly China's population is expanding its wealth, and how competitive their manufacturers can be.
The small cap manufacturer, which supplies power steering parts to a wide range of vehicles, including Chrysler's Jeep Wrangler, reported fourth quarter and full year results for the period ended 31 December 2009 this morning.
Headline numbers reflected a company with strong growth potential. For the final quarter of 2009, China Automotive chalked up $83.8 million in net sales, up nearly 119% on Q4 2008, while gross margins climbed by 1% to 29%, compared to 28% in Q4 2008 and 27% in Q3 2009.
Net income climbed by a factor of 12 to $6.5 million (Q4 2008: $0.5 million), or 21 cents per diluted share. Cash and equivalents were $43.5 million at year end. These were the best quarterly results from the company to date.
Full year results painted a similar picture. Net sales rose 56% to $255.6 million, while net income jumped 88% to $23.4 million, or 78 cents per diluted share. Gross profit in 2009 increased by 53.8% to $72.7 million ($47.3 million in 2008). Importantly, the company recorded a free cash flow of $17.5 million.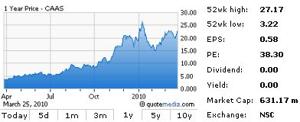 (Click to enlarge)
The strong revenue growth reflected impressive demand for the company's products. In Q4 2009 China Automotive sold more than 20 million steering gears for commercial vehicles, 57 million steering gears for passenger vehicles and 6 million steering pumps in 2009, up 200%, 109% and 60% respectively compared to Q4 2008.
Qizhou Wu, CEO of China Automotive Systems, commented:
Overall, with China's huge market potential, and rapid quality and affordability improvements in the automotive market, we will continue to focus on expanding our market share and strengthening relationships with OEMs to grow our long-term, recurring revenue pipeline and maximize long-term shareholders' value.
Earlier this year China Automotive announced its first global OEM (Original Equipment Manufacturer) customer – Chrysler.
While the growth at China Automotive was impressive in 2009, the company is forecasting slightly less exciting growth in 2010 …of just 20% ...
Disclosure: No positions