Dominion Resources (NYSE:D) recently announced its annual dividend increase, as Seeking Alpha has covered here. Below are some key highlights from this announcement:
The new annual dividend is $2.40 per share.
Dominion has now paid 344 consecutive quarterly dividends, that is a mind boggling 86 years.
The new dividend will be paid to shareholders of record on 02/28/2014.
Let us get into more details below.
New Yield: The new annual dividend per share of $2.40 gives Dominion Resources a current yield of 3.6% based on recent share price of about $66. Dominion's yield is the lowest when compared with other well known utility stocks like Southern Company (NYSE:SO), Duke Energy Corporation (NYSE:DUK), American Electric Power (NYSE:AEP), and Exelon Corporation (NYSE:EXC). But the next section is where Dominion Resources trumps its peers.
Dividend Growth Rate:
Exelon Corporation did not increase its dividend between 2008 and 2012, before slashing the dividend in 2013 from 52 cents a share to 31 cents a share.
Southern Company's dividend growth rate has been around 3% over the past few years.
Duke Energy Corporation's dividend growth rate has been around 2% over the past few years.
American Electric Power's dividend growth rate has also slowed down to between 2% and 3% the last 3 years.
Dominion Resources stands out in this department as the table below shows. The last 5 dividend increases have an average of 6.5%. The key point is that the average is not skewed by one or two extreme spikes. It has been between 6% and 7% the last 4 years.

Free Cash Flow: Utilities, like Telecom companies, have high capital expenditures. This means the quarterly earnings per share might not always truly reflect their earnings potential. We recently wrote two pieces on telecom giants AT&T (NYSE:T) and Verizon Communications (NYSE:VZ) and explained how their free cash flows covered their dividends, even if the current EPS does not look high. Let us see if Dominion's free cash flow is as encouraging as the telecom giants' were.
Total shares outstanding as of this writing is 580 million.
The company's current quarterly commitment to shareholders is for 60 cents a share. That makes it 580 times .60 $348 Million the total quarterly dividend amount.
Dominion has managed to generate more free cash flow than $348 Million in just two quarters over the past 5 years, which should concern investors about dividend coverage.
The average free cash flow over the past 5 years has been negative $123 Million.
If it is any consolation, the average free cash flow over the past 5 years have been just about positive for Southern Company and Exelon Corporation.
Extrapolation: The table below shows what a patient investor's returns might look like if the investor sets aside his/her money for 10 years. The table assumes an average yearly increase of 5%, which is easily lower than the 5 year average shown above. The yield on cost might rise close to 6% for someone who buys the stock today.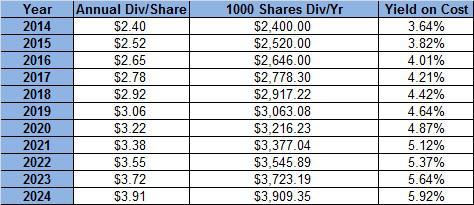 Conclusion: If you are looking for peaceful dividends with less volatility, Dominion is a good pick without a doubt. However earnings and free cash flow are a concern as shown above, and the high debt/equity ratio of almost 200 is very glaring. This makes one believe that the dividend increases are perhaps being funded by more debt. This is probably not a stock to hold for a dividend growth investor with plenty of time left before reaping the rewards. But this stock does have a lot of good points for those nearing or in retirement and prefer very low volatility, like:
A very low beta of 0.12
A long history of dividend payments
A yield that is much higher than the S&P's average
A dividend growth rate that is the highest among its peers
A "Chowder number" (current yield plus dividend growth rate) of about 10%, when Chowder himself looks for only 8% from utilities.
Disclosure: I am long SO, T, . I wrote this article myself, and it expresses my own opinions. I am not receiving compensation for it (other than from Seeking Alpha). I have no business relationship with any company whose stock is mentioned in this article.