By David Russell
When Range Resources (NYSE:RRC) fell early in today's session, the buyers stepped in. optionMONSTER's Heat Seeker tracking system detected unusual call activity in the natural-gas company as investors snapped up the April 50, April 52.50, April 45 and April 47.50 contracts. The April 50s were the active strike, trading 3,957 times, mostly for $0.60 to $0.90. The April 52.50 calls were bought in institutional size for $0.35 to $0.40 on volume of 3,197 contracts.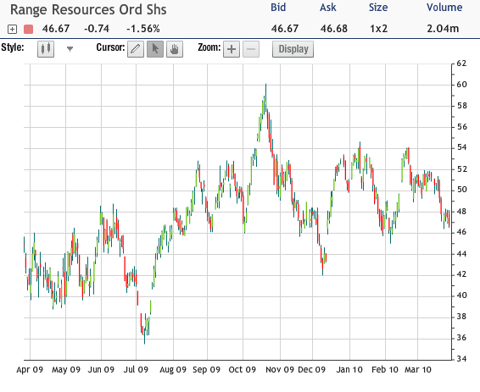 (Click to enlarge)
RRC fell 1.39% to $46.81 in morning trading and is down 9% in the past month. The stock has been pushing lower since its last earnings report on Feb. 23, and in the past week slipped below its 200-day moving average.
However, it's trying to hold a support level drawn between the December and February lows. That may be causing some traders to expect a rebound higher.
The April 45 calls traded in size for $3.30 to $3.60 and the April 47.50 contracts changed hands mostly for $1.70 to $1.80. Volume exceeded open interest in all four April strikes.
Overall options volume in RRC was 7 times greater than average, and calls outnumbered puts by 22 to 1.
Disclosure: No positions