Investors looking for long-term growth exposure should look no further than pollution treatment stocks. One thing is for certain, humans will never stop producing waste.
Pollution is one of the biggest global killers affecting over 100 million people. Over 1 billion people worldwide lack access to safe drinking water as 5,000 people die every day from contaminated water. 14 billion pounds of garbage are dumped into the ocean every year as 1 million seabirds and 100,000 sea mammals are killed by pollution each year. People who live in places with high levels of air pollution are 20% more likely to die from lung cancer than those living in less polluted areas. Approximately 46% of American lakes are too polluted for fishing or swimming as 1.2 trillion gallons of untreated sewage, storm water, and industrial waste are dumped into U.S. water each year. And these numbers only continue to get worse as the global population increases and economies become more industrialized.
Investors looking to dump some garbage and clean up their portfolios should consider the following top performing pollution treatment stocks.
Donaldson Company (NYSE:DCI)
Donaldson Company Inc. manufactures and sells air filtration systems and replacement parts in two different segments. First, the Engine Products segment offers air filtration systems, exhaust and emissions systems, liquid filtration systems, and replacement filters to equipment manufacturers in construction, mining, agriculture, aerospace, defense, and trucking markets. Their Industrial Products segment provides dust, fume, and mist collectors and specialized air filtration systems for compressed air systems, gas turbines, and PTFE membrane-based products. The entire global filtration market is estimated at $50 billion.
DCI consistently creates returns for shareholders and holds very little debt. The company has steadily increased their dividend year over year since 1990. Their current S&P Equity Ranking of "A" for dividend and earnings growth is also a shining star for dividend growth investors.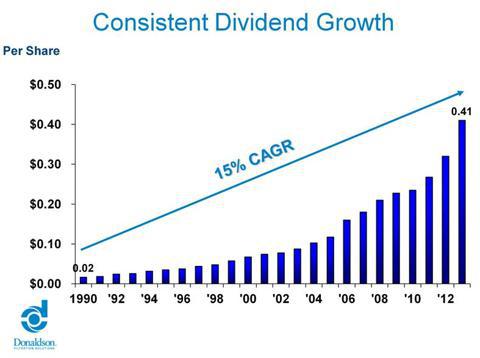 Shareholders have enjoyed a 15% CAGR dividend growth since 1990 to 2013. There's not an investor in the world that wouldn't jump at that opportunity. In addition, the management team has been reducing the number of shares outstanding by about 2% a year. In 1990, shares outstanding were 231 million while closing 2013 out at 146 million with very little increase in debt. Increasing earnings per share, increasing dividends, and relatively manageable long-term debt has made DCI a top performing pollution treatment stock gaining over 274% since 2009 and currently trading near its all-time high of $43.74. Moreover, management completed two stock splits each at 2:1 in 2004 and again in 2012.
An improving global economy should help sustain revenue and earnings growth for 2014. Management is targeting a 30% to 40% dividend payout ratio while we have already seen that statistic grow from 17% in 1999 to 27% in 2013. A payout ratio in the low 30% range would keep DCI in line with its 15% annual average dividend growth rate and see the dividend increase from $0.52 to about $0.58 or $0.59. If DCI continues to hit management's conservative forecasts and continues to buy back shares, we should see continued upside pressure on the share price. I also would not be surprised if DCI began entertaining acquisition targets considering their strong cash and low debt positions.
CLARCOR Inc. (NYSE: CLC)
CLARCOR Inc. is another pollution treatment company trading near its all-time high of $64.69 after a dividend hike and successful strategic acquisitions. CLARCOR is a diversified marketer and manufacturer of mobile, industrial, and environmental filtration products and packaging products sold in domestic and international markets. CLC recently hiked its Q4 fiscal 2013 dividend 25.9% from $0.135 to $0.17 per share. This increase marks the largest hike by the company in the past two decades. Similar to DCI, CLC has steadily increased their dividend year over year for the last 30 years; a dividend growth investor's dream. It is clear that the long-term strategy for CLARCOR is to provide attractive risk-adjusted returns to its shareholders. CLC is also up 168% since 2009.
Still, what may be even more impressive is management's determination to pursue strategic acquisitions and investments in capital projects to boost further growth driven by strong cash flow. In hopes of expanding further into Europe and Asia while improving their product portfolio, CLC recently acquired the Bekaert Advanced Filtration business ($20 million in sales for 2013) for about $8 million. Christopher L. Conway, CLARCOR's Chairman, President and Chief Executive Officer commented,
Bekaert is known in the industry for its top level engineering capabilities and superior product quality, and it is not uncommon for customers with demanding applications to insist upon Bekaert Advanced Filtration systems and filters. The acquisition of the Advanced Filtration business will expand the technical capabilities of Purolator EFP (CLARCOR's subsidiary), improve the product offerings that the company brings to market and help us continue to grow in Europe and in Asia.
Furthermore, the company has also recently acquired the Air Filtration business of General Electric Company's (NYSE: GE) Power & Water division, a leading supplier of air filtration systems and filters used in gas turbine applications and industrial air filtration products. This deal will be accretive to CLARCOR's 2014 earnings. The same factors that should continue to drive DCI earnings and revenue should affect CLC in the same way. I expect increased cash flow in 2014 from these two recent acquisitions.
Poly Shield Technologies Inc. (OTCBB: SHPR)
Switching away from air filtration systems and into the maritime industry we have Poly Shield Technologies Inc. This company has developed a fuel desulfurization system called the DSOX-15 Fuel Purification System which can satisfy all the upcoming sulfur pollution standards to be imposed by the European Union and United States. After 2015, the fuel sulfur content for any ship in an ECA must not exceed 0.10% or alternatively the exhaust gas must be cleaned to an equivalent level. The two main solutions for shippers to be compliant in 2015 are using low sulfur content fuel or installing exhaust gas scrubbers.
Changing to low sulfur distillate gas may be easier than installing an exhaust scrubber and requires no upfront investment. However, this will result in significantly higher fuel costs making the option much more expensive over time. The financially sound, long-term solution for shippers is to install exhaust gas scrubbers that remove pollutants directly from the emissions before they leave the ship. The scrubber industry is young and still maturing with no clear leader identified. Equities.com believes SHPR has a strong lead on becoming the "gold-plated" solution for limiting sulfur pollution with their exhaust scrubber technology. A competitive product analysis revealed that no other system exists in the market that is able to match their scrubber system in performance, size and weight, installation, or cost efficiency. Equities.com has a Buy rating on the stock with a price target 186% higher than the current share price.
With 65,000 vessels in the shipping industry, the EU Environment Commission estimates an extra $14.3 billion in annual costs for the industry as the new sulfur regulations are enforced. And according to the Wall Street Journal, additional regulations are expected in 2016 that would require exhaust treatment to reduce nitrogen oxide emissions in new vessels. These new and stricter regulations are creating a new opportunity in the pollution treatment industry in the form of exhaust scrubbers and SHPR seems to have the most efficient option in the market today. Poly Shield Technologies is up 607% since 2012 and I expect further upside as shippers rush to meet regulations by 2015.
Advanced Emissions Solutions (NASDAQ: ADES)
Advanced Emissions Solutions is a company with extremely high hopes for 2014 as analysts are projecting revenues of $386 million compared to $274 million in 2013, a 41% increase. The company provides environmental technologies and specialty chemicals to the coal-burning electric power generation industry primarily in the United States. Its segments of operation include Refined Coal, Emission Control, and CO2 Capture. The company's model monetizes government tax credits by helping companies comply with emission regulations. More specifically, ADES helps companies comply with MATS (Mercury and Air Toxic Standards) regulations.
Not only has ADES had decent short-term momentum heading into 2014, but it is seeing solid activity on the earnings front as well. Estimates for Q1 2014 have increased 100% from $0.06 a share 30 days ago to $0.12. Perhaps some of the hype behind an anticipated blockbuster year for Advanced Emissions is the 6 facilities that are scheduled to begin full-time operations by the end of Q1 2014.
Advanced Emissions is, in my opinion, a company to certainly keep an eye on in 2014 with all the buzz and expected blockbuster numbers being forecasted. ADES has gained a mouth-dropping 1,212% since 2009 and I fully expect revenue and earnings forecasts to continue to put upward pressure on the stock.
CECO Environmental (NASDAQ: CECE)
U.S. energy-related carbon dioxide pollution grew by 2% in 2013 after declining several years in a row. The increase was due to a small boost in coal consumption by the electric power industry, according to a study by the U.S. Energy Information Administration. President Obama has made a strong push in his second term to impose first-ever limits on carbon pollution from new and existing power plants. This opens up tremendous opportunity for CECO Environmental.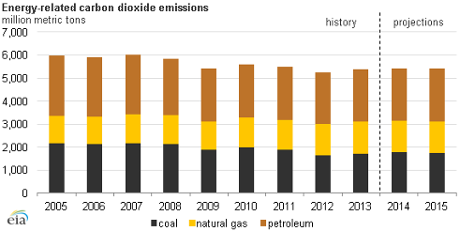 CECO Environmental is a provider of global product, engineering, and design services for air pollution control systems. Its three major segments of operation are Engineered Equipment Technology, Contracting/Services and Component Parts. While most of its business is located in the United States, it has an international presence (24% of total bookings in 2012) in countries such as China, India, Canada and Latin America.
Under Obama's plan, the Environmental Protection Agency will propose guidance for states to regulate greenhouse gas emissions from both future power plants and those already in existence to reshape where Americans get electricity. The plan is intended to help move the United States from a coal-dependent past into a future fired by cleaner sources of energy such as wind power, solar power, nuclear energy and natural gas. However, climbing natural gas prices could result in a cleaner comeback for coal with CECO cleaning up its mess.
The company continued to grow orders from different polluting industries around the globe in 2013 and is in position to gain more business in years to come with increasingly strict environmental standards coming from the U.S. and China. This is in addition to the company beating earnings estimates every quarter for the past three years with an attractive 1.2% dividend yield. The company also cut costs and maximized earnings by consolidating manufacturing locations and outsourcing 50% of production to contractors. All this, coupled with a slew of successful acquisitions in 2013, leads me to believe CECO is in store for even greater success over the next few years. CECE is up 467% since 2009 and 60% in 2013 alone (CECE is the ticker symbol for CECO Environmental, not CECO).
Conclusion
Government agencies around the world are beginning to impose stricter regulations on pollution control. This is opening up tremendous opportunity for pollution treatment companies, many of which sport high dividend yields. Every stock mentioned above has far outperformed the S&P 500 and I expect that trend to continue in 2014. In hopes of remaining diversified, the companies mentioned above provide exposure to different pollution treatment areas.
Disclosure: I have no positions in any stocks mentioned, and no plans to initiate any positions within the next 72 hours. I wrote this article myself, and it expresses my own opinions. I am not receiving compensation for it. I have no business relationship with any company whose stock is mentioned in this article.