(Editors' Note: This article covers a micro-cap stock. Please be aware of the risks associated with these stocks.)
Short position reports have to be viewed in two ways. A big short position raises a red flag. What's wrong with the company that is attracting all these bets the stock is going to decline?
Alternatively, the problems are either non-existent, or already "baked into the cake". Then, the "shorts" are wrong and too numerous, and represent latent buying power. Like a lit fuse on a powder keg, an explosive rally is almost inevitable.
This latter situation was the case with BlackBerry (BBRY), the number one shorted stock in the last edition of this bi-weekly article.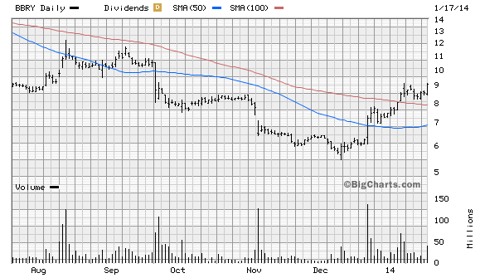 The BlackBerry short dropped from 143.8 million on NASDAQ, to 107.2 million as of December 31. Clearly, a dramatic short covering rally.
Sometimes, thinking of shorting is a good way to learn more about a company. In fact, anything (other than tout sheets written by unscrupulous "Wolf of Wall Street" types) that you read about your potential stock pick, has got to add at least some investment value.
One reader of the first edition of the December 15 report, suggested I look at Nuvo Research (OTCQX:NRIFF), a small Canadian pharmaceutical play, as a potential short. I took a quick look at it, and said, actually, this thing looks rather good as a buy, but promptly forgot about it. I was amazed to see Nuvo in the "Top Gainers" afterwards. There was no short position to explain it. Just a good stock.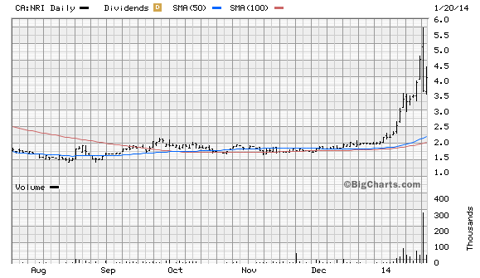 So here is the list of the top twenty most shorted stocks on the Toronto Stock Exchange, as of January 15, 2014. A couple of preliminary comments.
This time, I haven't consolidated the TSX short position with the sometimes significant short position a stock may have on a US exchange. Frankly, its a lot of work, and I am not sure people can't do it themselves, since I showed how in the last edition. However, I have shown the change in the TSX short position over the two prior weeks.
And I show the US stock symbol, even though most times the primary exchange is usually the TSX. Finally, I reproduce the price chart in the currency the company reports in.
LARGEST TSX SHORT POSITIONS AS OF JANUARY 15, 2014
SYMBOL
ISSUE NAME
SHORT
CHANGE
(OTC:LUNCF)
LUNDIN MINING CORPORATION
60,648,263
275,619
(OTCQX:BDRBF)
BOMBARDIER INC. CL 'B' SV
53,298,029
647,294
(NYSEMKT:NGD)
NEW GOLD INC.
46,794,820
417,533
(OSKFF)
OSISKO MINING CORPORATION J
44,777,864
1,102,693
(OTCPK:ATHOF)
ATHABASCA OIL CORPORATION J
39,523,880
1,955,327
(NYSE:MFC)
MANULIFE FINANCIAL CORPORATION
38,483,693
1,054,869
(NYSE:KGC)
KINROSS GOLD CORPORATION
37,864,222
19,866,134
(OTCPK:LEGPF)
LEGACY OIL + GAS INC.
29,552,773
341,948
(NYSE:CLS)
CELESTICA INC. SV
28,512,371
(126,044)
(NYSE:GIB)
CGI GROUP INC. CL 'A' SV
26,782,093
2,152,500
(OTCPK:POFNF)
POWER FINANCIAL CORPORATION
26,778,350
4,549,163
(NYSE:TRP)
TRANSCANADA CORPORATION
26,193,006
6,659,713
(OTCPK:DRGDF)
DETOUR GOLD CORPORATION J
24,902,290
914,596
(NYSE:TRI)
THOMSON REUTERS CORPORATION
24,341,314
(17,292,667)
(OTCPK:HUSKF)
HUSKY ENERGY INC.
23,835,414
(5,434,179)
(NYSE:BCE)
BCE INC.
23,790,896
(4,753,907)
(OTC:ELEEF)
ELEMENT FINANCIAL CORPORATION J
23,668,636
(324,585)
(OTCPK:GWLIF)
GREAT-WEST LIFECO INC.
22,833,712
(5,060,092)
(NYSE:BNS)
BANK OF NOVA SCOTIA (THE)
22,819,871
4,743,726
(NYSE:TLM)
TALISMAN ENERGY INC.
22,673,393
(1,991,360)
Only a couple of short positions raised my eyebrow. The others are, as Captain Renault said in the film Casablanca, "the usual suspects." Most have been heavily shorted all of 2013.
I find the 6.6 million increase in the TransCanada Corp short interesting, given the impending decision on the Keystone XL pipeline. Maybe it's a "negative".
Offsetting this is, the any day now full ramp up of TransCanada's Gulf Coast Pipeline Project (aka Keystone XL South leg), bringing oil from Cushing, Oklahoma to the Texas coast, and more cash flow to the company.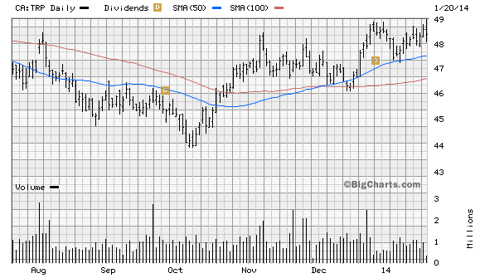 The Thomson Reuters short position moves around. It was down a whopping 17.3 million shares, but was up 12.65 million during the two weeks before. I have no idea what is going on there.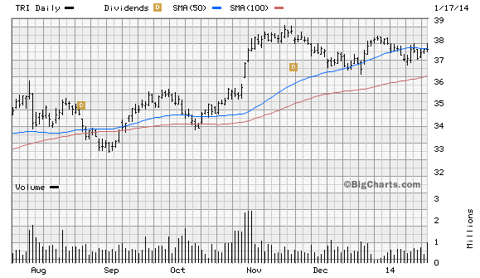 The short on Thomson Reuters on the NYSE was at 14.9 million shares as of December 31, relatively unchanged and the latest data freely available.
Let's take a look at the next most shorted TSX stocks. Maybe they will bring up some ideas.
| | | | |
| --- | --- | --- | --- |
| SYMBOL | ISSUE NAME | TSX | NET CHANGE |
| (OTCPK:CWEGF) | CREW ENERGY INC. | 22,478,539 | (174,859) |
| (OTCPK:BNKJF) | BANKERS PETROLEUM LTD. J | 22,343,472 | 275,388 |
| (OTCPK:LBLCF) | LOBLAW COMPANIES LIMITED | 22,174,014 | 1,248,698 |
| (NYSE:RY) | ROYAL BANK OF CANADA | 21,914,027 | (339,665) |
| (OTCPK:NUVSF) | NUVISTA ENERGY LTD. | 21,763,793 | 83,637 |
| (OTCPK:ATSAF) | ATS AUTOMATION TOOLING SYSTEMS INC. | 20,310,249 | (88,503) |
| (PWE) | PENN WEST PETROLEUM LTD. | 19,987,211 | 3,440,097 |
| (NYSE:ENB) | ENBRIDGE INC. | 19,167,082 | (5,997,464) |
| (NYSE:TAHO) | TAHOE RESOURCES INC. J | 19,152,012 | (17,910) |
| (NYSE:ECA) | ENCANA CORPORATION | 18,208,914 | (1,359,633) |
| (NYSE:TD) | TORONTO-DOMINION BANK (THE) | 18,168,226 | 1,267,891 |
| (NYSE:AUY) | YAMANA GOLD INC. | 17,897,279 | 13,153,391 |
| (NYSE:RCI) | ROGERS COMMUNICATIONS INC. CL 'B' NV | 17,729,445 | (3,559,679) |
| (OTCPK:MEGEF) | MEG ENERGY CORP. | 17,710,646 | (193,212) |
| (TC) | THOMPSON CREEK METALS COMPANY INC. | 17,008,439 | 830,239 |
| (NYSE:TAC) | TRANSALTA CORPORATION | 16,683,975 | 2,012,782 |
| (NYSEMKT:GTE) | GRAN TIERRA ENERGY INC. J | 16,569,171 | (58,217) |
| (NYSE:CNQ) | CANADIAN NATURAL RESOURCES LIMITED | 16,247,093 | (1,335,774) |
| (NYSE:BPO) | BROOKFIELD OFFICE PROPERTIES INC. | 16,221,873 | (16,034,116) |
| (OTCPK:TRMLF) | TOURMALINE OIL CORP. | 16,046,688 | (623,270) |
What strikes me from this list, is the number of companies drilling for natural gas in Canada that have large short positions. These include Crew Energy, NuVista Energy, Encana, and Tourmaline. The other two, Bankers Petroleum and Gran Tierra, are internationally-focused.
I wonder why people are so bearish on these names, given the AECO benchmark natural gas price ended last year at roughly $4/mcf rather than $3/mcf at the end of 2012. That's got to help the statutory natural gas proven and probable reserves statements these companies will be putting out over the next few weeks.
Looks to me as if some of these stocks are quietly going higher. Here's Tourmaline.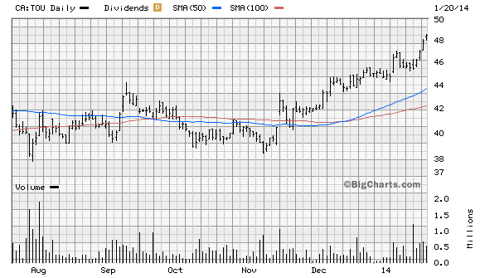 The big drop in the short position of Brookfield Office Properties must be related to the share offer being made by its parent, Brookfield Property Partners. Not all short position changes are directionally significant.
But they are always interesting and should provoke further investigation.
Next TSX short report ETA February 5.
Disclosure: I am long BCE, RCI, CWEGF, . I wrote this article myself, and it expresses my own opinions. I am not receiving compensation for it (other than from Seeking Alpha). I have no business relationship with any company whose stock is mentioned in this article.