Starting today, Verizon Wireless (NYSE:VZ) will allow the use of Skype's Internet calling service on some of its smartphones. At first glance, this move doesn't seem to make much sense. Why would Verizon Wireless allow customers to place calls for free when it generates millions of dollars in monthly calling plan fees? The top brass at Verizon Wireless hasn't decided to give away something that many are gladly paying for; in fact this move signals a calculated strategic shift for Verizon Wireless to replace talk revenue with data revenue. Moreover, the move is backed up by consumer behavior. Compete data reveals that the percentage of Verizon Wireless phone researchers investigating data intensive smartphones has increased steadily over the past year. Verizon is positioning itself to capitalize on changes in consumer preference and in the market.
Verizon Wireless' move towards data revenue is a direct response to falling talk prices. To buy market share and erode the larger carrier's profits, MVNO's now offer discounted talk, text, and web plans. For example, Metro PCS offers an unlimited talk, text, and web smartphone plan for $50 per month. Other competitors are charging even less for talk time. The VOIP device magicJack costs just $40 for the first year of service and of course Skype and Google Talk offer free computer to computer calling.
In response, the big 4 carriers have joined the race to lower calling plan prices. T-Mobile's new Even More Plus plans offer unlimited talk and no annual contract for $50 per month. AT&T and Verizon Wireless recently responded by lowering the price of unlimited calling plans. Both carriers reduced unlimited talk prices by $30 per month, deferring $720 in revenue per user over the life of a two year contract.
Carriers now expect to fill this hole in their bottom line with data revenue. It's clear in this context why the map wars between AT&T (NYSE:T) and Verizon Wireless became so heated. If you are betting your company's future on data revenue, it's imperative that customers believe in the integrity and reliability of your data network.
What the carriers have done is recognize a gap in their competitor's offerings. The big 4 carriers typically are the only mobile service providers to offer the latest smartphones, like the Motorola DROID or Apple's iPhone. These devices rely on the carrier's robust, nationwide, networks to utilize their full bundle of web connected applications, and carriers often require that they be paired with unlimited data plans.
Compared to one year ago, Verizon Wireless now welcomes half a million more smartphone researchers per month to its website, representing nearly 60% of total on-site phone researchers. Expect this trend towards always connected, data devouring devices to continue throughout 2010.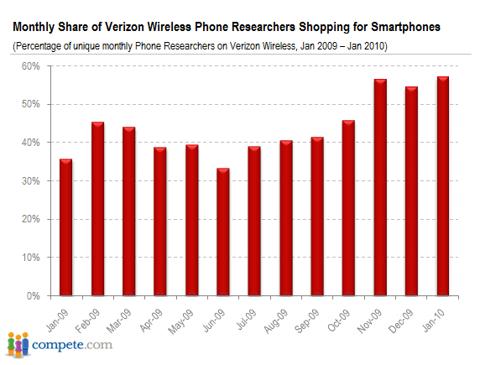 As customers get hooked on the services smartphones provide, and as carrier networks get faster and more reliable, the major carriers should be able to generate more revenue from incremental data services to replace lost revenue from discounting talk plans and allowing free calls with Skype.