Shares of Eli Lilly (LLY) started 2013 at $51 and ended the year at the same level delivering 0% return to investors in terms of share price appreciation. By comparison the S&P 500 (SPY) returned 25% during the year to passive investors.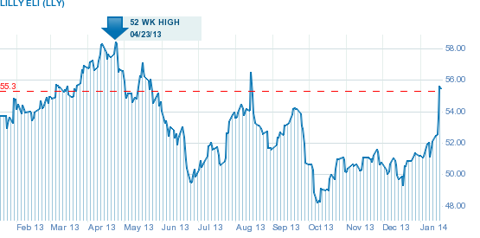 However, Lilly's investors received an annualized dividend payout of $1.96, or 3.8% based on the same $51 price mark, and Lilly's shares gained $5, or 10% since the beginning of the year.
Lilly is expected to endure Cymbalta's patent expiry during 2014. Cymbalta, which accounted for 24% of Lilly's 2013 global revenue, lost U.S. patent exclusivity in December and a flood of generic competitors entered the market.
In March 2014, Evista, Lilly's oral selective estrogen receptor modulator used in the prevention of osteoporosis in postmenopausal women, will also lose U.S. patent exclusivity surrendering another $1 billion to generics.
If we add the 2010 patent expiration of cancer drug Gemzar and the 2011 patent expiration of the antipsychotic Zyprexa, Lilly will be looking at more than $9 billion in annual revenue disappearing due to generic competition by the end of this year.
Recently, Lilly's management reconfirmed its 2013 expectations and announced its 2014 financial guidance. The company anticipates revenue of $19.5 billion and earnings per share of $2.8, mid-range for 2014. Net income and operating cash flow are expected at $3 billion and $4 billion, respectively.
At current share price of $55, Lilly's shares are trading at 19.6 times 2014 earnings and at 2.8 times 2014 sales, rather rich for a company facing such an upheaval.
Eli Lilly's R&D Pipeline
Lilly has 13 potential new medicines in Phase 3 and the company anticipates obtaining regulatory approvals for multiple products next year. Ramucirumab, Solanzemab, Empagliflozin, Dulaglutide and Long-lasting insulin can all receive approval soon.
Ramucirumab, a monoclonal antibody that blocks vascular endothelial growth factor, is currently under review as a second-line monotherapy for gastric cancer with a fast-track designation. Unfortunately, Ramucirumab failed to meet its primary endpoint in a Phase 3 breast cancer study last year which has dampened its peak sales prospects.
Solanezumab, a monoclonal antibody that binds to the amyloid-β peptides that make up the protein plaques seen in the brains of people with Alzheimer's disease, has recently demonstrated positive interim results in mild Alzheimer's disease with a possibility of a quick approval for the indication.
Empagliflozin, a sodium glucose co-transporter-2 (SGLT2) for the treatment of diabetes, has been submitted for a FDA new drug spplication (NDA) last year and could receive FDA approval soon.
Dulaglutide, a once-weekly GLP-1 receptor agonist for type 2 diabetes, is also under review with a possible FDA approval before the end of 2014.
In December 2013, the FDA accepted an NDA for Lilly's LY2963016 insulin glargine developed for the treatment of patients with type 1 and type 2 diabetes. Lilly expects approval before the end of 2004.
Prospects
Lilly has already declared its Q1-2014 dividend of $0.49 per share, payable in March, and has promised to buy back massive amounts of its own shares.
Decline in revenue due to expired products is expected to be partially offset by growth from a portfolio of other products including Humalog, Trajenta, Cialis, Forteo and Alimta, as well as the animal health business. Strong revenue growth is also expected in China.
Lilly anticipates that gross margin as a percent of revenue will be approximately 74% in 2014 and total operating expenses in 2014 are expected to decrease substantially compared to 2013.
Overall, 2014 is expected to be a very difficult year for Lilly, however, sales are likely to start growing again in 2015 as the company brings some of its late stage R&D candidates to market.
Lilly's repeated pipeline failures, including its recent halting of its development of the anti-depressant edivoxetine, continue to scare investors together with the prospects of Cialis U.S. patent expiry in 2017. Without a major catalyst we expect Lilly to underperform the S&P500 again in 2014.
Disclosure: I have no positions in any stocks mentioned, and no plans to initiate any positions within the next 72 hours. I wrote this article myself, and it expresses my own opinions. I am not receiving compensation for it (other than from Seeking Alpha). I have no business relationship with any company whose stock is mentioned in this article.