Organovo's (NASDAQ:ONVO) ascent onwards of $10 has brought out skeptics who argue the company has earned minimal revenues, yet boasts a near $1B market cap. This same criticism surrounded Organovo when I first started covering the company when it was trading around $2 over a year ago. Investor interest hasn't waned even after a 400% capital gain. Organovo's 3D bioprinting technology is part of the hottest trend that has taken investors by storm; 3D printing. Being the exclusive publicly-traded bioprinting company, Organovo undoubtedly deserves a valuation premium. A discussion of numerous disruptive opportunities available to the Company will illustrate what the bulls see in Organovo to warrant expansion to its valuation.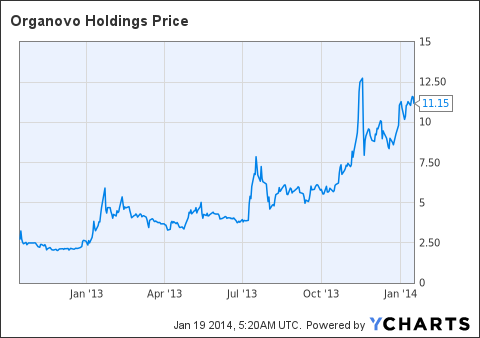 Initial Cell Assay Model
Those following Organovo are well aware of the company's first commercial product that is expected December 2014. The 3D liver assay will open the door for Organovo to sell bioprinted tissue for customer use while also providing an essential revenue stream. In the latest investor presentation, CEO Keith Murphy assured that the company is on track with the given schedule to deliver the 3D liver assay to key opinion leaders by April 2014 for testing and launch product by end of year. Shortly following the launch, publication of peer reviewed journals on the liver assay are expected. This will provide interested customers with additional data that should indicate the superiority of the product to conventional 2D models.
The agreement with Roche for use of 3D liver tissue in toxicology implies that the giant pharma could potentially be an end-user of the product once it is launched. Roche took early interest in seeing the development of the 3D liver model by committing resources into work. Murphy has mentioned in presentations that the company is in ongoing discussions for partnerships. As we get closer to the launch date, interested parties may begin finalizing deals to test the product out. Such collaborations will be the biggest value drivers for Organovo in the short run.
Revenue projections from Organovo's liver assay have ranged from as little as a couple hundred thousand to the millions. Regardless, this figure will not make or break the company. As CEO Keith Murphy has stated, the 3D liver assay is a proof of concept that validates the bioprinting technology. This will open up doors for Organovo in the form of collaborations and the potential royalties for drug discovery. The 3-7% royalty guidance is where the company is banking on making the majority of its revenues. A direct timeline has not been given, but the launch and success of a 3D liver assay is the first milestone to validating the bioprinting technology for tissue engineering.
Variety Of Tissues In Store
The liver was the first tissue Organovo heavily invested in once going public in early 2012. It took the company nearly three years before finalizing the launch of a product from their research. On a lagging basis, it should be expected that other developing tissues (such as the breast & kidney) will follow a similar path. Advancing pipeline tissues to the level of the liver will take time and effort, especially when pioneering a new technology. With the liver tissue experience, additional resources and access of being a publicly traded company, the progress of other tissues could end up making headway in a timelier manner and thus providing investors with near term catalysts.
Early on, breast cancer model has shown relevant structure to actual breast cancer tumor and has also proven to be more resistant to paclitaxel, common in chemotherapy drugs, than isolated 2D cancer cells. As a result, Organovo believes this is indicative that their bioprinted breast cancer tissue cells have the potential to be a more useful model when trying to discover drugs that can better treat tumors. Thus far, the early advancement of the breast cancer model is encouraging as it provides Organovo with another tissue in the pipeline while also acting as validation for other developing tissues.
Most recently, Organovo announced a collaboration with the National Center for Advancing Translational Sciences (NCATS) and the National Eye Institute (NASDAQ:NEI) to develop better and more clinically predictive 3D printed tissue models. Though the end goal would be to one day print eye tissue to help in disease modeling, catching the attention of NCATS validates the NovoGen MMX bioprinter as a technology that has the potential to deliver treatments to patients faster for improved human health one day. The grants received to develop additional tissue may not be notices on the income statement, but such funding will provide Organovo greater opportunities to expand into new markets.
Contract Research Model: Promising New Tactic
This new service model approach Organovo is taking is something I believe is being overlooked. As Keith Murphy explained it, a growing number of larger pharmas are moving away from buying tissue and conducting their own research on it. Rather, they want Organovo to, essentially, do the research work in-house and pay for the services. Think of Organovo acting as a contract research organization (CRO).
The overall market for CROs hits $35B annually. However, most of this annual figure is devoted to clinical studies. Approximately $7B is preclinical in which $5.25B is allocated towards animal studies and the remaining $1.75B for in-vitro lab based research. With the impending liver tissue, Organovo could penetrate the $1.75B in-vitro market by offering lab research service in the toxicology space.
Pharmaceutical companies would establish a contract with Organovo to test any compound; Organovo would run the compound with liver model and send the results/data back to the partner. Such a model is beneficial for Organovo as it allows them to charge higher price points for their services while it also lets the company collect important data sets. Hypothetically speaking, even if Organovo can take a conservative 0.5% of the in-vitro research market share, it would present the company with revenues just shy of $10 million.
Once Organovo's liver results start distinguishing its superiority versus conventional methods of research, which the company is confident it could achieve, then Organovo can start eating into the $5.25B animal model market. This does not mean that animal testing will be eliminated by 3D printed tissue. Mice and other animal models will continue being a part of liver toxicology. Bioprinted tissue has the potential to take an increasing share in the research market if it can prove an advantage in predicting clinical results.
From a research perspective, the liver assay has demonstrated performance, which acts as functional validation that the product works. To get the final product ready for the market though, Organovo must ensure other late stage development factors such as reproducibility and shipping. For the service based model discussed above however, these boundaries do not necessarily apply, thus must not be completed. Due to this, Organovo can capitalize on this contract research opportunity before the launch of their first product. This acts as an upcoming under-the-radar catalyst that may generate revenues prior to the consensus December 2014 date.
The Surprisingly Huge Opportunity In Cosmetic Toxicology
The cosmetic market presents an attractive opportunity for toxicology products as it is an even larger market sector than pharmaceutical testing. In 2013, the European Union banned cosmetic products which were tested on animals. This and the general effort towards reducing animal testing will require alternative methods of testing for toxicity, opening the door for bioprinted tissue. Organovo's agreement with L'Oreal, involving production of skin tissue for the testing of products, marks the expansion into this sector. Though no terms were disclosed, it's safe to assume Organovo will actively pursue the development of skin tissue in which L'Oreal will support with research dollars.
With Looming Competition, Organovo Will Remain One To Watch
As the bioprinting trend grows, more competitors will begin surfacing (seen here, here and here). This shift towards advanced biomedical technologies should not be seen as a threat to Organovo. Afterall, Organovo has shown promising results in a market where they are the leaders. The company is well protected by patent portfolio, holds the greatest amount of resources (~$50M in cash) and arguably has greater access to capital than its competitors. This gives Organovo an edge in continuing to be the frontrunner of this disruptive technology by either organic development or acquisitions.
Valuing Organovo based on traditional metrics will undoubtedly point to a vastly high valuation. Like any developing stage biotech, the potential market opportunity is what determines valuation. Regenerative medicine is an early stage concept in which boundaries have yet to be approximated, thus making the valuation of a company like Organovo equally as difficult to predict. I don't envision this situation changing anytime soon. Thus far, Organovo has received interest for their bioprinting technology and are being granted resources to develop it. If the company can maintain its current development and continue to sell others on its value proposition, 2014 will prove to be another lucrative year.
Disclosure: I am long ONVO, . I wrote this article myself, and it expresses my own opinions. I am not receiving compensation for it (other than from Seeking Alpha). I have no business relationship with any company whose stock is mentioned in this article.