Finding a favorable entry point when looking to establish a position in a particular stock is certainly something we as investors all strive to do. In this article I wanted highlight a few reasons why I think establishing a position in Annaly Capital (NYSE:NLY) sounds a bit better now than it did when I wrote a cautionary article on the stock back in August when shares were trading at $11.27/share and yielding 14.20% ($1.40).
#1 Annaly's Trend Behavior Signals Improving Behavior
On Friday, shares of NLY, which currently possess a market cap of $9.66 billion, a forward P/E ratio of 8.96, and a dividend yield of 11.76% ($1.20), settled at a price of $10.20/share. Based on their closing price of $10.20/share, shares of NLY are trading 1.90% above their 20-day simple moving average, 1.76% above their 50-day simple moving average and 11.61% below their 200-day simple moving average. These numbers indicate a short and mid-term uptrend for the stock, which generally signals a moderate buying mode for most near-term traders, although I'd still cautious in terms of the size of my position from a long-term perspective.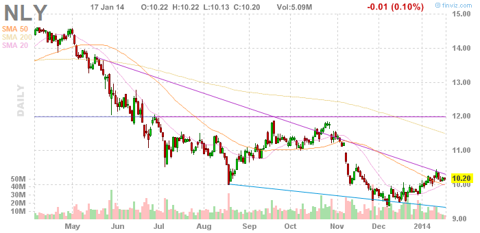 #2 As Rates Rise, Prepayment Momentum Softens
It was recently noted that the MBA (Mortgage Bankers Association) reported that the share of refinance applications fell to 62.3%. With that said, home price appreciation is expected drive refinance activity higher as previously underwater homeowners should eventually get back to positive equity and could therefore take advantage of lower rates.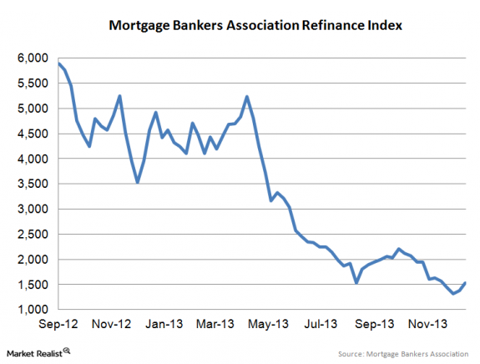 Refinancing activity affects prepayment speeds (which play a key role in terms of the returns mortgage REITs demonstrate on both a quarterly and annualized basis) and if prepayment behavior accelerates mortgage REITs tend to get the short of the stick. Prepayments occur when homeowners are allowed to pay off their mortgage early without incurring a penalty. However, when interest rates begin to demonstrate a sustainable increase over a certain period of time, prepayment speeds tend to slow, and mortgage REITs get to breathe a sigh of relief (at least in the near-term).

Since November 1, 2013 the 30-Year Rate rose 21bps, and as a result of that sustained rise in rates, mortgage REITs may show upside in terms of their overall performance especially since prepayment activity could demonstrate somewhat of a slowdown when these particular firms announce their quarterly results over the next few weeks. If, over the next 6-12 months, interest rates continue to rise, and prepayment behavior slows, many of the names in Mortgage REIT sector, such as Annaly Capital, could benefit.
#3 Insider Buying Shouldn't Be Ignored
My fellow SA colleague Christopher F. Davis recently highlighted why insider buying at Annaly Capital is a huge plus and why we shouldn't overlook it. For example he noted that "Management still has faith in the stock. Simply because there were nine insider buys in 2013 (table 1). That represents 50% of the insider buys in the last five years".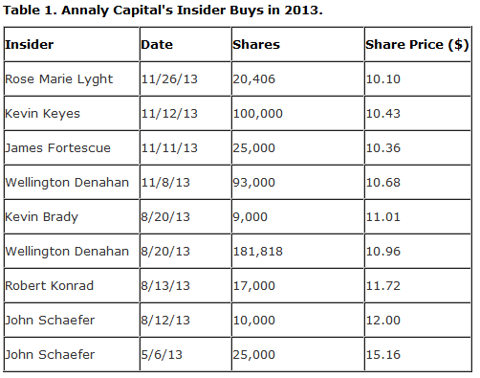 (Source: Christopher F. Davis)
I strongly believe that if Annaly's management continues to demonstrate a strong sense of confidence over the next 12-24 months through insider sales, investors could very well follow suit and as a result of such purchasing behavior, Annaly's share price could appreciate.
Risk Factors (Most Recent 10-K)
When it comes to the Mortgage REIT sector there are a number of risks both near-term and long-term investors should consider before establishing a position in any one particular Mortgage REIT. According to Annaly Capital's most recent 10-K, these risk factors include but are not limited to:
#1 - Volatile market conditions for mortgages and mortgage-related assets as well as the broader financial markets can result in a significant contraction in liquidity for mortgages and mortgage-related assets, which may adversely affect the value of the assets in which the company invests.
#2 - Mortgage loan modification programs, future legislative action and changes in the requirements necessary to qualify for refinancing a mortgage with Fannie Mae, Freddie Mac or Ginnie Mae may adversely affect the value of, and the returns on, the assets in which the company invests.
#3 - Annaly Capital operates in a highly competitive market for investment opportunities and competition may limit its ability to acquire desirable investments in its target asset classes and could also affect the pricing of these securities.
Conclusion
For those of you who may be considering a position in Annaly Capital, I strongly recommend keeping a close eye on a number of things over the next the 6-12 months as each of these could play a role in both company's near-term and long-term performance. These factors include but are not limited to the acceleration and/or deceleration of mortgage prepayment activity over the next year, the company's recent trend behavior and any continuation insider buying on the part of management.
Disclosure: I am long NLY, . I wrote this article myself, and it expresses my own opinions. I am not receiving compensation for it (other than from Seeking Alpha). I have no business relationship with any company whose stock is mentioned in this article.