The intensity of negative sentiment surrounding JC Penney (NYSE:JCP) is overwhelming. An astounding 86.4 million shares, equivalent to 31% of JCP's float, was shorted on 1/15/2014. The value investor ought to be greedy when others are fearful. A careful look into the company reveals that the turnaround strategy implemented by returning CEO Mike Ullman has shown early effectiveness. Armed with a successful career in retail, including a 3-year stint at RH Macy's culminating in pulling the retailer out of bankruptcy, Mr. Ullman has the experience and resourcefulness to see through the turnaround at JCP. Sufficient capital on the balance sheet will also ensure that the company has sufficient liquidity before normalized profitability is achieved. The vote of confidence given by legendary investors such as George Soros is another reason for optimism. I am confident that JCP possesses the necessary talent and resources to see through the turnaround and achieve normalized profitability between 2014 and 2015.
The positive impacts on JCP after Mr. Ullman returned as CEO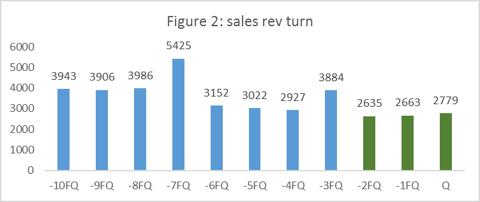 The green bars represent the quarters in which Mr. Ullman is CEO. Same store sales have been on an increasing trend in the past 3 quarters (Figure 1). Revenue has also halted its precipitous decline and has been on an uptrend (Figure 2).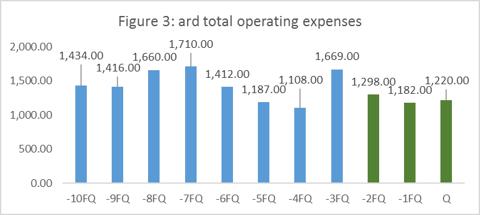 Cost cuts helped reduce operating expenses. Quarterly operating expenses were down 18% from an average of $1.45 billion (average of blue bars in Figure 3) to an average of $1.20B (average of green bars in Figure 3).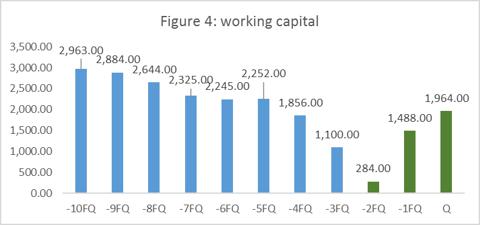 The biggest impact is perhaps on the balance sheet. Working capital, a measure of liquidity, declined sharply to less than 10% of its level ten quarters ago before Mr. Ullman's reappointment as CEO (Figure 4). Mr. Ullman oversaw a 7-fold growth in working capital.
JCP's turnaround strategy has displayed effectiveness
The first part is the revival of private-label merchandise, on which JCP had built its success, and the removal of new brands, which do not resonate with the chain's core customer groups. During Mr. Ullman's first stint as CEO, he built the success of JCP on brands and exclusive names. Examples include Sephora, MNG by Mango, and Liz Claiborne (Liz Claiborne was sold exclusively at JCP). His successor Ron Johnson wiped out several private-label merchandise, a move that resulted in declining sales. Since Mr. Ullman's return, he brought back the popular St John's Bay apparel line as well as JCP Home and Cooks. FierceRetail, a provider of retail strategy news, reported that both brands are big hits with shoppers. JCP will also rid itself of new brands that Ron Johnson introduced. Mr. Ullman noted that JCP menswear, Joe Fresh clothes and some Martha Stewart-designed home furnishings did not resonate with the core customer group.
The second part is the return of sales and coupons, and the revival of the home business. The business of department stores is very promotional. Even successful retailers such as Bed Bath and Beyond and Macy's hold regular sales events. After Ron Johnson did away with most of JCP's 590 annual sales and coupons, sales suffered, especially at the promotional-heavy home department. Forbes reported that home shrunk to about 12% of sales from 18% in 2012, and was one of the poorest performing businesses at the chain in 2012. JCP not only resumed promotions, but also implemented a sound plan to revive the home department. Paul Rutenis, senior VP and general merchandise manager of the home division, talked about a two-pronged approach involving "the promise of respected higher-end lines at newly affordable prices that will not only entice Penney loyalists … but new, younger shoppers as well" and the return of traditional offerings such as Royal Velvet bed and bath goods and JCP Home dropped by Ron Johnson.
Here's what Forbes said about the makeover of JCP's home business.
"Penney's home makeover, now in 500 stores, spotlights new branded shops, such as housewares boutique Michael Graves Designs from the architect who sold a trendy home line at Target; Happy Chic, a collection of vibrantly-hued items from the New York designer/hipster potter Jonathan Adler; party goods from Martha Stewart's MarthaCelebrations; and a furniture collection from British modernist designer/restaurateur Sir Terence Conran."
Early success of the turnaround strategy is reflected in positive same store sales in October (+0.9%) and November (+10.1%), the first positive months in the past 23 months. Internet sales have also been encouraging. Forbes reported that "Internet sales, which had dropped $215 million through sheer neglect by the Johnson regime, have shown a 14% rebound in July [2013]." Internet sales continue to show improvement to hit $266 million in JCP reported third quarter results in November 2013, representing a 24.5% year-over-year increase. JCP also reported that sales of private brand merchandise as a percentage of total sales is returning to historical levels, and that sales at the previously-battered home business had a 24.5% increase in the third quarter and a 37.6% increase in October, compared to a 2.2% decline in the second quarter.
Mr. Ullman's once staged a successful turnaround in retail
When Mr. Ullman was hired as CEO for the 2nd time in April 2013, he was seen "as a stabilizing force, not someone who will make changes that will completely turn the company around." Brian Sozzi, CEO and chief equities strategist at Belus Capital Advisers, thinks that "Ullman will only serve as an interim CEO" and that "[JCP's] board will hand off the job to another executive who may want to take the company private." These remarks point to an under-estimation of what Mr. Ullman can do.
Mr. Ullman was credited for pulling RH Macy's out of bankruptcy in December 1994. RH Macy's sought bankruptcy protection in January 1992 after a souring economy led to declining sales and made the company unable to meet its interest obligations. Edward Finkelstein, RH Macy's then talented but imperious CEO, saddled the company with debt after he led a $3.5 billion leveraged buyout to take the company private in 1986. The debt was further increased in 1989 when the company bought the Bullock's and I. Magnin chains for $1.1 billion.
Mr. Ullman left his post as Chief Operating Officer of Wharf Holdings to join RH Macy's as Vice President in 1988. He was hired by Mr. Finkelstein to be a financial officer because Mr. Finkelstein, though known as a visionary merchant, was often criticized for a lack of financial expertise. Mr. Ullman did more than number-crunching. According to Bloomberg Businessweek, he "assembled his own team of managers, cut expenses, improved inventory systems, … [and] developed "Buyer-Planner-Store," a more efficient method of buying and distributing goods." His work impressed the company's board to an extent that he was promoted to Chief Operating Officer just 3 years into the job. He was even given a contract that had "a guaranteed severance package equal to three times his salary if he was not made CEO in the event that Mr. Finkelstein left."
In April 1992, four months after RH Macy's went bankrupt, Mr. Finkelstein retired (read: resigned under pressure). With Mark Handler as co-CEO, Mr. Ullman implemented his turnaround plan. He reengineered the company's technological infrastructure to improve dissemination of information, introducing tools such as "computerized inventory management, market research and departmental profit-and-loss analysis to determine what to sell and why." A satellite network to communicate with employees across the country was launched. He also opened "a set of Macy's Close Out stores to unload unsold merchandise" and cut advertising budgets that previously ran $30 million annually. Most importantly, according to the New York Times, he "eliminated the trappings of imperialism that had become Macy's hallmark." He sold the company airplane, encouraged employees to challenge executives, and opened the corporate dining rooms, once available to senior executives only, to all managers. In short, Mr. Ullman "laid the groundwork for a comeback … without internal panic." During Mr. Ullman's tenure as CEO between 1992 and 1995, operating income doubled, net income rose 70% from its low, and EBITDA increased by 38%. RH Macy's first released its 5-year restructuring plan to quell creditors' and suppliers' fears in September 1992, and exited from bankruptcy in 1994 after a court-approved merger with Federated Department stores.
Mr. Ullman left RH Macy's in January 1995 to be the CEO and Chairman of the DFS Group. Subsequent stints include being the President of Selective Retailing at LVMH Moet Hennessy and the Co-Chairman at Global Crossing. His first stint as CEO of JCP began in 2004. Before the financial crisis hit in 2008, he oversaw a 12% increase in sales per square feet and a 140% increase in operating profit per square feet, beating its peers Macy's and Kohl's and rewarding shareholders with a near 3-fold gain in the stock price before nationwide consumer spending began declining in mid-2007.
Mr. Ullman was even recently appointed as chairman of the board at Dallas Federal Reserve Bank branch. He was 48 years old when he pulled a retailer out of bankruptcy. Now at 69, with a unique blend of experiences in middle-class retail, luxury retail and turnarounds, Mr. Ullman has the background and experiences necessary to see through the turnaround at JCP. An interesting point to note is that Mr. Ullman has been quiet about his past achievements. During earnings calls with analysts, he wasted no time on his own background but instead talked about his vision and turnaround strategy for JCP. It is comforting to know that JCP is led by a CEO who has demonstrated expertise in turning around and running several retail companies and yet does not dwell on his past achievements, unlike another ousted CEO who could not emerge out of the shadow of his former employer.
JCP is equipped with sufficient capital on its balance sheet
Turnarounds take time and capital. From the prices at which JCP bonds trade, the market is worried about capital adequacy during the turnaround. The latest quarter saw a net income loss of close to $490 million and a negative operating cash flow of $700 million. The cash burn has forced the company to increase its outstanding debt by $2.45 billion and issue 84 million shares at $9.65 per share. Though the numbers are nothing to be proud of, JCP should have no concerns about capital adequacy.
With a cash balance of $1.23B and $481m available in the credit facility, JCP had total liquidity of $1.71B at the end of the third quarter. Management expects total liquidity to be in excess of $2B at the end of the year. Let's for a moment assume that management is mistaken and that total liquidity remains at $1.71B. This number worries investors. With negative operating cash flows of $700m last quarter, JCP doesn't look like it can survive another year.
But the latest quarter cash flows were that negative because of a large purchase of inventory of $592m. Previous three quarters show a cumulative purchase of $1.4B of inventory. This is reasonable because JCP is stocking up on private-label merchandise removed during the Johnson reign. Retailers typically show a large net purchase of inventories in the third quarter in anticipation of holiday sales and a large net sale in the fourth quarter after holiday sales are over. JCP's net purchase of inventories for three quarters is an anomaly that should end by the fourth quarter. This is because management appears to project expenses associated with the turnaround to peak this year. One may observe this from the trend of capital expenditures. With forecasted fourth quarter capex at $175m, JCP will have spent close to $1 billion in capex in the full year. However, management predicts a capex of only $300m in the next year. The sharp fall in capex is a clear signal that expenses for the turnaround will largely peak this year.
So how does the previous paragraph relate to operating cash flows? If expenses for the turnaround peaked this year, the net purchases of inventories will likely decline. The normalized trend of inventory purchases is $500m for the full year, not the current $592 million in the third quarter. Hence, it is unlikely that operating cash flows will be as 'negative' next year as it is now. Assuming below-normalized profitability with conservative estimates for revenue growth and cost cuts, I estimate that JCP will have negative net income of $200m next year. If inventory purchases normalized at $500m, full year operating cash flows will be negative $700m. This is by no means a number to be cheerful about, but in the context of $1.71B of liquidity that may potentially exceed $2B, JCP should have sufficient capital for at least 2-3 years to implement its turnaround even if net income does not improve.
Valuation ratios
JCP stock trades at a price-to-book of 0.79x and a price-to-sales of 0.13x. Both ratios are below their lows in the 2008-09 financial crisis, and are testing the lows made during the dot-com crash and 9/11 in 2000-02. Since 2000, consumer expenditures in the US have grown 77% and consumer credit has doubled. Even with the improving economic backdrop, JCP trades at multiples that appear only in significant market downturns. Should the reader believe that JCP has the resources to see through the turnaround and achieve normalized profitability, such valuation ratios are very compelling.
Sears holdings had a disastrous holiday season with same store sales down 7.4% in the latest quarter and plans to close 120 Sears and Kmart stores. Yet its stock trades at a price-to-book ratio of 1.5x. If JCP were to meet targets, same store sales will be at least positive. With better same store sales results and fewer closures of stores, JCP's stock still trades at 0.79x. JCP has a potential upside of 90% if it trades at the price-to-book ratio of Sears.
Legendary investors hold large stakes in JCP
Latest filings show that Soros Fund Management and Glenview Capital Management hold a 6.6% and 4.1% stake respectively in JCP. George Soros of Soros Fund Management needs no introduction. The former manager of the Quantum Fund returned about 20% annually between 1969 and 2011. $10,000 invested at the fund's inception would have grown to $25.4 million. Glenview Capital Management, headed by Larry Robbins, manages $6.4 billion and owns some of the best-performing hedge funds in 2013. The Glenview Capital Opportunity fund was No. 1 in the Bloomberg Markets ranking with a return of 84.2%, and the Glenview Capital Partners fund was No. 7 with a return of 37.4%.
Conclusion
The price chart of JCP and media headlines do not provide comfort to the average investor. The stock fell 69% in the past year. The previous CEO and the activist investor who hired him were publicly criticized. Significant changes were made to the management team. What gives me comfort are the fundamentals of the company, the factors beyond the price chart and headlines. The investor can only see the things to like about JCP only if the investor is willing to look beyond negative sentiment and see the positive factors that negative sentiment ignores.
Disclosure: I am long JCP. I wrote this article myself, and it expresses my own opinions. I am not receiving compensation for it. I have no business relationship with any company whose stock is mentioned in this article.
Additional disclosure: This article may or may not represent the views of Ulland Investment Advisors.