Lost in the scuffle between Google (NASDAQ:GOOG) and the Chinese government is how fast China's Internet use is growing.
The total number of Internet users in China grew by 86 million in 2009 to reach 384 million by year-end. That's well more than the entire population of the U.S. and Canada combined, and a 29 percent increase year-over-year.
Of that number, 90 percent had broadband connections, according to the China Internet Network Information Center (CNNIC).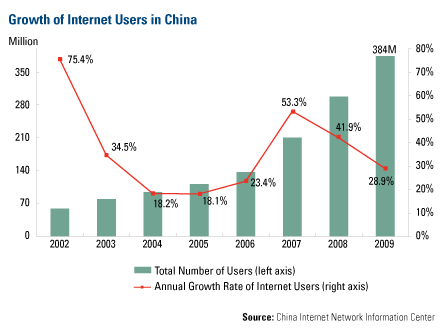 Nearly 30 percent of Chinese are now Web users, and this sets the stage for explosive growth in the years ahead.
Once Internet penetration in the U.S. reached 20 percent, it took just six years to get to 60 percent. Japan needed only three years to go from 20 percent to 40 percent, and Brazil went from 20 percent penetration in 2005 to more than 35 percent by 2007.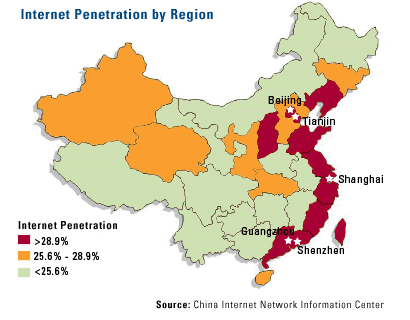 While the highest penetration rates surround China's largest cities, the mobile Internet is bringing the Web to rural and lower-income users. Mobile internet has lowered the cost of entry for consumers—smart phones are cheaper then desktops.
A surprising result from CNNIC: more than 45 percent of mobile Internet usage is from people with monthly income of 100 yuan ($14.65) or less.
A recent survey reported by McKinsey & Co. shows that people in China's 60 largest cities spend around 70 percent of their leisure time on the Internet. Most of this usage is for games, entertainment and shopping.
On the commerce side, two of the biggest growth areas were online banking and e-commerce. Users who book travel online jumped 78 percent last year. McKinsey says a significant number of consumers ages 18 to 44 won't purchase a product or service without first researching it on the Web.
As the Internet continues to expand its reach into the lives of Chinese people, keep an eye on how users leverage the technology to improve their living standards.
Disclosure: Long GOOG