One of the equity bright spots we have targeted for 2014 is Europe, and those shares have done quite well not even a month into the new year. The continent is nearly all green today with shares trading at five and a half year highs after the bullish news out of Asia. All of this bullishness around the globe is drawing fresh capital into the stock market, with ETFs being utilized as a cost effective tool to gain exposure to foreign markets. Lost on many is the continued strength in the brokers, fund managers and financial advisors/product companies.
We were bullish the brokers before their big run last year and along with Europe have the financials marked as one of our big ideas for 2014, so we obviously expect further gains. Rather than just the brokers though, we feel the entire sector is set to move strongly higher as Americans look to invest new money as well as reallocate current investments in the next few years. Remember, consumers spend more on financial products during good economic times than during the bad ones.
Chart of the Day:
European markets are doing quite well, but within that story there are far better ones, namely Germany. For readers who are looking to minimize risk on the European continent we think there are a few options that fit the profile but no single market appears poised for steadier returns than Germany's DAX.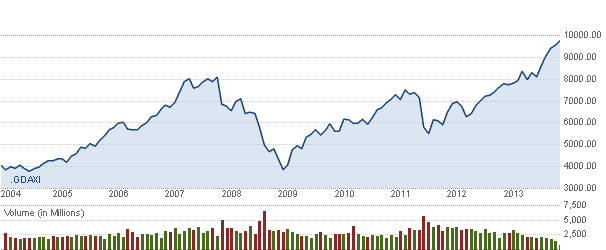 Source: CNBC
We have no economic news today, but will have the MBA Mortgage data out tomorrow. It is a light week for economic news, and Wednesday will wrap up the release of all the data.
Asian markets finished higher today:
All Ordinaries -- up 0.69%
Shanghai Composite -- up 0.86%
Nikkei 225 -- up 0.99%
NZSE 50 -- up 0.64%
Seoul Composite -- up 0.52%
In Europe, markets are trading higher this morning:
CAC 40 -- up 0.38%
DAX -- up 0.48%
FTSE 100 -- up 0.26%
OSE -- up 0.18%
Brokers
Right now we still like the online discount brokerages, plain and simple. They serve the lower end of the market as well as the do-it-yourselfers and we suspect that there will be more growth in these demographics than any other ones in the next 12-24 months. Based on the client account tracking/research conducted by Ameritrade (NASDAQ:AMTD) and Charles Schwab (NYSE:SCHW) we know that the self-directed accounts are showing a spike in activity and that the custody business continues to see assets moved to their platforms, as well as E-Trade's (NASDAQ:ETFC).
With many investors embracing low cost index funds and ETFs these days, there has been a jump in the number of individuals managing their own money. From novices opening their first accounts to those just getting back into the market after exiting due to big losses earlier in the decade we are seeing real growth in the inflows of investment assets.
We would expect investors to focus more upon the earnings and execution at Ameritrade and Schwab moving forward as E-trade is forced to face tougher comps in the next few quarters.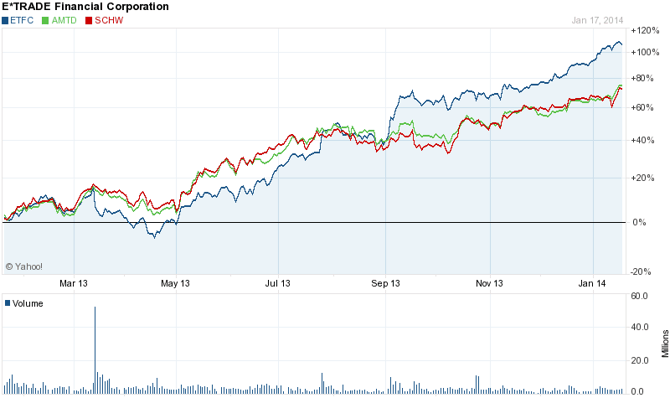 Source: Yahoo Finance
We continue to like Charles Schwab and Ameritrade the most, with the belief that Ameritrade is a takeover target for its largest shareholder in the coming years. E-Trade is our next favorite play in the sector as it continues to play catch-up to its larger competitors as well as fix its balance sheet. Although E-Trade has been an outperformer in recent years, it is our opinion that the company's shares begin to see normalized returns which are more in-line with its peers.
Funds/Advisers
For those who have not been paying attention, Ameriprise Financial (NYSE:AMP) has been a very strong performer over the past year. At one point it seemed that not a day went by without it showing up on the new 52-week high list. Although this is not a name we are personally investing in or recommending at this point, we like the idea but just feel that we missed the boat on this one. We could be interested on a pullback, but it would need to be significant and as that does not seem likely we think that sticking to one of our favorite financial stocks, Bank of America (NYSE:BAC), is the best play here.
Ameriprise Financial has had a heck of a run, but right now we cannot pull the trigger on the name. If there were a healthy pullback we would investigate but we think there are other attractive names out there with far more upside right now.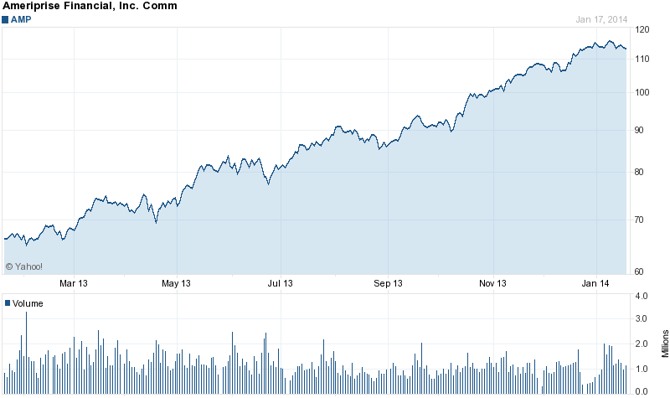 Source: Yahoo Finance
Bank of America is not a pure play in the sector, but we think that its exposure to the financial advising, funds management and brokerage business via Merrill Lynch has tremendous upside. We do have our issues with the platform switch and pushing Merrill Lynch towards premium accounts while using the Merrill Edge business to target those wanting to do it themselves, but long term this enables Bank of America to serve all segments of the market so we are willing to put up with some of the growing pains and potential negative PR. This business plan could also lead to a feeder system for Merrill Lynch and allow it to compete with the discount brokerages mentioned earlier for the lower tier client while continuing to serve the premier client.
Disclosure: I have no positions in any stocks mentioned, and no plans to initiate any positions within the next 72 hours. I wrote this article myself, and it expresses my own opinions. I am not receiving compensation for it (other than from Seeking Alpha). I have no business relationship with any company whose stock is mentioned in this article.
Additional disclosure: We have previously recommended BAC to clients.