Northstar Healthcare (TSX:NHC) (NRTSF), a Canadian healthcare company that currently owns and manages a number of Ambulatory Surgical Centers ((ASCs)) in the United States, deserves a 'Buy' rating. Though the company has somewhat of a checkered past, we believe the name represents an attractive turnaround story in 2014 given a number of positive internal and external driving factors. These include improved customer and procedure mix at company owned ASCs, improved marketing and promotional campaigns designed to drive awareness and new patient flow to the ASCs, improved billing and operational procedures, and a continued general positive growth in the overall ASC market. Below we provide an introduction to the ASC market, a background and brief history on Northstar Healthcare, point out some recent improvements and encouraging trends on an operational basis, and conclude with a valuation and recommendation for investors.
Ambulatory Surgery Centers
Ambulatory surgical centers are free-standing healthcare facilities that are exclusively dedicated to the performance of non-emergency surgeries and other medical procedures not requiring an overnight hospital stay. The growth of the industry, from a single facility founded in 1970, to over 5,000 ASCs in the U.S. today, has been fueled by a combination of important factors, including:
Increased pressure for healthcare cost containment.
Technology improvements, including advances in anesthesiology and surgical techniques that have greatly reduced procedure recovery times, and thus reduced the need for overnight hospital stays.
The desire by physicians for the greater convenience and efficiency of performing non-emergency procedures in a dedicated facility, and the opportunity for greater control and income associated with partial ownership of outpatient surgery facilities.
The preference of patients for ambulatory surgical facilities over hospital outpatient departments, as a result of more convenient locations, shorter waiting times and more convenient scheduling and registration than with hospital outpatient departments.
The two graphs below shows the growth in the number of ambulatory surgical centers in the United States from 1988 to 2012 (graph on the left). This growth has been driven not only by an increasing number of procedures performed on an outpatient basis, but also by an increasing proportion of outpatient procedures performed in ASCs relative to hospital outpatient departments. Between 1996 and 2006, the number of inpatient surgeries remained mostly flat, as did the number of outpatient surgeries performed in hospitals. In contrast, the number of surgeries performed in ASCs increased from 3.3 million to 14.9 million (graph to the right).

Accordingly, the number of procedure types for which Medicare will reimburse ASCs has grown from 200 in the 1980's to over 3,500 in 2012. Nonetheless, the breakdown of procedures by physician specialty has remained largely unchanged since 1996, with over half of procedures performed in ASCs being in the specialties of GI/endoscopy (especially colonoscopy procedures), ophthalmology (cataract surgery) and orthopedics. These specialties share a high prevalence of non-emergency procedures that can be scheduled well in advance, and thus are a good fit with the organizational structure of the ASC environment.
Costs associated with procedures performed in a dedicated Ambulatory Surgery Center are lower than those for performing similar surgeries in the outpatient department of a full service hospital. ASCs enjoy a number of advantages over hospital outpatient departments, including lower facility development costs, more efficient staffing and space utilization, and a specialized operating environment focused on cost containment. While ASCs generally perform scheduled surgeries, large acute care hospitals generally provide a broad range of services, including high priority and emergency procedures.
Medical emergencies often demand the unplanned use of operating rooms and result in the postponement or delay of scheduled surgeries, disrupting physicians' practices and inconveniencing patients. The 2006 National Survey of Ambulatory Surgery (U.S. Department of Health and Human Services, Division of Healthcare Statistics) found that average times for surgical visits at ASCs were lower than those for hospital outpatient surgery departments.
…Reimbursement As A Key Driver…
Procedures performed in an inpatient or outpatient setting are reimbursed in three parts. Firstly, the physician receives a professional fee for his/her services. Secondly the anesthesiologist, if required for the procedure, bills the reimbursement source separately. Lastly, the hospital or ASC in which the procedure occurs sends a third bill to cover the cost of providing the facility. The opportunity to participate in all three parts of the reimbursement processes has been a major driver for many physicians to set up their own ASCs.

ASCs have a key advantage over hospital outpatient surgical departments (HOPDs) in their ability to accept different payers for similar services, with particular advantage in capturing the differential between government payers (Medicare, Medicaid, and Worker's Compensation) and private insurers. As such, reimbursement for a given procedure may vary widely among private insurers. In order to control costs, major insurers have all set up "preferred provider" networks, intended to drive insured patients to providers who have agreed to perform services at pre-negotiated rates. Reimbursement rates for in-network patients are frequently half or less those for out-of-network patients, which are in turn usually higher than those for Medicare and other government-reimbursed patients.
Recognizing the lower cost structure of ASCs, Medicare has gradually reduced the rate at which it reimburses ASCs to 56% of the rate at which hospital outpatient departments are reimbursed for similar procedures (source: VGM Health 2011 Intellimarker Report). While less detailed information is available for private insurers, private insurance companies typically base their overall reimbursement structures on the Medicare reimbursement schedule. This trend has driven patients away from the higher-priced HOPDs to ASCs.
Like all irrational pricing systems, these policies have led to unanticipated effects as providers attempt to evade or exploit their effects. ASCs have sold ownership shares or formed joint ventures with large hospital chains in order to exploit their greater negotiating power in pricing discussions with payers. Hospitals have, in many cases, acquired ASCs and re-designated them as hospital outpatient surgery departments (HOPDs). This arrangement allows the hospital to take advantage of the greater cost-efficiency of the ASC operating environment yet still receive the higher reimbursement offered to an HOPD relative to an ASC for the same procedure.
Nonetheless, the ASC industry remains highly fragmented. With an estimated 5,900 ASCs in the U.S., only about 1,300 are managed by multi-facility chains, and the largest chain controls only 239 centers. Only one of the top five pure-play ASC chains is a publicly traded company - AmSurg (NASDAQ:AMSG). Only another two, privately-held United Surgical Partners and Symbion, regularly file financial reports with the SEC. Therefore, given favorable macro- and micro-economic trends and expected industry-wide consolidation in the coming years, we believe the ASC industry represents an attractive area for investors.
Northstar Healthcare - A Brief History
Northstar Healthcare was formed as a Canadian corporation in May 2007 to indirectly own and/or manage ambulatory surgery centers in the United States, focusing initially on Houston and other metropolitan areas in Texas. The initial public offering of 13.97 million common shares (including overallotment) raised $126.1 million net, of which $124.0 million was used to indirectly acquire a 61.25% interest in the Palladium Partnership and a 52.5% acquisition in the Kirby Partnership, limited partnerships operating ASCs in Houston and Dallas, respectively.
Currently owned and operated ASC's include:
Northstar Healthcare Surgery Center - Houston. The facility, located in close proximity to the Texas Medical Center, has 3 surgical suites, 2 treatment rooms (suitable for colonoscopy and interventional pain procedures), 7 pre-op beds and 8 post-op beds. Operations began in December 2003 with specialties in pain management, Ear, Nose and Throat (ENT), podiatry, orthopedics, general surgery, gastrointestinal and chiropractic medicine. The facility is 100% owned by the company.
Northstar Healthcare Surgery Center - Dallas. The facility was acquired on January 1, 2011 with specialties in pain management, ENT, podiatry, orthopedics and general surgery. The facility is owned by the PFSD Partnership and operated by MSID. The company holds a 35% interest in the partnership at controls Northstar Healthcare Surgery Center - Dallas, with the remainder owned by physician partners.
The Kirby ASC - Houston. This facility is located at 9300 Kirby Drive, in Houston, Texas, less than four miles from the Texas Medical Center. The facility includes specialists in pain management, orthopedics, sports medicine, general surgery, podiatry and ENT care. The company holds a 25% interest in the Kirby Partnership.
Prior to the acquisition of the company, Founder and CEO, Donald Kramer, served as a partner in the Palladium Partnership and as the sole limited partner of Healthcare Ventures Ltd., which served as a promoter in the offering and took an indirect ownership of a 6.9% interest in the Palladium partnership and a 7.5% interest in the Kirby Partnership. In 2006, the last full financial year prior to the acquisition, the two partnerships generated $47.0 million in revenue and $29.7 million in net income. The table below provides evidence for the reason why Northstar acquired both Palladium and Kirby. Both partnerships showed rapid growth and highly profitable financial metrics.

In spite of the rapid growth in revenues and profits seen from these two ASCs from 2004 to 2006, Northstar encountered operational difficulties in its first year as a public company. Decreases in reimbursement at the Kirby ASC relative to those seen when the facility was private (Q1 2007) were noted in the company's Q1-2008 financial report and attributed to a "less favorable mix of payors". Similar concerns were noted in the Q2-2008 report. Reimbursement issues led to a decrease in case volume. For example, the Q3-2008 report noted a 25.1% decline in revenues relative to the same period of 2007, which was attributed to a 12.7% decrease in case volume and a 19.4% decrease in reimbursement per case relative to the same period in 2007. Palladium saw similar declines.
The declines in procedures and in revenue per procedure also occurred during the early months of the severe stock market decline of 2008-2009, further compounding the problem. We also note that the Partnerships' historic strategies of pursuing highly reimbursed, out-of-network patients may have left it unusually vulnerable to such an economic turndown compared to other ASC chains with a higher proportion of revenues derived from government agency payers. It was a "boom-bust" scenario for Northstar in 2008 and 2009.
On September 20, 2008 the company announced that a new CEO had been appointed, with founder Donald Kramer transitioned as the company's Vice Chairman for Medical Affairs. This marked the beginning of a protracted and bitter fight for control of the company that occurred in parallel with the company's declining financial position.
Further complicating the issue was a major conflict with one of the Palladium Partnership's main payers, who belatedly discovered and objected to the Palladium Partnership's splitting of facility fees with non-partner physicians, characterizing this practice as an unlawful kickback. This insurer not only refused to pay for future surgeries conducted under this arrangement but also sought to claw back historical payments. Procedure volume at the Palladium for Surgery plunged due to uncertainties regarding the reimbursement of surgeries performed by non-partner physicians. Although the dispute was resolved with abandonment of past claims and the signing of an in-network agreement with the problematic payer in November 2009, long term damage resulted in the form of inability to continue previous practices regarding non-partner physicians. The incident also damaged relationships with some of the Palladium partners, as indicated by company statements that it was attempting to re-syndicate the Palladium Partnership in August of 2009.
…The Return Of Kramer…
Not happy in his new role of Vice Chairman for Medical Affairs or in watching the company's tenuous financial situation teeter on the brink of bankruptcy, company founder and former CEO, Dr. Kramer, announced in February 2009 he was planning to make an offer for all the outstanding shares of the company at $0.95 per share. This started a bitter and protracted battle for the company over the next year.
In May 2009, the company initiated a binding arbitration process against Dr. Kramer, alleging false contractual representations and warranties in the Palladium purchase agreement about the state of Palladium's business and its relationships with health insurers. The company further alleged that Dr. Kramer used his position as an 18% shareholder in the Palladium Partnership to frustrate the company's efforts to re-syndicate the partnership and turn the facility around financially. Northstar sought damages of up to $55 million.
Dr. Kramer made counter-claims, alleging mismanagement of the Palladium Partnership, defamation and tortuous interference with business relationships. On July 22, 2009 the Palladium Partnership cancelled its agreement with a Kramer-owned entity providing anesthesia services to the Partnership, and on December 31, the Palladium for Surgery Dallas, 95% owned by Dr. Kramer, terminated its management services contract with Northstar.
In May of 2010, a press release from Dr. Kramer announced his intention to launch a hostile tender offer at his previously offered price of $0.95 per share. This release warned shareholders of his intention to use the appeals process to drag litigation out until the company became insolvent should he not prevail in the initial round of arbitration hearings. The following month this offer was withdrawn, citing a decline in financial conditions at the company. In July of 2010, the board of Northstar agreed to a private placement, issuing 18.7 million shares at $0.343 per share, after which Dr. Kramer controlled 56.2% of the company's voting shares. The board was replaced, and a special committee emplaced to re-evaluate the company's claims against Dr. Kramer.
On December 15, 2010, the Special Litigation Committee of its Board of Directors determined that it would not be in the best interest of the company or its shareholders to continue to pursue claims against Dr. Donald Kramer and related entities. The committee determined that Northstar would be unlikely to succeed if it pursued the arbitration to a final conclusion. Dr. Kramer concurrently agreed to abandon his arbitration claims against the company. With full control of the company and the added liquidity provided by his own capital injection, Dr. Kramer began a focused effort to turn the company's fortunes around upon re-assuming the CEO position.
…Turnaround Initiatives Begin…
Based on the seven surgical suites and three treatment rooms in the Northstar facilities, average performance can be crudely estimated as 2,197 cases per year. The survey also provides a breakdown of average payment per case by physician specialty. Based on the breakdown of cases completed in the Northstar Q4-2010 10-Q, average performance can be estimated as $1,794 per case. We compare these benchmark values to those achieved by Northstar in Q4 of 2010 in the graph below.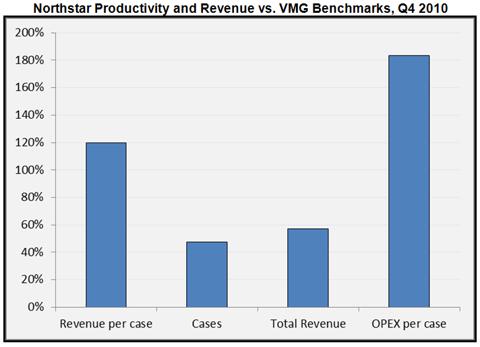 At the time of the change in control, the company was utilizing its procedure rooms at about 50% of the industry average. However, revenue per procedure was about 20% above the industry average. Therefore, despite a dramatic under-utilization of the facilities, Northstar presented an attractive turnaround story with incredible operating leverage potential if Dr. Kramer could find a way to drive case volume back to the company owned ASCs.
Initial turnaround initiatives under the new management focused on re-syndication and an acquisition. On November 1, 2010, the company announced the re-syndication of the Palladium for Surgery ASC. The company purchased 18% of Dr. Kramer's 27.5% interest in the Palladium Partnership, raising its total stake to 92%. A new partnership, the Microsurgery Institute of Houston (MSIH), was then formed with 11 surgeons, and the Palladium Partnership leased the Palladium for Surgery facility to MSIH for a 25% equity share. A second early initiative was the acquisition by Northstar of the Palladium for Surgery Dallas (PFSD), including the 95% interest formerly held by Dr. Kramer and a related party's 5% interest. The purchase price was set at $2.2 million based on the results of an independent third-party valuation. This facility expanded the company's number of surgical suites, treatment rooms, active surgeons and physician limited partners by 30% to 50%.
Northstar continued with its acquisition and expansion plan in 2011 and 2012, forming Gulf Coast Toxicology LLC in partnership with Pioneer Laboratories, LLC in February 2011. Gulf Coast Technology screens and quantifies narcotics and other drugs in urine samples. In July and August of 2013, the company formed two limited liability companies, NHC ASC - Dallas, LLC and Northstar Healthcare Surgery Center - Houston, LLC, respectively. Both entities are owned 100% by Northstar Healthcare Acquisitions, LLC and will operate in the form of ASC's. Operations for both entities commenced subsequent to September 30, 2013. Overall the approaches taken above seem to reflect a reasonable and pragmatic approach.
Northstar has begun implementing several new marketing initiatives designed to position the company more strongly by establishing itself not only as a provider of capital, facilities, and business expertise, but as the source of a flow of patients as well. Northstar hired a chief marketing officer (and later an external medical marketing consulting firm) and began a series of therapeutic area focused direct-to-consumer campaigns that are designed to achieve critical patient educational objectives and drive brand awareness. Specifically, each campaign is designed to provide patients with knowledge of specific disease state and condition awareness, educate on availability of treatment options, and promote a dialogue with treatment professionals that could lead to new business at one of Northstar's ASCs. To date, marketing campaigns have included:
The Houston Colonoscopy Center - This campaign includes a website (houstoncoloncenter.com) that educates patients about the importance of colon cancer screening and reminds them of screening guidelines.
The NueStep Podiatry Campaign - This campaign focuses on nerve entrapment, which is treated by a procedure available exclusively at Northstar. Marketing objectives include education on nerve entrapment, recognition of symptoms, education on the availability of advanced procedures to decompress entrapped nerves, and empowering patients to have productive discussions with treatment professionals.
CuraSpine - Marketed at curaspineprocedure.com, CuraSpine is a minimally invasive, rapid recovery protocol for treating herniated disks, spinal stenosis, degenerative disks, facet disease, arthritis, and cancer pain among other maladies.
Northstar Pain Center - This pain center (northstarpaincenter.com) offers a holistic approach to pain care incorporating chiropractic, rehabilitation medicine, interventional pain management and nutritional counseling for the treatment of spine pain, chronic pain, acute pain, neck pain and head pain.
Based on the successes in Houston, the company has initiated a similar program directed toward bariatric surgery in the Dallas facility, and is investigating the potential of expanding into other markets where it currently has no presence. Most importantly, this new business model not only enhances revenue but also creates a new opportunity for the company to add to the value chain, and thus negotiate with physicians and other partners for a larger decision-making role and a larger return on its investments.
Below we graph operating results at Northstar Healthcare benchmarked to the IPO back in the first quarter of 2007. Investors can get a sense of the initial boom that took place in early 2007, followed by the payor revolt and U.S. economic downturn in 2008 and 2009. Dr. Kramer re-assumed control of the company in 2010, which is followed by to a nice uptick in revenue per case in late 2011 and 2012. Total revenues are also increasing as the new marketing initiatives take hold.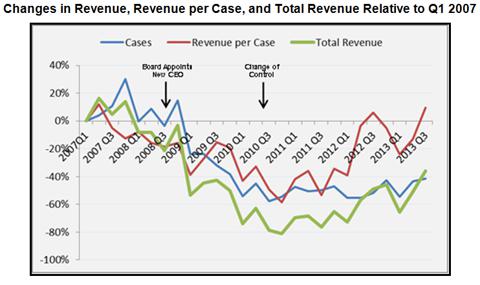 …Where Are We Now…
On December 12, 2013, Northstar announced that it was the winning bidder to acquire the former Brown Hand Center outpatient surgery facility in an upscale neighborhood of Phoenix, Arizona. The winning bid was $0.46 million. The surgery center has four operating rooms and 27,000 square feet of floor space. The company also announced that it had made a bid on the former Brown Hand Surgery Center in Dallas, but was out-bid by a competitor.
On December 16, 2013 Northstar announced the closing of a private placement of 5.86 million units at $0.80 per unit for gross proceeds of $4.86 million. Each unit consists of one common share and one-half warrant (expiring December 2015) to buy one common share for $1.10 per share. Given the activities of the previous paragraph, and the observation that Northstar's cash position of $3.3 million at the end of Q3 2013 was clearly adequate for operational needs, we believe the company is about to undertake a major series of acquisitions. This activity, as well as the closure of the private placement at reasonable terms, show considerable confidence on the part of management as well as on the part of the investors participating in the transaction.
Valuation & Recommendation
Overall, we think the outlook for Northstar is positive. The increase in revenue over the last several quarters is very impressive, and we expect earnings to catch up as the effects of the advertising spend fully take hold. We are encouraged by the company's efforts to position itself as a source of patient flow, and believe the company's new business model could potentially represent a disruptive innovation within the ASC industry.
As shown below, Northstar's consolidated revenues have increased nearly four-fold since the fourth quarter of 2010. The company has further guided to revenues of $12 million during the Q4 of 2013, which equates to an increase of 50% over the third quarter sequentially. Net Income has not yet caught up with this dramatic increase in revenue, in part because of aggressive spending on the new advertising campaigns. These campaigns began only this year, and are expected to require a few quarters to fully impact revenue as they are individually rolled out. As of November 13, 2013, the company in its contract program has enrolled 57 physicians who will gradually funnel cases to Northstar facilities.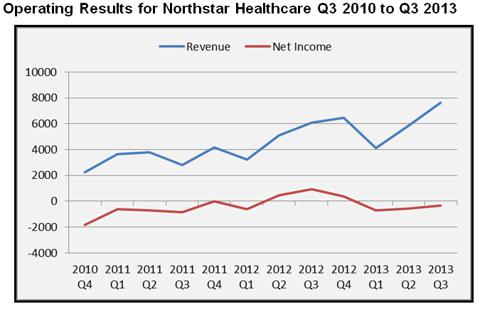 As seen in the graph below, the increase in revenue since Q4 of 2010 arises from a 260% increase in revenue per case and a 29% increase in case count. The initiatives undertaken by the company to undertake more complex and specialized procedures has undoubtedly played a major role in this upturn, but we note that the company also stated in its Q2 2012 financial report that the 50% increase in revenues per case that quarter reflected "improved billing and collections efforts" in addition to "favorable reimbursements in our pain specialty cases".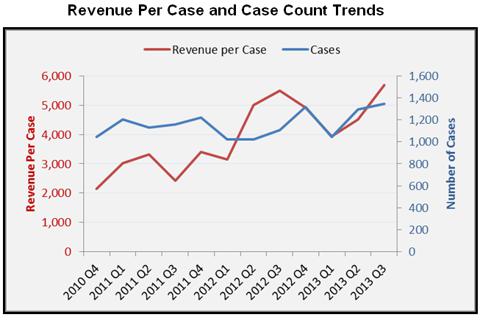 Our financial model is show below. Given the rapid rate of change at the company we expect considerable potential for variation from this model. However, we begin with the assumption that the company will acquire facilities containing 7 procedures rooms in each of the next five years. We assume that the cash flows associated with these acquisitions will be about $1 million per year, including factors such as increased working capital requirements. We estimate that the current advertising and physician recruitment efforts will lead to a 35% increase in caseload per procedure room in 2014, followed by increases of 7% per year until a peak is reached at around 800 procedures per room.
We estimate that the revenue per case will increase by 5% per year for five years followed by slower growth at 2%. Expenses and distributions to physician partners are estimated using historical data. Applying a 20% discount rate and a fully diluted share count of 46.2 million gives a valuation of roughly $2.75 per share. This is a significant premium to the current share price of $1.19 per share. Therefore, we rate the company's shares as a "Buy".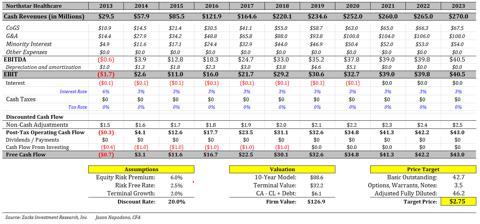 Disclosure: I have no positions in any stocks mentioned, and no plans to initiate any positions within the next 72 hours. I wrote this article myself, and it expresses my own opinions. I am not receiving compensation for it (other than from Seeking Alpha). I have no business relationship with any company whose stock is mentioned in this article.