Rob Romero is Portfolio Manager at Connective Capital Management LLC, a Silicon Valley based, fundamentals and event-driven investment adviser. Rob has 20 years of engineering, marketing and investment experience in the technology business, and holds a BS in EE, a BA in Economics, and an MS in Engineering Economic Systems from Stanford University.
Seeking Alpha recently had the opportunity to interview Rob about his top stock pick.

What is your highest conviction stock position in your fund - long or short?
One of my highest conviction longs is Harbin Electric (NASDAQ:HRBN). Harbin, headquartered in Harbin, China, is a leading developer and manufacturer of a wide array of electric motors with a focus on innovative, customized and high energy efficiency products. Its major product lines include linear motors, automobile specialty micro-motors, and industrial rotary motors.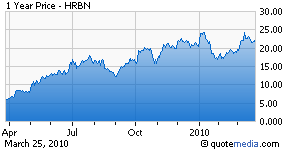 The Company's products are sold to companies in the oil exploration, automotive, urban and coal railroad transportation, and machinery tool manufacturing industries.

We like the stock because it has a good combination of strong industry growth prospects, good management track record, improving competitive landscape and attractive valuation.

To what extent is this an industry pick, as opposed to a pure bottom-up pick?

Harbin has historically been focused on the linear electric motor segment, a small, high-margin part of the motor market. Since 2007, it has expanded through three acquisitions into automotive specialty micro motors and industrial rotary motors. These segments are much larger in size, yet can benefit from Harbin's reputation and technological innovation.

As the Chinese economy industrializes and urbanizes, demand for electric motors for transportation, manufacturing, agriculture, energy exploration, and consumer applications is expected to grow faster than China's predicted 9-10% GDP growth over the next 5 years.
In the near term, the Chinese government's stimulus investment towards the under-developed rural areas will boost demand for agricultural and industrial machinery that uses a lot of Harbin's motor products. In particular, Harbin's unique expertise in higher-technology linear motors will help it gain share in industrial automation applications and advanced electric trains.

Can you describe the company's competitive environment?

The linear motor market is a custom product business sold to a small number of large customers like China Post and Daqing Oil Field. Gross margin has been historically high (50-60%) as there is limited competition once a client relationship is established. Harbin is by far the leader in this market in China.

In the specialty micro motor segment (gross margin 38-40%), Harbin has a relationship with Canada-based Magna, a major supplier to GM and Chrysler. As the US automotive industry consolidates and lays off workers in the US, auto parts manufacturers have been outsourcing parts manufacturing to China to lower costs. We believe Harbin will be able to benefit from this trend.
The China auto parts market is also fast growing, but there Harbin will face competition.
The rotary electric motor industry is more competitive. The smaller motor market, which Harbin entered into with the purchase of Weihai in 2008, has many domestic players, and therefore low margins (gross margin 10-11%).
The large motor market, which Harbin entered with the acquisition of Xi'an in 2009, a large SOE-based motor maker, enjoys better margins (32%). Xi'an is a particularly good acquisition, as it is a large player in the large-sized industrial motor segment where there is less competition.
How does Harbin's valuation compare to the competitors?
At $22.75, HRBN trades at about 10x 2010 P/E and 1.7x 2010 P/S, attractive compared to other China-based auto parts suppliers like Wonder Auto Technology (OTCPK:WATG), Sorl Auto Parts (NASDAQ:SORL) and China Automotive Systems (NASDAQ:CAAS) that are listed in the US.
What is the current sentiment on the stock? How does your view differ from the consensus?
Harbin's stock is not widely covered yet, but all three sell-side firms covering it are bullish, with an average target price of $28. We think the target price is achievable in 2010, even in a flattish overall equity market, and without any growth in multiple. If the company's business continues to grow and Wall Street research coverage increases, we believe that its trading multiple has significant upside.
Does the company's management play a role in your position?
Harbin management's innovative leadership in linear motors in China suggests that they will be able to stay at the forefront of electric motor innovation, in particular with emerging hybrid electric and EV cars. They've also done a good job in making disciplined acquisitions to enter related growth markets as well, such as their purchase of Xi'an Simo, which has potential for higher-margin business. Management's ability to buy Xi'an, a state-owned entity (SOE) also reflects good political connections.
What catalysts do you see that could move Harbin's stock?
· Continued growth in auto sales in China and a recovery of the US auto market would offer upside to Harbin's micro-motor business.
· Volume shipment of linear motors for urban subway train and coal freight train applications, which are currently under testing and government approval stage.
· Some of Harbin's rotary motor plants are currently facing constrained capacity, so if the company can execute capacity expansion smoothly, there can be upside to estimates.
· Because the recently acquired Xi'an was state-owned, it was not operating very efficiently; as a result, there are significant opportunities for cost-reduction.
· Increased research coverage on the stock and broader market knowledge of the company.
What could go wrong with this stock pick?
· Harbin has some customer concentration risk, with one customer accounting for 12% of revenue in 2009. This is down from 2008, when 3 customers were more than 10% of revenue.
· Integration with ex-SOE Xi'an Simo Motor could be a difficult transition given the cultural difference between Xi'an and Harbin.
· Major policy change in the Chinese government regarding its rural economic stimulus package and political/economic/stock market instability in China can have significant negative impacts on Harbin's business.
Thank you very much, Rob.
Disclosure: Rob Romero and Connective Capital are long HRBN
Read more High Conviction Picks »
If you are a fund manager and interested in doing an interview with us on your highest conviction stock holding, please email Rebecca Barnett.