Get Educated On Chegg And Make Some Money
Company: Chegg Inc. (TICKER:CHGG)
Recommendation: Long-Equity
Price Target: $10
Time Frame: 12 Months
Company Description:
Chegg is the leading student-first connected learning platform, empowering students to take control of their education to save time, save money and get smarter. Chegg offers an integrated platform, called the Student Hub, which offers products and services that students need throughout the college lifecycle, from choosing a college through graduation and beyond. Chegg offers the Student Graph which builds on the information generated through students' and other participants' use of their platform to increasingly enrich the experience for participants as it grows in scale and power the Student Hub. By helping students learn more in less time and at a lower cost, Chegg helps them improve the overall return on investment in education. In the twelve months ended September 30, 2013, more than seven million students used their platform and approximately 1.2 million students used their mobile application.
Market Overview:
The education industry is one of the largest and most important sectors of the economy. There are various problems in the education sector which Chegg targets through its technological solutions.
Challenges for Publishers and Other Content Providers. Textbook rental has emerged as a powerful alternative to textbook purchase. As content is becoming increasingly digital, publishers are seeking new platforms to distribute and monetize content beyond print textbooks and need the ability to deliver these materials around tests and finals, or throughout the academic term, whenever students need them most.
Challenges for Colleges and Educators. Colleges and educators need to find ways to do more with less and extend their reach and impact. Colleges need to find more efficient ways to find the right students, so they can put scarce resources to better use in actually educating students.
Challenges for Brands. Brands are constantly seeking ways to connect with the attractive but hard-to-reach student demographic as it moves away from traditional media.
Consensus Opinion Of CHGG:
Sell side analysts are projecting revenue growth of 20+% in the next five years. Analysts believe the fundamentals of the business are solid and that the company is well positioned to grow its textbook rental business as a foundation for its digital offerings. Analysts have 12 month price targets ranging from $11-$14. I am in line with the analysts on this stock but am much more conservative in how quickly Chegg will ramp up their revenue and thus have a lower price target encompassing a larger margin of safety. However, I believe Chegg can achieve a strong return through gross margin expansion beyond FY 14, which I detail more below.
 

Street

Diamond View

(millions)

Revenue

EPS

Revenue

EPS

FY 2013

$253

-$0.36

$255

-$0.49

FY 2014

$313

-$0.07

$311

-$0.16
Catalysts:
Synergistic acquisitions allowing expansion into new markets and /or acquisition of new unique technologies.
Chegg has a history of strategic acquisitions acquiring Notehall (marketplace for class notes), StudentofFortune (homework help), Cramster (online homework help) to name a few. Following their IPO and loaded with over $150 million in cash, Chegg is well positioned to acquire relevant technology companies and expand and/or deepen their revenue streams.
Increasing Monetization of Advertising Services: Consistent with the business change occurring at Chegg, the company is increasingly positioning itself to capture brand advertising. The company has guided that the non-print products and services revenue will continue to grow at a rate greater than the company's overall revenue growth. The company is focused on building innovative campaigns with brands to deepen penetration of existing clients and create referenceable accounts. The online advertising market is a huge opportunity and Chegg can use their valuable information on teenagers and college students some of the most valuable target markets for brands. For the nine months ended September 30, 2013, Chegg only had advertising contracts with approximately 30 consumer brands! There is a huge opportunity to obtain increased advertising revenue.
Analyst Initiations/Upgrades:
Give the small capitalization of Chegg, Analyst upgrades and initiations should bring additional retail and institutional awareness of stock. The stock is currently only covered by the company's 6 IPO underwriters.
Further Insider Purchases:
Insiders have been purchasing Chegg at these recent low prices, suggesting management's confidence in the stock rebounding.
Earnings Reporting Surprises:
Chegg has the potential to achieve great EPS than the market predicts if the gross margin transition proceeds faster than anticipated.
Expansion into New Sectors:
An examination of Chegg's revenue stream shows an interesting trend, the company is shifting away from their predominant revenue coming from print textbooks.

In Chegg's prospectus the company states "margins on non-print products and services are generally higher than margins on the rental or sale of print textbooks". Thus profitability is more likely to be achieved from a shift away from the rental and sale of textbooks.
Examining the margins of high growth software as a service and advertising based businesses provides an indication of where the gross margins of Chegg can settle.

Conservatively based on the companies shift to a higher percent of their revenue coming from advertising and software as a service, I am modeling Chegg achieving gross margins of 55% by 2017
Competitive Advantage: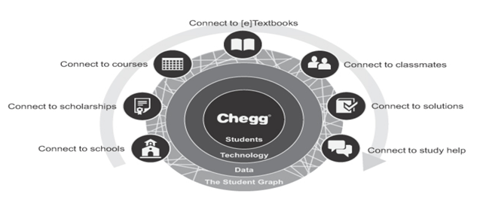 Chegg Technological Platform
Chegg has strong moats around its business with its seven million students registered, in a business with powerful network effects.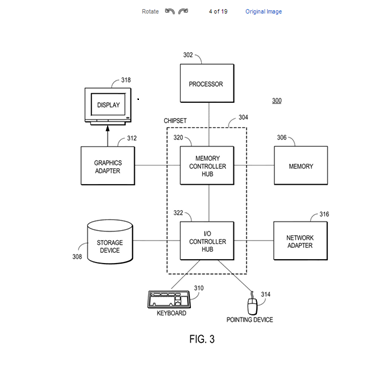 Strong Intellectual Property ( above is exhibit from patent application "Creating Notes In A Multilayered HTML Document") Chegg has 36 patent applications and one issued patent as of September 2013.

With their user base and funding Chegg has the opportunity to compete effectively with the other smaller start-up players in the young recruiting space such as www.pathjump.com and www.internsushi.com
Talented Management Team:
Chegg management is extremely experienced coming from larger internet and software companies such as Netflix, Palm, Adobe, and Monster Worldwide. Dan Rosenweig (Chief Executive Officer) warrants specific notice. He helped build the widely successful guitar hero franchise. Dan also was president of ZDNET prior to its acquisition by CNET for $1.6 billion. Chegg has potential to be Dan's next billion dollar venture.
Valuation:
A Discounted Cash Flow using unlevered free cash flows was utilized to obtain a price target of $11(I set my price target at $10 to allow a margin of safety on the models assumptions)

Key Model Assumptions:
Revenue Growth CAGR of 17% over next 5 years(Versus Sell Side 20%)
Terminal Multiple of 22x EV/EBITDA(In Line With Sell Side)
Depreciation grows in line with Capital Expenditures
Operating Expenses Grow In Line With Sales
Company does not pay taxes in 2017 as result of net operating losses
Weighted Average Shares Outstanding increase substantially as a result of stock options and possible follow on financing
Decision Tree:
Upside Case: Stock hits average sell side analyst price target of $12(66% upside)
Base Case (My Thesis): Revenue growth occurs but at lower rate than predicted by sell side. Stock hits $10(31% upside)
Downside Case: Company is unable to continue their revenue growth in the non-print products and services and competition erodes textbook revenue. Stock price falls to $5.00(18% downside). This decline would amount to equaling half the initial public offering price of $12.50.
Core Risk Factors:
Chegg has a history of losses and may never turn profitable. Even though Chegg may be able to increase their revenue, they may never be able to increase their revenue enough to offset the resulting higher expenses.
If Chegg fails to continue to attract and engage students with their platform, their financials will suffer.
Chegg may fail to compete effectively with comparable service providers. Chegg's competitors include college bookstores, some of which are operated by Follet and Barnes and Noble, online marketplaces such as Amazon.com, eBay.com, and Half.com and providers of ebooks
Chegg as a result of being an unprofitable internet company and as well as having to retain top talent may need to issue substantial equity incentives to employees resulting in substantial dilution to investors. In addition the company may need to pursue dilutive financing in the form of secondary offerings.
Disclosure: I have no positions in any stocks mentioned, but may initiate a long position in CHGG, over the next 72 hours. I wrote this article myself, and it expresses my own opinions. I am not receiving compensation for it (other than from Seeking Alpha). I have no business relationship with any company whose stock is mentioned in this article.