Editors' Note: This article covers a stock trading at less than $1 per share and/or with less than a $100 million market cap. Please be aware of the risks associated with these stocks.
These days, catching up with Car Charging Group (OTCPK:CCGI) CEO Michael Farkas can be a real challenge. In the last year, he has spearheaded the acquisition of four competitors to make his company the largest owner and operator of EV charging infrastructure in the U.S. His latest deal, the fire sale acquisition of bankrupt former industry leader, ECOtality's Blink Network assets, was nothing short of a pennies-on-the-dollar coup. That bold move sparked the interest of institutional investors, following the lead of the socially responsible Eventide Gilead Fund (which provided the funding behind the ECOtality deal) and turning Farkas' life into a never-ending roadshow. Add to that his firm belief that every employee should be in sales, and the odds of getting on his schedule become slim indeed.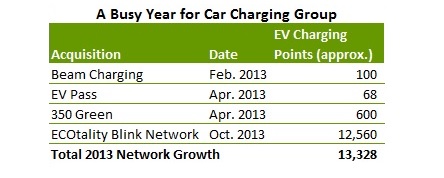 Fortunately, the usual year-end slowdown created a little margin in his schedule, providing Market Exclusive an opportunity to get an inside look at Car Charging through the eyes of its hard-charging CEO. This and the articles that follow are the result of a lengthy phone interview during which Farkas fielded a variety of questions. We covered subjects as basic as how Car Charging makes money and what he has planned for the company's future, to thornier issues like the company's strained relationship with supplier Chargepoint and the reliability issues with the Blink chargers that it inherited from ECOtality.
A Commercial Focus (For Now)
The first question I had for Farkas was the most fundamental question for any development stage company trying to exploit a new market: "How exactly does Car Charging make money?" So far, Car Charging has deliberately focused on building commercial partnerships and left the residential market on the backburner. "Our model is to always be generating revenue through a transaction," Farkas explained. He feels that failing to do this ultimately led to ECOtality's catastrophic downfall (and a particularly good deal to acquire the Blink Network assets not long after).
By focusing on forging strategic partnerships with businesses that provide parking spaces for their customers, Car Charging has been able to quickly reach large groups of customers at a time. This meant actively pursuing multifamily residential and commercial properties, parking garages, shopping malls, and retail centers. To date, Car Charging has entered into over 87 such agreements with national and regional partners including Walgreen (WAG), Sears (NASDAQ:SHLD), Simon Property Group (NYSE:SPG), Central Parking and Equity One (NYSE:EQY).
I mentioned to Farkas that people seem to be the most skeptical of the EV drivers' utility for retail-based charging. He responded, "I think everyone underestimates the retail side of it." He then quoted some statistics gathered internally by Walgreen which show that the retailer's average visit of 20 minutes jumps to 44 minutes for EV drivers. Kohl's (NYSE:KSS) has also experienced an increase in visit duration to around 40 minutes. "Longer visits mean larger basket sizes and more spending, which of course they love," added Farkas. This explains why some retailers have been willing to offer EV charging for free. Though it turns out that Car Charging has a revenue model for such scenarios, the absence of transactional revenue makes these sorts of relationships less profitable. Fortunately for Car Charging, these arrangements seem to be fading from the marketplace.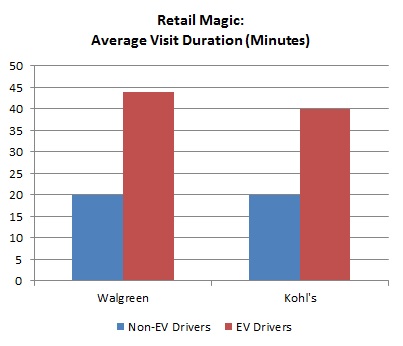 Though he was reluctant to provide specific details of any particular strategic partnership agreement, Farkas explained that the deals generally fit one of three models:
In the first model, Car Charging pays for the EV charging equipment and installation. Because Car Charging takes on the entire burden of the initial capital expenditure, it gets a larger share of the revenue from each EV charging event.
In the second model, the property owner and Car Charging split the cost of equipment and installation. In this case, the revenue sharing arrangement is more equitable.
In the third model, the property owner pays for the equipment and installation. Farkas calls this the "workplace" or non-fee-based model, because it usually applies to employers who want to provide free EV charging to their employees as a benefit. As mentioned above, it can also apply to a retailer that wants to provide its customers with free EV charging. The only revenue Car Charging earns in this situation is through a monthly management agreement. The idea is that the property owner does not have to have anyone on staff whose job it is to operate and maintain the equipment. If one of the units needs maintenance, Car Charging arranges to have the work performed by a third party service provider (Car Charging does not perform maintenance itself, and maintenance costs are not included in its management agreements).
After the ECOtality acquisition, Farkas says Car Charging will seek to monetize those workplace users by offering them a Blink Network membership to capture public charging events outside the workplace. The free membership provides half-price charging at all level 2 public charging locations. (Non-members can access any Blink Network location using a major credit card, but pay the full rate.)
Farkas went on to explain the cost structure of an EV charging transaction. He said that in the two scenarios where Car Charging is responsible for some or all of the initial capital expenditure, Car Charging sells its charging services directly to the individual EV driver and pays the utility company for the electricity used. Car Charging then makes its margin on the spread between what the customer pays for the charging session and what Car Charging pays the utility company, less an amortization charge for the equipment and any revenue sharing with the property owner.
In most cases the agreements are for seven years with two seven-year extensions. This gives Car Charging a lock on millions of potential high turnover public parking spaces for a period of time that should be long enough to see EVs reach mass market status.
The Home Front
One of the big surprises to come out of the interview was learning that Farkas has always intended for Car Charging's commercial business to be a stepping stone to the private market. He assured me that the company is serious about living up to its catch phrase "EV fueling where you live, work, and play." In the next article, we will get a look at Farkas' plans to take Car Charging from public charging stations to private garages. We will also get his take on the aspects of EV charging that matter most to the individual EV driver, including pricing, reliability, customer service, and charging speed.
Disclosure: I have no positions in any stocks mentioned, and no plans to initiate any positions within the next 72 hours.
Business relationship disclosure: Business relationship disclosure: Market Exclusive is a team of analysts and writers. This article was written by Carlos Uribe, one of our Group contributors. We did not receive compensation for this article (other than from Seeking Alpha), and we have no business relationship with any company whose stock is mentioned in this article.