The stock rally since March 2009 tracks the decline in Initial Jobless Claims, but claims are above the recession threshold. The S&P 500 tested my annual resistance at 1179 on Thursday. The rise in yields stopped with a successful 7-year auction, but higher yields loom longer term. The Dollar Index is in a solid up trend, which puts pressures on gold and crude oil. I show daily key reversals for the Housing Sector Index and the America's Community Bankers Index.
The recession threshold for weekly Initial Jobless Claims is 350,000, and this week's reading of 442,000 remains above this level. If the economy was creating jobs, claims would be trending below 350,000. Looking back to 2005, almost all week's were below 350,000, but after the Home Builders peaked in mid-2005, claims provided an early warning of pending recession with readings above 350,000 between September 16th and October 7, 2005.
Jobless Claims stayed below 350,000 for all of 2006 as the Housing Bubble inflated and as community and regional banks issued toxic mortgages and increased exposures to C&D and CRE loans. Remember that community banks peaked at the end of 2006 and that regional banks peaked in February 2007. Despite these early warnings Jobless Claims stayed below 350,000 until December 2007, which is when the National Bureau of Economic Research (NBER) time-stamped the beginning of Recession from their rear view mirror a year later.
A sustained trend above 350,000 did not begin until March 2008, and since then Jobless Claims have been above that threshold. The low since peaking at 651,000 in March 2009 is this week's reading of 442,000, which fueled the rally to new cycle highs for some of the major equity averages.
Nonetheless this key statistic is not close to sustaining a trend below 350,000, which to me would be a signal that the recession is over.
The stock rally was thus led by the down trend in Jobless Claims, but now the major averages are entering their zones of semiannual and annual resistances.
The Dow Industrials remain below annual and semiannual resistances at 11,235 and 11,442.

The S&P 500 tested its annual resistance at 1179 on Thursday with semiannual resistance at 1195.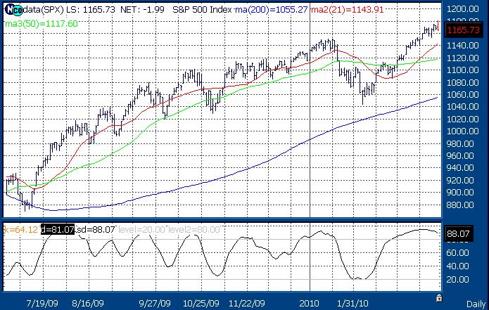 (Click to enlarge)

The NASDAQ tested its monthly resistance at 2430 on Thursday.

The Dow Transports are above my annual pivot at 4324, but below semiannual resistance at 4488.

The Russell 2000 is above my semiannual pivot at 673.50, but below annual resistances at 723.54 and 748.99.

The SOX is between my semiannual pivot at 358.89 and monthly resistance at 379.97.
The rise in yields stopped with the successful 7-year note auction. The US Treasury sold $32 billion in 7-year notes at 3.374, which held after the auction results were announced. The bid-to-cover was a bit low at 2.61, but the Indirect Bid was above 40% at 42%. My overall rating was a "B" for this auction.
For the 10-year yield, as long as weekly closes are cheaper than my semiannual pivot at 3.675, I show risk to semiannual support at 4.25.
For Comex Gold, as long as weekly closes are below my annual pivot at $1115.2 the risk is to my annual support at $938.7.
For Nymex Crude Oil, the risk is a return to my annual pivot at $77.05 as the $82 to $84 range remains the ceiling.
For the Dollar Index,
holding my quarterly pivot at $80.23 keeps the greenback MOJO going. Note the solid up-channel on the daily chart.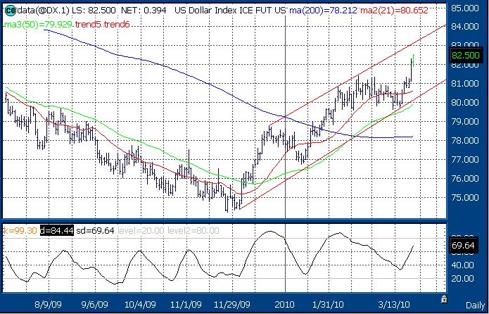 A "Rolling Next Six FOMC Meetings" is my definition of record low rates for an "extended period."
While some day that robust GDP growth is upon us, Fed Chief Ben Bernanke told Congress on Thursday that a zero percent funds rate will be needed for an "extended period" to rev up the economic recovery. My definition of "extended period" is a "rolling six FOMC meetings." In other words as long as the Fed Statement reads "extended period" the FOMC will keep the funds rate at zero for the next six FOMC meetings.
The Fed Chief mistakenly stated that inflation remains low giving the FOMC leeway to keep the funds rate next to zero. His Fixx is the theme, "Saved By Zero." Following a GDP of 5.9% in Q4 2009, Bernanke described economic conditions as still fragile, and the stock market applauded this opinion.
What Can Go Wrong?
It's all about the Housing and Jobs markets on Main Street USA. Housing is set for a double-dip, which will continue the stress in the banking system. Without job creation, Main Street cannot follow the successes on Wall Street. States are running on empty budgets, which will lead to further job losses, and more defaults and foreclosures. This could make 2010 and repeat of 2007.
Thursday was Key Reversal Days for HGX and ABAQ.
The Housing Sector Index (HGX) shows a clear key reversal day, which will be confirmed by lower closes today and Monday. The high was shy of that set on September 17, 2009. The 200-day simple moving average is major support at 99.92.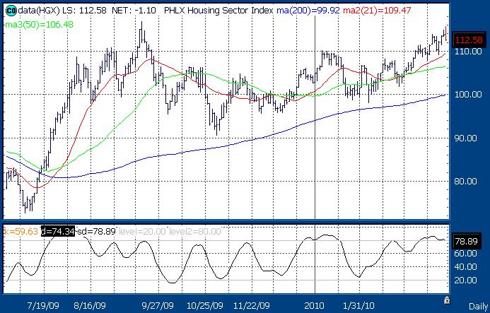 The America's Community Bankers Index (ABAQ) also shows a key reversal day. If confirmed by lower closes today and on Monday indicates risk to the 200-day simple moving average at 148.28.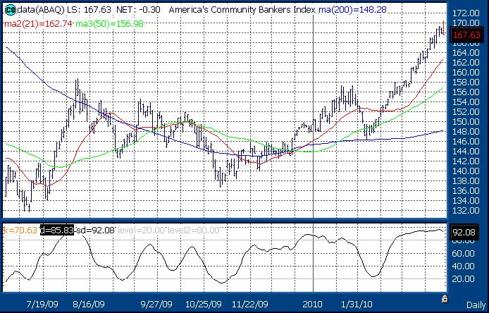 (Click to enlarge)
Disclosure: No positions