It's tough to break old habits. Old National Bank (NYSE:ONB) has been overpaying for acquisitions for decades - and unfortunately, can't seem to stop. I thought Old National was being extravagant when it announced its 1.7X TBV Tower Financial (NASDAQ:TOFC) acquisition back in September (46% premium). But I was flabbergasted by its recent bid for United Bank (OTCQB:UBMI), an average Michigan bank, at a high 2.2X TBV with a colossal 70% premium. This is by no means the first time that Old National emptied out its wallet. Before the Great Recession, Old National routinely paid 2.3X to 4.4X TBV for its takeovers. While I generally like acquisitive banks, I don't want Old National spending my money.
As testament to its spendthrift ways, consider this: Since 1989, Old National has acquired 30 banks housing over $9 billion of assets (not including its 2011 FDIC-assisted Integra transaction or its branch acquisitions from Bank of America.) After all this M&A activity, Old National is still a $9 billion asset bank - nothing more, nothing less. Simply put: After 25 years, Old National has not sustained any organic growth to lift its asset base. Even accounting for dividends paid, Old National has not delivered asset growth.
Moreover, while the slew of acquisitions may have helped expand the bank's geographic footprint, they have not helped investor's bottom line. EPS ttm in December 1996 was 90 cents - today it's 98 cents. In fact, for most of the 1997 to 2007 stretch, EPS was above a dollar. Certainly, the Great Recession hit just about every bank's earnings, but from 1996 through 2007, EPS got very little traction.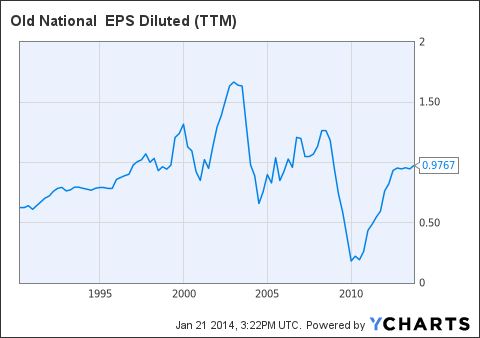 ONB EPS Diluted (TTM) data by YCharts
The culprit is the bank's addiction to M&A. Take a look at the string of mergers. Not too many banks with assets under $10 billion can claim this many acquisitions.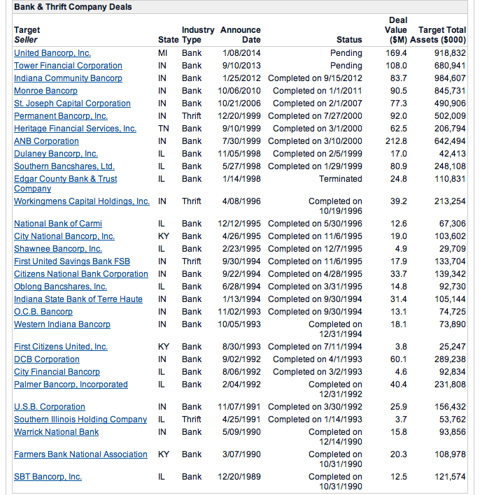 The Last Decade: A Dizzying Acquisition Cycle
Old National has been especially busy these past 10 years. In all, the bank has completed 6 acquisitions, done 8 branch consolidations, and sold 4 sets of non-core branches. It's a costly cycle of acquire, consolidate, divest, rinse and repeat. Take a look: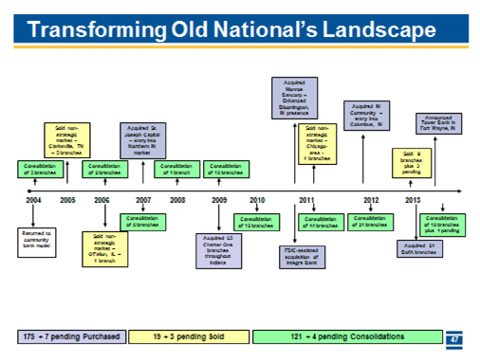 Old National Has A $10 Billion Problem
The Durbin debt interchange rule mandates lower debit card fees for banks with over $10 billion in assets. Old National reckons going over that asset figure will cost $8-$12 million a year. The Tower and United Bank deals will add another $1.6 billion putting Old National well over the $10 billion mark. The bank's plan to cope: It will reduce its investment portfolio, sell mortgages, and cut marked purchased assets to keep from going over.
Indeed, it is a no-win situation. Above $10 billion, Old National loses income (and adds other regulatory obligations that come with that asset size) - or it can stay below that figure, using divestments and stunt its growth. Either way, the $10 billion asset size is a significant headwind.
These acquisitions come at a great cost, especially to shareholders who have been getting their positions diluted. For instance, both recently announced deals are financed largely through equity. And investors know what comes next: Old National buys assets, issues stock, and sells down the assets. Unfortunately, it does not repurchase the shares with the proceeds. This has been part of the reason that EPS is the same as it was 10 years ago.
So Is It Any Wonder What You Heard On Its Last Conference Call?
It should come as no surprise that Old National acknowledges a lack of loan growth last quarter which management blames on Washington.
Yet, the stumbling loan growth is nothing new. Notice the widening gap between total assets and loans.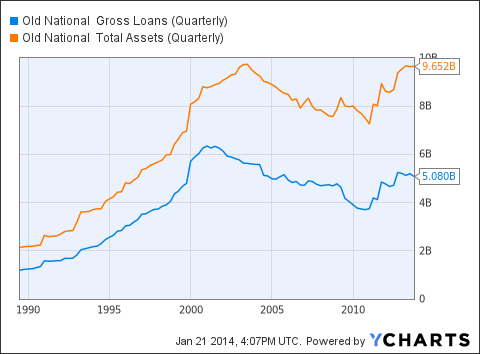 ONB Gross Loans (Quarterly) data by YCharts
The Bottom Line
If you want to outperform, don't purchase the stock. Instead, focus on what Old National will buy next. AVOID.
Disclosure: I have no positions in any stocks mentioned, and no plans to initiate any positions within the next 72 hours. I wrote this article myself, and it expresses my own opinions. I am not receiving compensation for it (other than from Seeking Alpha). I have no business relationship with any company whose stock is mentioned in this article.
Additional disclosure: The opinions in this document are for informational and educational purposes only and should not be construed as a recommendation to buy or sell the stocks mentioned. Past performance of the companies discussed may not continue and the companies may not achieve the earnings growth as predicted. The information in this document is believed to be accurate, but under no circumstances should a person act upon the information contained within. We do not recommend that anyone act upon any investment information without first consulting an investment advisor as to the suitability of such investments for his specific situation.