NPS Pharmaceuticals (NASDAQ:NPSP) (4.67) is an intriguing biotech that fits nicely into our Emerging Growth Portfolio for 2010. It was recommended in our bi-monthly newsletter March 12.
This $193 million medicine manufacturer is developing new treatment options for patients with rare gastrointestinal and endocrine disorders. The company is currently conducting two Phase 3 registration programs.
Teduglutide, a proprietary analog of GLP-2, is being evaluated as GATTEX(R) in a Phase 3 registration study known as STEPS for intestinal failure associated with short bowel syndrome and is in preclinical development for gastrointestinal mucositis and other pediatric indications.
NPSP558 (recombinant parathyroid hormone 1-84 [rDNA origin] injection) is being evaluated in a Phase 3 registration study known as REPLACE as a hormone replacement therapy for hypoparathyroidism.
Phase 3 is the last phase in the clinical trial process that drug companies must undergo before the FDA makes its final approval on the studied molecule. It is rare that you find a company this small with more than one product being prepared to gain FDA approval.
In NPSP's earnings release published earlier this month, management gave investors a positive sign that both Phase 3 trials are going according to plan. Enrollment in the Phase 3 trial on GATTEX is complete and investors should expect trial results by the end of the year. Additionally, enrollment in the REPLACE study for the compound NPSP 558 for hypoparathyroidism is taking place rapidly and on schedule.
Financially, the company is sound and has plenty of cash and market receivables on hand to see that both these drugs make it to the FDA for final approval. The company reports having $75 million on hand and it added another $38.4 million of capital from the sale of its REGPARA royalty rights on March 1. So that makes for a war chest of $113 million. Not bad for a company only worth $192 million on paper.
Also, the company reduced its cash burn nearly 14% from original estimates -- spending only $42 million rather than the $50 million originally projected this year.
NPSP earns royalties on (i) Amgen's (NASDAQ:AMGN) sales of Sensipar(R) (cinacalcet HCl), (ii) Nycomed's sales of Preotact(R) (recombinant parathyroid hormone 1-84 [rDNA origin] injection), (iii) Kyowa Kirin's sales of REGPARA(R) (cinacalcet HCl), and (iv) Ortho-McNeil's sales of Nucynta(R) (tapentadol). Royalty revenue grew to $22.0 million and $79.3 million for the fourth quarter and full year 2009, respectively, versus $18.3 million and $70.2 million for the fourth quarter and full year 2008, respectively
On the bottom line, NPSP reported a net loss of $2.0 million or $0.04 per diluted share for the fourth quarter of 2009, compared to a net loss of $8.5 million or $0.18 per diluted share for the fourth quarter of 2008. For the full year, NPS reported a net loss of $17.9 million or $0.37 per diluted share for 2009, versus a net loss of $31.7 million or $0.67 per diluted share for 2008. They also cut selling, general & administrative expenses by 10% year over year.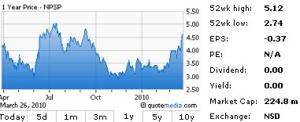 (Click to enlarge)
The company has several marketing agreements with key pharmaceutical companies regarding a few of its core products which makes it more likely that the drugs currently in Phase 3 clinical trials will see market. By having two compounds this close to approval and some cash on hand, NPSP could see a nice move in 2010 based merely on the speculation of approvals. Our target price is $6.
Disclosure: Author long NPSP