BPZ Resources (NYSE:BPZ) recently released an operational update on its wells. Well results came in better than expected, and I believe these results -- along with the lackluster price action of the stock -- provide an excellent buying opportunity. The operational update is summarized below and can be found here.
Operational Update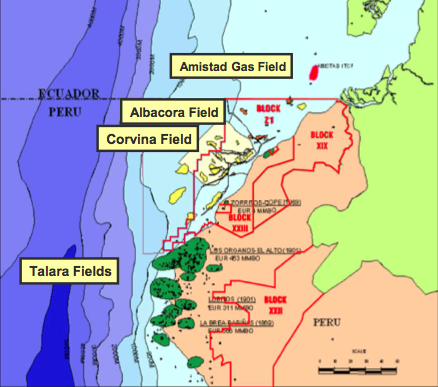 Block Z-1 Production
Average gross production for the last seven days at Block Z-1 has been approximately 4,900 barrels of oil per day (2,500 net to BPZ), with 53% of the total coming from Albacora and the remainder from Corvina.
Albacora Field (51% Working Interest)
The Albacora A-18D development well was completed on Dec. 23, 2013. This new well produced an average of approximately 2,100 (1,071 net to BPZ). For the last 24 hours the A-18D has averaged gross production of approximately 2,250 barrels of oil per day (1,147 net to BPZ). The Albacora A-19D development well was spud on Jan. 1, 2014, targeting a similar structural position as the A-18D well.
Corvina Field (51% Working Interest)
Development drilling of the CX15-2D well continues, and the well is expected to be completed in late January 2014. In the meantime testing continues on the CX15-1D development well, with gross production averaging 440 barrels of oil per day (224 net to BPZ) during the past seven days.
Onshore Block XXIII (100% Working Interest)
Commencement of exploration campaign began on Jan. 5, 2014, with the spudding of the Caracol 1X exploration well at Block XXIII. The access road and well sites for the two other explorations wells are being completed. The main objectives are the Heath and Mancor formations.
Stock Performance
While the well results came in better than expected, the stock price still remains significantly depressed. The stock currently trades right at the $2 level, near the lower end of the 52-week range of $1.58-$3.33. As you can see the in the five-year chart below, BPZ has been in a long-term downtrend. As a contrarian investor, where others see distress I see opportunity.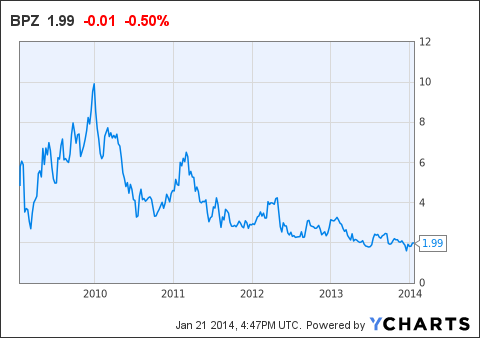 The recent decline can be explained by year-end tax loss selling along with disappointing well results. With the very positive operational update, however, I believe BPZ has reached a crucial inflection point. BPZ won't remain at these depressed levels for long -- management is taking initiative, well results are improving, and BPZ trades at a significant and unwarranted discount to its net asset value (NAV) of approximately $6 per share.

Applying a 15% discount to BPZ's net asset value (derived from YE 2012 PV-10) is where I obtain my target price of $5 per share, which presents significant upside from current levels. This positive operational update, along with the deep discount to asset value BPZ is trading at, presents an excellent buying opportunity.
Conclusion
BPZ has been beaten down lately by the market in a combination of tax loss selling and poor well results. BPZ trades at a significant discount to the value of its assets and presents a lot of potential opportunity if things continue to go well for the company. I believe BPZ's management is taking strategic initiative to improve its position and unlock asset value for shareholders.
Disclosure: I am long BPZ. I wrote this article myself, and it expresses my own opinions. I am not receiving compensation for it (other than from Seeking Alpha). I have no business relationship with any company whose stock is mentioned in this article.