Nike Inc. (NYSE:NKE) is known as a consistent player in the athletic footwear and apparel market. Even though it is relatively younger than its biggest rival in the footwear industry Adidas (OTCQX:ADDYY) the company commands a 47% market share in terms of revenue which is higher than Adidas' 35.6%. With a successful history of dividends, share price appreciation and operational performance driven by demand as a direct result of the company's strong marketing strategies, Nike possesses the ability to remain a key player in the market at least for the near term.
Past Performance
The second quarter of 2014 proved to be a profitable term for the company. Sales increased by 8% to $6.4 billion with footwear and apparel making up most of the sales. The footwear segment dominates the revenue figure growing by 9% year over year to $3.6 billion this quarter with apparel following at a growth of 6% and revenue contribution nearing $2 billion.
The increase in footwear's revenue was a result of impending increasing demand for the company's performance products that included its Jordan brand, Air Max and Lunar technologies. Volume grew 5% with 6% price appreciation offering a further boost. Nike saw its product mix move towards higher priced running and basketball products.
The apparel segment also experienced similar results with growth coming equally from all of the product categories that the company operates in. The company's unit volume rose 5% whereas price appreciation rose by a smaller rate of 2%.
$10.4 Billion in Near Term Future Orders

Source: 10Q
While the aforementioned information was representative of the present, the company's future orders planned to be delivered by April this year total $10.4 billion. Nike has seen a 12% growth in future orders compared to the similar period a year ago. Although the company is not entirely dependent upon future orders to make up its sales the stats above provide me with enough information to conclude that another successful quarter is ahead. The table above shows where the growth is being generated. The highest figure (23%) excluding currency impact comes from most of Europe with the emerging markets as the runner up and Japan bringing the least to the table.
With regards to profit, the company saw its gross profit rise to $2.8 billion with margins increasing 140 bps to 44%. The figure would have been higher if the currency impact hadn't caused a 60 bps decline. A breakdown of the increase is as follow:
Price increases, shift towards higher priced products, and favourable geographic mix brought a 120 bps increase.
Low input costs partially offset by labour inflation expenses contributed 30 bps.
Lower discounts and cleaner close out inventory added another 30 bps.
Innovation and Marketing Are the Highest Costs for Nike
Finally, selling and administrative expenses grew 14% to $2.1 billion. The company's increasing costs will not burden profitability in the future as they mostly cater towards improving the company's performance and sustaining its competitive edge.
The demand creation expense was $691 million reflecting a 13% increase compared to the low levels of the previous year. The expense is a result of the company's marketing support for key product launches, consumer running events, and the upcoming global sporting events that include the World Cup and Winter Olympics. Operating overhead expense also increased 14% to $1.4 billion due to investments in digital innovation and other growth businesses including new store openings.
These measures resulted in the EPS increasing by a smaller rate than expected as a result of rising revenues and falling costs. Diluted EPS grew 4% to $0.59 this quarter. Conclusively, it is evident that the company's internal operations imply good health and whatever cost increases it has are a result of either preparing for a global world event or promoting products through enhanced marketing.
The Reasons why Nike has Stayed on Top
This was just another successful quarter that Nike reported to investors but the strategies that the company has followed show how it has remained competitive for the last 30 years. First, the marketing strategy it follows involves high profile athletes at the top of their game and champions in their respective sports such as Tiger Woods and Michael Jordan. Creating a product line that is named after these celebrities attaches customers to their favorite player. This strategy has not been seen in either Adidas or any competitor to the Nike's extent.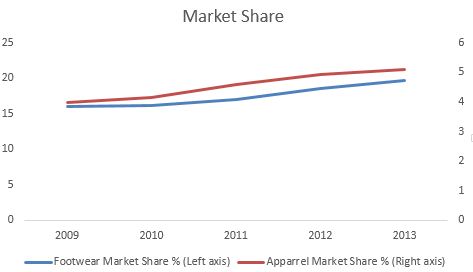 Source: Trefis
This is one of the reasons why Nike has seen its share in the market rise in the past. Secondly, Nike's low input cost, that is an important driver for its profitability, results from nearly all of its production occurring outside of the US with contracted manufacturers in China, Vietnam and Indonesia. The low input cost, as we saw, contributed a 30 bps increase in gross margin last quarter.
These two points make up the most of Nike's competitive edge and are the major reasons behind the company's price hike and strong performance.

Source: Morningstar
Year to date the share price has grown 41% to $75. Comparatively, the company has given a return on equity of 26.7% that is greater than the industry's 21%. Nike has made all of this possible at a debt to equity of 0.1 that is 50% less than the industry.
Conclusion
Nike still has $6.3 billion left in its share repurchase program that it plans to complete in the next three years. The recent divestment of Umbro and Cole Haan from operations last year means the company is more efficient than before. I have come across no material event that could potentially be a threat to the sustaining of the company's future growth. With higher marketing and innovative products Nike can remain on top making its own way in the industry.
The $10 billion worth of future orders that are supposed to be completed in the next 3 months is another reason to believe that Nike will continue its strong performance at least in the very near term. For these reasons I give Nike a buy rating.
Disclosure: I have no positions in any stocks mentioned, and no plans to initiate any positions within the next 72 hours. I wrote this article myself, and it expresses my own opinions. I am not receiving compensation for it (other than from Seeking Alpha). I have no business relationship with any company whose stock is mentioned in this article.