By David Urani
We got the Q4 GDP printout of China today and it came in at an annual rate of 7.7% for 2013 in total. That was decent enough given that it's above the government's target of 7.5% and the 7.6% consensus estimate going into the release. That said, it ends the year on a bit of a soft note, with quarterly growth coming in at 1.8%, down from 2.2% in Q3. Another statistic being tossed around today is the fact that the latest patch of GDP growth in China is the slowest since the late 90s.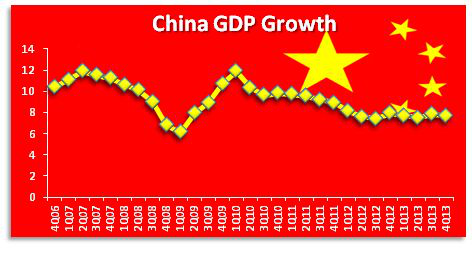 Certainly, China has been an important driver of world economic growth in recent years, and the latest GDP data is a little lukewarm. That said, 7.7% is a number that the USA is nowhere close to matching right now so it would be wrong to call it a "bad" result. Additionally, the Chinese government has made a concerted effort to actually cool growth, particularly for real estate and industrial over-capacity, and thus the performance is in line with what the government itself has been planning for.
Nevertheless, the idea of growth tapering off in Q4 is being seen as cause for concern. Likewise, spot prices for iron ore dropped to their lowest point in six months. A number of metals-related stocks in particular are taking hits on the result including Rio Tinto (NYSE:RIO), Vale (NYSE:VALE), ArcelorMittal (NYSE:MT), US Steel (NYSE:X), Steel Dynamics (NASDAQ:STLD), Cliffs (NYSE:CLF) and others.
Leading up to the news today, the Shanghai Composite index was already in a poor run of form, down approximately 11% since early December. It's now at its lowest point since July.