By Sumit Roy
Marcellus basin surge offsets Haynesville plunges.

Natural gas production increased in 2013, but just barely, according to the latest data from the Energy Information Administration. For the year as a whole, output in the U.S. grew by 0.8 bcf/d, or 1 percent, the smallest annual growth since 2005. "In contrast, production grew by 3% in 2010, 7% in 2011, and 5% in 2012," said the EIA.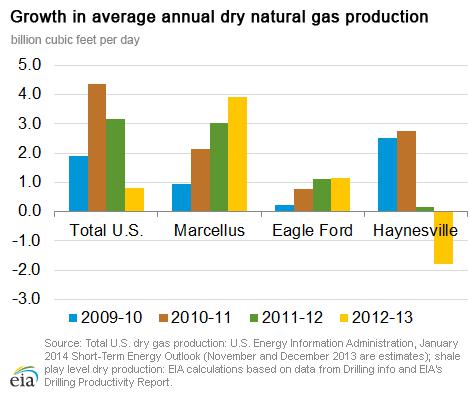 As the chart above clearly illustrates, all of 2013's growth was thanks to the Marcellus shale, without which, output would have certainly tumbled. In sharp contrast to the Marcellus, the Haynesville saw its production decline sharply.
The EIA explains that the divergence between the various basins is due to a shift in favor of "wet" natural gas drilling at the expense of "dry" natural gas drilling. In these wetter basins—which includes the Marcellus shale—"operators target a combination of crude oil, condensate, and natural gas liquids."
On the other hand, the Haynesville shale (and the Barnett shale in Texas) "are considered dry natural gas plays because of the low level of liquids in their production streams."
As long as natural gas prices stay depressed relative to those of liquids such as crude oil, operators will continue to shun dry natural gas drilling.