The U.S. stock markets were closed on January 20 but I expect BlackBerry (NASDAQ:BBRY) to continue its upward trend this week. BlackBerry shares at the Toronto Stock Exchange soared as high as 18% during the early hours of January 20 and it closed 8.2% higher. The U.S. Defense Department's decision to deploy 80,000 BlackBerry phones by January 31 is the second major catalyst for BBRY in less than a week. This is a major commitment that will keep BlackBerry in business for years to come. Government agencies still prefer BlackBerry's security over the popularity of the Apple (NASDAQ:AAPL) iPhone.
The vote of confidence from the U.S. Department of Defense is a follow-up slam dunk endorsement for BlackBerry. Citron Research already upgraded BBRY with a new Price Target of $15. Citron's valuation is 50% higher than RBC Capital's price target of $10 when it upgraded BlackBerry from Underperform to Sector Perform last January 10.
BlackBerry shares rose to $9.08 last January 17 after Citron's endorsement. I'm watching the stock rise again today. BlackBerry is trading at $9.86 at 2:05 PM ET. I'm very much tempted to unload some of my shares now so I can have some liquidity. Writing this article helps prevent me from doing so.
The A-Team Has Arrived
BlackBerry is already up 31.8% this year and I can get out now with a very small profit. However, I'm going to ride the momentum a little longer. John Chen's precipitous arrival last November 4 has helped the company regain much of its 2013 market losses. The new CEO's Sybase experience is being applied judiciously to BlackBerry now. After unloading the company's device manufacturing burden to Foxconn last December, Chen is cleaning house to strengthen the company's new focus on the high-end enterprise service market. He has hired four executives that were once trusted lieutenants during his tenure at Sybase and SAP.
I agree with John Chen's decision to recruit trusted people he already knows. Turning around the flagging fortunes of BlackBerry requires support personnel who understand Chen's vision. Chen needs to have underlings that can immediately execute their assigned duties toward completion of the fast-paced recovery plan. All of the new executive hires bring years of enterprise business experience which is what BlackBerry needs right now.
Here are the new A-Team members who once helped Chen at Sybase and SAP. They are now on board to reviving BlackBerry.
Eric Johnson - President of BlackBerry Global Sales (Former Senior Vice-President and Gen. Manager for global database and technology sales at SAP AG)
John Sims - Chief of BlackBerry Enterprise Services (Former President of SAP AG's mobile division)
James Mackey - Executive Vice-President for Corporate Development and Strategic Planning (Former head of Corporate Development at SAP AG)
Mark Wilson - Senior Vice-President of Marketing (Former Senior Vice-President of Corporate and Field Marketing at Sybase)
It is necessary for investors to know the people behind BlackBerry's road to recovery. Seeking Alpha readers should be happy to learn that Chen's transformation of the company will not meet any unnecessary resistance from legacy executives.
Enterprise Is Where Salvation Lies
After firing COO Kristian Tear and CMO Frank Boulben last December, John Chen also eliminated the Chief Operating Officer and Chief Marketing Officer positions. Those two jobs are consumer-oriented and their abolition further fortifies Chen's vision. BlackBerry is no longer a handset manufacturer for the masses. It is quickly being reformatted as a Sybase-like enterprise-centric company. The smartphones that will be produced by Foxconn will primarily be used for BlackBerry's corporate and government customers.
The BlackBerry Enterprise Service 10.2 roll-out brings attractive new features which further strengthen the company's grip on enterprise Mobile Device Management. BES 10.2 brings API support for iOS and Android through BlackBerry Web Services, Dynamic support for iOS and Android updates, Secure Work Space (NYSE:SWS) support for BYOD enrollment, scalability has been increased up to 50,000 devices per domain, and graphical self-service portal for device management.
As of December 2013, there were 30,000 commercial and beta BES 10 servers installed around the globe. A German tech firm ordered another set of 1,000 BlackBerry smartphones because it is upgrading its Enterprise Service 10 system. News like these makes me believe that Google (NASDAQ:GOOG) and Apple may have won the consumer market for smartphones but they are very far from unseating BlackBerry's enterprise throne. The rumored January 28 official release of BlackBerry OS 10.2.1 will also bring direct installation of Android apps and games on BlackBerry phones. This feature may help grab buyers away from Android handsets.
Conclusion
As the title said, do not sell BBRY now. Citron and RBC Capital's new target prices are reasonable and within reach this year. The market is now waking up to the fact that Chen's new vision for BlackBerry is not just a cosmetic job to beautify the company for a possible sale - he is really trying to duplicate his success at Sybase. The U.S. Department of Defense just confirmed BlackBerry's vital importance. I expect other foreign governments and their agencies to follow suit.
Buy more BBRY if you have the money. I don't. I'm so sad I'm missing this upward party - the shares are now trading at $9.93, a 9.36% level up in just one day.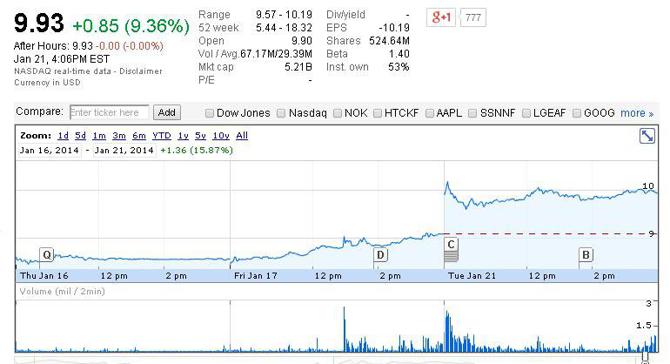 Disclosure: I am long GOOG, BBRY. I wrote this article myself, and it expresses my own opinions. I am not receiving compensation for it (other than from Seeking Alpha). I have no business relationship with any company whose stock is mentioned in this article.