By Tracey Ryniec
2013 was a landmark year south of the border. On Dec 23, President Enrique Pena Nieto signed into law legislation, which required changing the Mexican constitution, to open Mexico's energy market to foreign investment. Mexico is the world's 10th largest oil producer. Reforming Mexico's energy industry has been at the top of the agenda by Mexican presidents over the last several decades. Many didn't think it could ever be done.
For 75 years, Mexico's energy market has been dominated by one government-run player, Petroleos Mexicanos, otherwise known as Pemex. The changes to the law are groundbreaking and are expected to bring up to $20 billion in direct foreign investment over the next 2 years.
What Happens Now?
Energy reform will happen in two parts. The first was actually changing the constitution and getting the new law passed. That has been completed. But now the hard part of implementation will take place. Under the law, new implementing laws must be in place within 120 days of the passage of the legislation on Dec 23. These laws will lay out the particulars such as which parts of the country will be available for development and how the contract and licensing procedures will work.
Game Changing Legislation
Pemex is a government-run company which many oil analysts have said has been left to stagnate. It hasn't developed the latest technologies and is not very competitive in the global energy market. Under the new legislation, Pemex would become more like a private entity. Within 2 years, it will be operating as a regular business, which means it will have to be profitable and pay its bills.
It will be pitted against the private sector companies for business, although Pemex will be given the right of first refusal on the first round of projects which will take place in the first 90 days of implementation. Pemex then will have 3 to 5 years to develop those projects. In many countries that have opened up their energy sectors to foreign investment, foreign companies often work in partnership with the government run oil industry. That will apparently NOT be the case in Mexico.
Foreign companies will be bidding on licenses and contracts directly, with proceeds to be deposited into a newly created sovereign fund which will then manage the oil revenue. For oil and gas exploration, Mexico will retain the rights to the commodities under the ground. However, on the downstream side, the Secretary of the Energy can directly award licenses to private companies for refining, pipelines, petrochemicals, bulk stations and gas stations. For the first time ever, you may see gas stations other than Pemex around Mexico.
Foreign Investment Bump
While there is the obvious direct beneficiaries of the law, i.e. the foreign oil companies, others could see benefits during the infrastructure build-out, such as railroads and airports. As the Mexican economy improves, it could trickle down to retailers, convenience and grocery stores, and homebuilders. The Mexican government expects energy reform to impact GDP by 1% as soon as 2018. You can see why many Mexico-watchers are extremely excited about what could develop and Mexico's future.
How Quickly Will it Happen?
While the clock is ticking on the 120 day window for implementation laws to be put into place, no one expects the energy companies to be arriving en mass any time soon. The most hopeful believe there could be some investment by the second half of 2014, but others believe the bulk of the contracts will be awarded and begin in 2015. Opportunities await in the offshore fields and in places where you'd least expect it such as the Eagle Ford Shale in Southern Texas, which has no knowledge of international boundaries and extends south of the Rio Grande into Mexican territory.
5 Ways to Play Mexico's Energy Renaissance
There's no way of knowing which companies would be most interested in investing in Mexico but we can make some educated guesses. Basically, we can assume that most of the world's largest oil companies will be interested. There are few "new" areas to drill that have proven reserves.
For instance, on Jan 14, Italy's largest oil company Eni S.p.A., wasted no time in getting into the game. It announced it had inaugurated a representative office in Mexico City and was entering into discussions with Pemex. But there are also a lot of smaller, independent North American explorers who might be interested in going south of the border. But which ones?
The following are some of the global energy companies I thought could find themselves bidding on Mexican contracts based on their company profiles and past investment behavior.
But, remember, nothing is a done deal until the ink is dry.
1. ExxonMobil (NYSE:XOM)
2. Eni S.p.A. (NYSE:E)
3. Gran Tierra Energy (NYSEMKT:GTE)
4. EOG Resources (NYSE:EOG)
5. Anadarko (NYSE:APC)

1. ExxonMobil
Big Oil, including Exxon and Chevron (NYSE:CVX), is especially suited for entering the Mexican market given their large international operations. Exxon may have a leg up on some of its competitors simply because it has a history of doing business in Mexico through its chemical division.
Surprisingly, it already has 250 employees in the country. It operates a lubricant blending plant in Vallejo and a chemical terminal in the port of Tuxpan. It also has offices in Mexico City.
Zacks Rank #3 (Hold)
Forward P/E = 12.6
2014 Expected Earnings Growth = 6%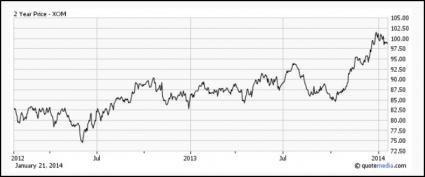 2. Eni S.p.A.
Eni is an Italian integrated oil company with a market cap of $84 billion. It already has operations in places such as Libya, Nigeria, Mozambique, Congo and Vietnam. It is used to operating in all kinds of political and geographic environments.
By setting up an office in Mexico City so quickly, it is clearly already signaling that it wishes to be a player in the energy renaissance.
Zacks Rank #2 (Buy)
Forward P/E = 9.5
2014 Expected Earnings Growth = 36.7%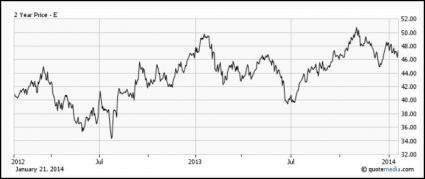 3. Gran Tierra Energy
Gran Tierra is a Canadian-based mid-cap independent explorer and producer with interests in Colombia, Argentina, Peru and Brazil. Geographically, it might make sense for it to make a play for projects in Mexico.
Zacks Rank #3 (Hold)
Forward P/E = 10.7
2014 Expected Earnings Growth = 3.7%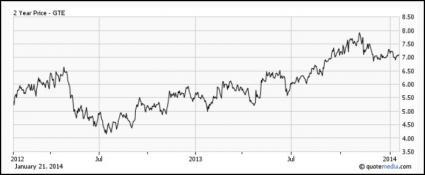 4. EOG Resources
EOG is a Texas-based large cap independent explorer and producer of oil and natural gas. While it has a smattering of international interests, including in Argentina and Trinidad & Tobago, its main focus is on the United States.
So why would it have an interest in Mexico?
One of its large projects is in the Eagle Ford Shale region of southern Texas. This area straddles the Texas/Mexico border. The Eagle Ford Shale doesn't actually know the boundary so there will be opportunities on the Mexico side. Many oil analysts consider EOG to be the best situated to take advantage.
Zacks Rank #3 (Hold)
Forward P/E = 18.4
2014 Expected Earnings Growth = 12.7%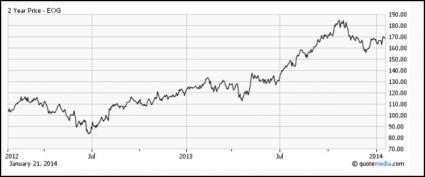 5. Anadarko Petroleum
Some companies will be attracted to Mexico's offshore possibilities in the Gulf of Mexico. Will one of those be Anadarko?
This big cap independent explorer and producer is already one of the largest deep-water producers in the Gulf; in United States territory, of course. It wouldn't take much to transfer that expertise to Mexican blocks.
Zacks Rank #3 (Hold)
Forward P/E = 15.3
2014 Expected Earnings Growth = 23.4%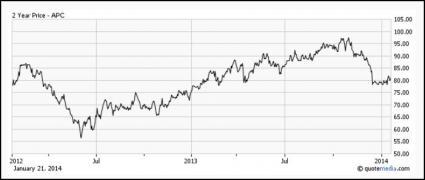 The Big Story of 2014
Mexico's energy reforms will unfold throughout 2014. It won't be a fast process. But if done right, it has the possibility to take the Mexican economy to the next level. Investors should be looking at companies that are positioned to cash in.
Tracey Ryniec is the Value Stock Strategist for Zacks.com. She is also the Editor of the Insider Trader and Value Investor services. In full disclosure, the author of this article owns shares of XOM.
ANADARKO PETROL (APC): Free Stock Analysis Report (email registration required)