Netflix (NASDAQ:NFLX) will release its earnings following the close of market on Wednesday, January 22. This article will summarize recent developments and highlight which numbers really matter, both for short-term traders and long-term investors. I will cover wide-market expectations, Netflix's guidance, and my personal expectations for 2014. The article concludes with options to protect your portfolio.
Recent Price Action
Netflix has enjoyed a phenomenal y/y return of 189% as shown in the 13m chart below (Google Finance). Both the Q4-12 results and Q1-13 results (end of January and April, respectively), served as major catalysts for the stock, with weekly gains of 70% and 30%, respectively.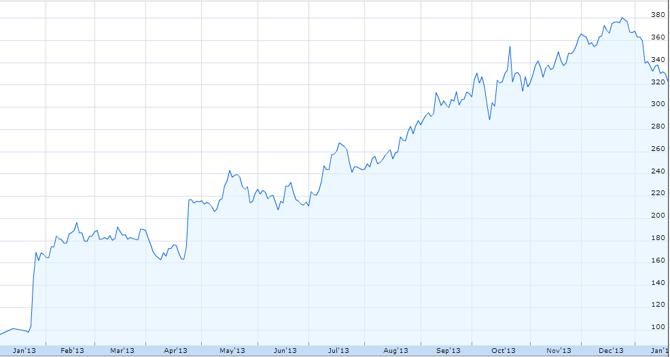 Netflix is Extremely Volatile During Earnings
2013 highlighted the bullish-pop potential, but Netflix has history snapping in both directions. Fellow Contributor Quoth the Raven covered this inherent earnings volatility very well in his recent article. Looking at 2011 and 2012 (chart below- Google Finance), each post-earnings pop was a minimum of 10%. Q3-11, Q1-12, and Q2-12 represented the largest drops, at 23%, 22%, and 28%, respectively. Q4-10 and Q4-11 brought the largest pops, at 20% and 24%, respectively.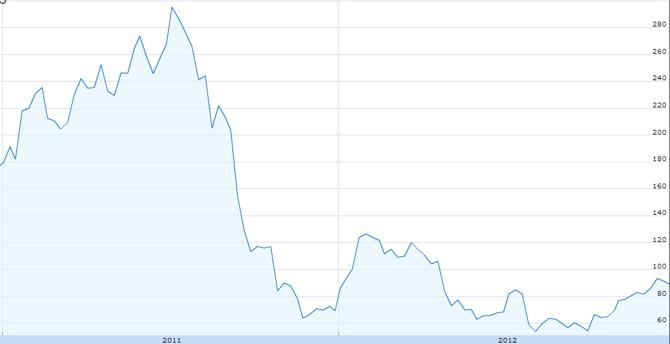 Implied Volatility for Q4-13 Results
Historical information is great for developing a basis of a company's fundamental performance and technical strengths, but it obviously has its limits in future forecasting. Another method to gauge potential swings is to check the implied volatility according to option premiums. At a near at-the-money strike of $325, the Jan 24 puts are trading at around $18.50 and the calls are trading close to $18. Trading interest and volumes are roughly split on both sides, highlighting that the market is split on directional expectations.
The total premium price of $36.50 implies a directional swing of 11.2% post earnings.
Is Implied Volatility Useful or Accurate?
IV is a decent gauge of what everybody is thinking and expecting pre-earnings, but it can do a horrendous job predicting how traders will react to the news. As witnessed by the 22% and 30% drops in GameStop (NYSE:GME) and Best Buy (NYSE:BBY) last week (both had IV of under 10%) on news that was wholly unsurprising for both companies, both traders and investors can panic especially when holding massive profits.
Lots of Profitable Equity Holders in Netflix
Carl Icahn is the largest figure in this example, with massively profitable holdings of 2.67M shares at a basis of around $58. Icahn sold over 50% of his stake last quarter despite relatively good results in the underlying company. The majority of both the institutional and retail float is held in profitable positions, and combined with the massive yearly returns in 2013, this creates a "perfect storm" if results are poor. I believe NFLX has the potential to plummet further than GME and BBY if results, more importantly forward estimates, miss expectations. Remember that GME actually beat revenues and only slightly missed EPS targets and that BBY posted incredible gains in online sales. Both were 2012 darlings with massive holders sitting on the fence; Netflix is in a similar position.
The Reporting Expectations
Analysts expect Netflix (Yahoo Finance) revenue of $1.17B ($1.11-$1.20 range) and EPS of 66c (56c-90c range) for Q4-13. For upcoming full year 2014, analysts expect revenues of $5.21B (range of $4.88-$5.47) and EPS of $3.99. These figures have not adjusted significantly in the past 90 days.
During the Q3-13 conference call and in the letter to shareholders, Netflix outlined its own projections for Q4-13: streaming revenue of $941M to $965M and EPS of 46c to 73c. Netflix typically meets these targets, but it should be noted that analysts are more bullish than company guidance on EPS. I expect roughly $210M for domestic DVD, which gives NFLX $1.18B of revenues if it meets streaming guidance. I believe Netflix could miss on EPS due to increasing content costs, but all-in-all I expect an inline quarter.
Forward Guidance - the Negative Catalyst
The reaction to Q4-13 guidance provided in October was mediocre, and led to a 10% selloff. The given guidance was for paid domestic members of 31.1-31.8M and paid international members of 9.1-9.7M.
These figures represent y/y gains of 22-25% and 86-98%, respectively. During 2012, Netflix grew these categories by 26.4% (20.15M to 25.47M) and 237% (1.45M to 4.89M).
I expect NFLX to meet their range in both categories, but to provide forward guidance that disappoints analysts. The below chart highlights the inevitable waning Y/Y streaming subscriber growth as Netflix grows. During full-year 2013, NFLX posted 34.6% growth, but I would be surprised by anything over 20% y/y for full-year 2014 (49M total reported Q4-14). The previous growth has been mostly 'low-hanging fruit,' and Amazon Prime (NASDAQ:AMZN) will be competing for a similar footprint.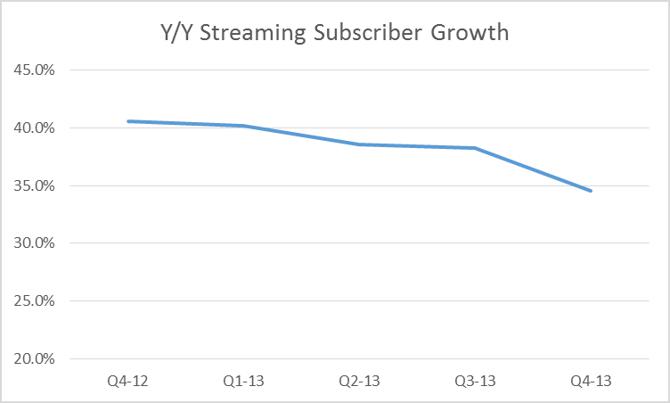 If Netflix guides for anything less than 3M q/q subscriber adds, the stock will likely tank. Comparatively, NFLX added 3.88M members in last year's Q and previously guided to 2.84M adds during Q4-13. I expect NFLX to guide below 3M adds and use the Winter Olympics as an excuse.
The 3M figure, during what has seasonally been the strongest quarter for Netflix, is what is required to achieve the 20% growth target that analysts are pricing in. At 45.5M (average during year) subscribers paying close to $8 monthly and a declining DVD business that will likely post around $850M in revenues (6.5M @ $11 blended), NFLX will post revenues of $5.23B.
Watch for Soaring Content Costs
As I discussed during my recent coverage of Netflix, "Sell Netflix, the Icahn Thesis is Flawed," the largest negative to NFLX's business model is the soaring cost of content.
Unfortunately, Netflix usually does not discuss this information extensively in their conference calls or press releases, so investors will likely have to wait a week or two for the 10-K (annual report) to be filed with the SEC.
I believe this metric is the most important factor to the long-term success of NFLX, as they MUST grow revenues at a far faster pace than content expenses to justify their current price. The below chart shows that this is often not the case.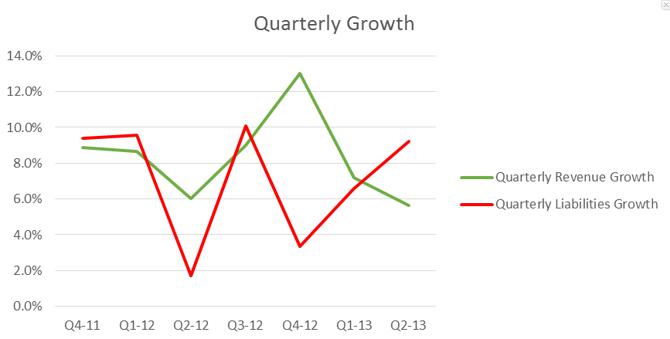 Summary
The most important information to watch for tomorrow is the current streaming subscriber counts and the forward projections. I expect the current numbers to be roughly in-line, but the guidance to disappoint.
Netflix has strong historical earnings volatility, and investors should plan accordingly.
Investment and Trading Approaches
The long straddle (buy atm calls and puts for either Friday or February 2014, also recommended by Quoth the Raven) is a decent option for traders who want to take advantage of the market's expectations for lower-than-average volatility following tomorrow's release. The advantage is that a 'near-miss' such as a 6-8% swing in prices will return most of the premium, while hypothetical gains are unlimited and likely gains are greater than 50%.
I am personally long the weekly $290 puts because I expect disappointing figures. This is more of a speculative trade or gamble, and I would suggest the long straddle as a superior play for those who are risk-averse.
If you are long NFLX, there is a lot to lose here. If you are a believer in the overall story, but are concerned about price action, I like the idea of selling otm calls, such as the Jun14 $350s for $28.50 and using the proceeds to buy 'insurance' in the form of Feb14 $310 puts for $12.50. This ensures zero loss in the event of a crash, and still allows for $41 of upside (12.6%) over the next 5 months.
Disclosure: I am short NFLX. I wrote this article myself, and it expresses my own opinions. I am not receiving compensation for it (other than from Seeking Alpha). I have no business relationship with any company whose stock is mentioned in this article.
Additional disclosure: Short via $290 weekly puts and $170 puts for January 2015.