Synnex Corp. (NYSE:SNX) posted fiscal 2010 first-quarter results after the closing bell yesterday. The company reported net income of $34.7 million, compared to $18.9 million in the year-ago quarter. Earnings from continuing operations came in at 66 cents, which topped the Zacks Consensus Estimate by 4 cents, or nearly 6.4%.

Synnex is a business process services company, serving resellers and original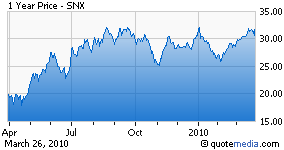 equipment manufacturers (OEMs) worldwide. The company operates in two segments, distribution services and global business services (GBS). The flagship distribution services segment provides computer systems and complementary products to resellers, system integrators and offers assembly services to OEMs. The GBS segment offers services, such as customer management, software development, web hosting, domain name registration, and back office processing.

Synnex recorded a 12.5% year-over-year growth in total revenue to $1.94 billion primarily due to a 12.6% increase in distribution revenue to $1.91 billion coupled with a 6.8% growth in GBS revenue to $26.1 million. Operating income grew by 15.3% to $39.0 million from $33.8 million in the year-ago period mainly due to higher revenues, partially offset by a 4.7% increase in selling, general and administrative expenses.

The company ended the quarter with cash and short-term investments of $61.8 million, compared to $68.4 million in the year-ago quarter. During the quarter, the company deployed about $2.4 million towards capital expenditures.0

Guidance & Zacks Consensus

Moving forward, Synnex anticipates revenue for the fiscal 2010 second-quarter to range between $1.95 billion and $2.03 billion. Net income is expected between $22.1 million and $23.1 million, while EPS is expected to range from 62 cents to 65 cents. The guidance is in line with the Zacks Consensus Estimate of 63 cents, which moved down a penny over the past month as 2 of 7 covering analysts lowered projections.

Meanwhile, the Zacks Consensus Estimate on Synnex's earnings for the fiscal year ending Nov 2010 currently stands at $2.86 per share, which edged up a penny over the past month as 1 of 7 covering analysts raised expectation. The most accurate estimate is more bullish at $2.89 per share, indicating a potential upside of 1.05% over the Zacks Consensus Estimate.